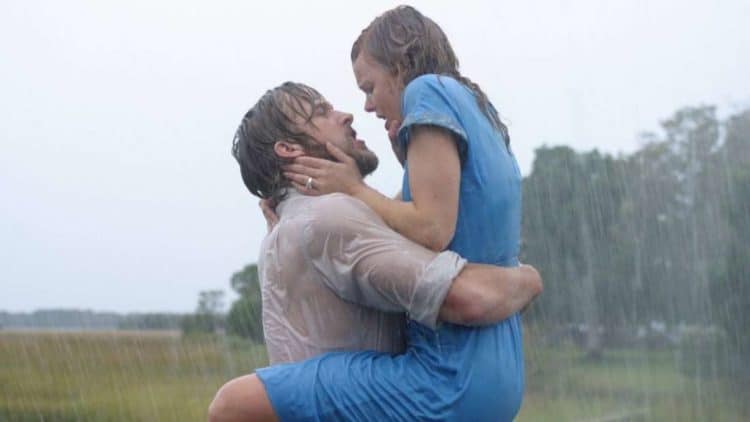 When the names of Hollywood heartthrobs are mentioned,Ryan Gosling definitely makes the cut. The actor began his career as a child star on the Disney Channel's The Mickey Mouse Club, which also served as a good head start for a lot of other celebrities, such as Justin Timberlake and Britney Spears. It was not until the early 2000's when Gosling was noticed for his acting abilities and star appeal when he was casted as the male lead in the highly successful romantic drama, The Notebook. There was no more looking back— Gosling's career propelled to greater heights, and we have been enchanted since then. Here are five swoon-worthy scenes starring Ryan Gosling:
5. The Notebook
The film adaptation of the bestselling romance novel by Nicholas Sparks garnered a lot of attention during its premiere. It told a beautiful love story between two imperfect people who chose to defy the odds. Gosling portrayed the role of Noah, a man from humble beginnings who fell in love with Allie, portrayed by Rachel McAdams (Spotlight).
The two characters' social status drove them apart, but their true feelings for each other brought them together in the end. The scene where Noah revealed to Allie that he wrote her hundreds of letters that she never received sent Allie's walls crashing down and running back into his arms. Gosling showed such passion in his portrayal of Noah that made it impossible not to fall in love with him.
4. Drive
Gosling portrayed the role of an unnamed and mysterious character, who was a car mechanic/stunt driver by day and getaway driver by night in the action drama. The film combined captivating visuals with a killer soundtrack, and Gosling seemed like the perfect choice to embody a calm, cool, and collected persona.
The scene where he meets his new neighbor, Irene, portrayed by Carey Mulligan (The Great Gatsby), showed us some of the light-hearted moments in the film. Gosling's character instantly had a soft spot for Irene and her son, Benicio, portrayed by Kaden Leos, and this led to a spontaneous road trip where he exhibited his bad-ass driving skills. Gosling showed his versatility as an actor in the film. His character did not need to say much for his emotions to be conveyed.
3. Blue Valentine
The romantic drama explored the trappings of falling in love. The storyline followed the romance between Dean, portrayed by Gosling and Cindy, portrayed by Michelle Williams (My Week with Marilyn). We witnessed the duo's whirlwind courtship to their tumultuous marriage, and it definitely made us realize a thing or two about love.
Dean was a free-spirited and hopeless romantic person who fell head over heels with Cindy, who was an aspiring doctor. Their different personalities made their budding romance thrilling until the realities of life hit them hard. The scene where Dean first fell smitten with Cindy felt like something out of a romantic comedy. Gosling acted like a man who just got struck by cupid's arrow, and it was adorable to witness.
2. Crazy, Stupid, Love
The romantic comedy followed the pursuits of Cal, portrayed by Steve Carell (The Office), a recently separated man who seems to have been given a new lease on life, as he rediscovers himself and is taught how to live his newfound freedom to the fullest by Jacob, portrayed by Gosling, a debonaire womanizer he randomly meets in a bar.
One of the women who fall for Jacob's charm is Hannah, portrayed by Emma Stone (Cruella). The scene where the two spend a night together ended up in a dance number that was inspired by the scene from the film, Dirty Dancing. Gosling got down to business, as he showed off his ripped physique that lifted Stone up effortlessly. Is there anything this guy can't do?
1. La La Land
The reunion project of Stone and Gosling was through this critically acclaimed comedy drama musical. The film tackled the controversial choice between love or career in such a captivating way, we were glued to our screens the entire time. Gosling portrayed the character of Seb, a jazz pianist who had dreams of owning a jazz bar, while Stone portrayed the role of Mia, an aspiring actress who wanted to make it big in Hollywood.
The two characters support each other through their career's ups and downs until they were presented with a tough choice to pursue one's passion or have a shot at happily ever after. One of the earlier scenes in the film where Seb and Mia bust into an endearing song and dance number called, "A Lovely Night" showed how much chemistry they had. Their future was still a blank canvas, and exciting times were ahead. Gosling could seriously carry a tune and perform a dance routine flawlessly. We were smitten from the beginning of the film right until the credits rolled.
Tell us what's wrong with this post? How could we improve it? :)
Let us improve this post!