Aniya Wayans hails from a family of talented people who are renowned Hollywood entertainers. She was born into fame and has had the spotlight on her since birth. While she is yet to attain the level of fame her family members have, Wayans is well on her way to becoming famous in her own right. But not in the way most people would expect. Instead of following the family tradition, she is building her fanbase on the internet by sharing her life with thousands of followers.
The Wayans are known for their extraordinary talent in the entertainment industry. This is especially true when it comes to acting and comedy. However, Aniya Wayans is carving a different niche for herself. But some fans still have high hopes that she will join the family trade soon. Read on for all the facts you probably didn't know about the Hollywood celebrity child.
Aniya Wayans is the Daughter of Damon Wayans Jr.
If Anita Wayans' last name rings a bell, it's probably because most of her family members are popular Holywood stars. An American by nationality, she was born on September 30, 2004, in Los Angeles, California, to Damon Wayans Jr. and Aja Metoyer. Aniya Wayans' parents met when her mom was 12 years old, and they grew up as childhood friends. Their relationship became intimate at some point. They went on to have two daughters – Aniya Wayans and Amara Wayans. Nevertheless, they never got married officially. When the couple finally split, Metoyer had primary custody of their kids. However, they maintained a close relationship with their father.
As a member of the Wayans family, Aniya Wayans is surrounded by exceptionally talented people. There's her father, who is known for his offerings as an American actor and comedian. Additionally, Wayans' grandfather, Damon Wayans, is also popular in the entertainment industry as a stand-up comedian, actor, producer, and writer. Other notable members of the Wayans Family include Keenen Ivory Wayans, Shawn Wayans, Marlon Wayans, Kim Wayans, and Cara Mia Wayans. The family members are creators of numerous film and television productions, such as the Scary Movie film series and The Wayans Bros. The Wayans are one of the largest and most successful families represented in Hollywood.
In 2016, Aniya Wayans's father married Samara Saraiva. Through the union, Wayans has three half-siblings – Maverick, Berlyn, and Lua. Also, through her mother's brief entanglement with basketball star Dwayne Wade, Wayans got another half-brother named Xavier Zechariah Wade, who was born on November 10, 2013. Altogether, Aniya Wayans comes from a large family background of celebrated entertainers.
Aniya Wayans' Career Journey and Accomplishments
While she is still climbing the ladder of success, Aniya Wayans is doing well as a social media personality with an impressive following across different platforms. As a social media influencer, she has gathered thousands of followers by sharing her daily lifestyle and fashion posts. She is mostly present on Instagram as aniya.wayanss and on TikTok as aniya_wayans222. Wayans has more fans on TikTok, with over 380,000 followers and more than 4 million likes on the platform. On her social media posts, Aniya Wayans occasionally features her famous father and grandfather. She mostly posts lifestyle, lip sync, and dance content on the platform.
https://www.tiktok.com/@aniya_wayans222/video/6967474180728098053
Being raised in a family that comprises Hollywood stars put Aniya Wayans in the spotlight from birth. But she is yet to join the family business that borders around acting and comedy. Her father, Damon Wayans Jr., is a popular actor and comedian best known for his role as Brad Williams in the ABC sitcom Happy Endings and as Coach in the Fox sitcom New Girl. Wayans Jr. has also worked on numerous projects with his famous family, including Blankman (1994), My Wife and Kids (2001-2004), and the Wayans family comedy Dance Flick. Her mother, on the other hand, is a renowned reality television star and social media personality. Aniya Wayans may not be as famous as most of her family members yet, but she has the platform to grow her craft.
Who is Aniya Wayans Dating?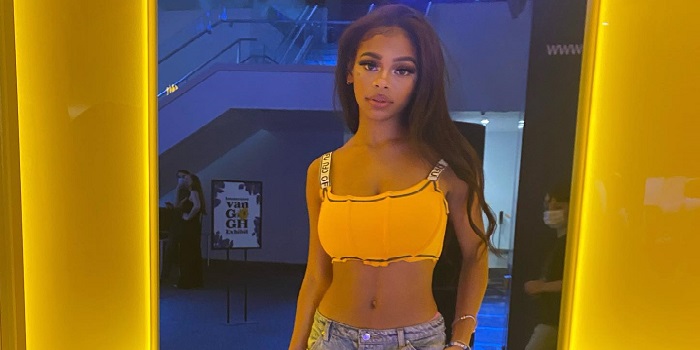 Aniya Wayans is not big on sharing juicy tidbits about her personal life. Thus, her relationship status cannot be confirmed at this time. However, speculations were rife in 2020 about her alleged relationship with basketball star Le Bron James Jr. The basketball player commented on one of Wayans' Instagram posts with love emojis, sparking up relationship rumors on the internet. However, both Wayans and Le Bron James Jr. are mum about the claims. For now, there is no confirmation on who Aniya Wayans is in a relationship with.