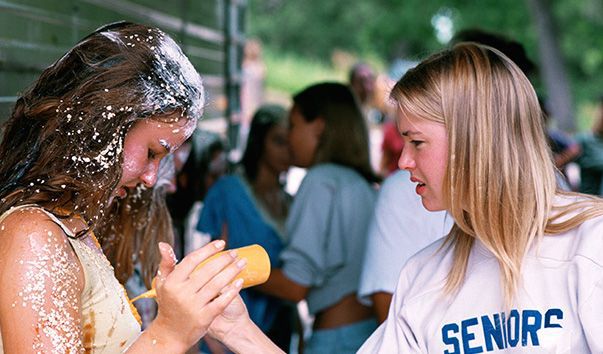 The phrase 'Rome wasn't built in a day' clearly outlives itself regarding the lives of some of the most prominent actors in Hollywood today. The best of the best started small and worked, or should I say acted their way up the ladder? They are now some of the best household names bringing entertainment right into our living rooms. Let's focus on some of the A-list actors and actresses that begun their careers as extras. That means they didn't have any lines in the movies they appeared in. Sounds unbelievable, right?
1. Brad Pitt
Popularly known for his versatility in acting, Brad Pitt started as an extra in 1987's Less Than Zero, earning 28 dollars where he played the role of a partygoer. He is now well known for blockbuster films such as the 1999's Fight Club and Ocean's 11 trilogies. Brad Pitt has a net worth of $260 million, demonstrating how hard he's worked since his debut in 1987.
2. Megan Fox
Megan Denise Fox is an American actress and model who has built her brand by appearing in multiple major franchises. She began her career as an extra in Bad Boys 2 (2003) as a dancer in a club scene. Her latest 2021 movie, Till Death (a horror thriller action film), highlights her acting as one of the film's best features.
3. Sylvester Stallone
If you are into action and thriller films, you know how famous an actor Sylvester Stallone is. He has graced our screens since 1971. He appeared as an extra in Woody Allen's film Bananas as a mugger in the subway and Jane Fonda's 1971 thriller Klute as an extra dancing in a club. Suffice to say; Sly has outdone himself in proving that his move to New York City to chase his dreams was not a bad idea after all. He is the only actor across six decades to have starred in a box office number one film. That has to count for something!
4. John Wayne
Marion Robert Morrison, the late, was professionally known as John Wayne. He was famous for acting in the Western genre of films. John appeared in several silent films in the 1920s, such as Bardelys The Magnificent, where he was offered an uncredited role as a guard. John's big debut happened when he landed his first starring role in 1930 in The Big Trail. He rose from being an extra to appearing in more than 170 films in 51 years. That's determination! By the time of his death, he had gotten into many disputes with production companies who had initially snubbed him.
5. Jackie Chan
This phenomenal actor is well known for his slapstick acrobatic fighting style that is comical, timely, and innovative. Unlike most actors, Jackie Chan does the stunts himself. Before becoming famous, he appeared as an extra in two Bruce Lee films, Fists of Fury (1971) and Enter the Dragon (1973), as a young teen actor. His breakthrough was in 1978 in the film Snake in the Eagle's Shadow. At 67, Jackie Chan continues to give us fantastic action scenes though he promises to tone it down a little bit.
6. Bruce Willis
Estimated to be worth $250 million in 2021, Bruce Willis began as an extra in the courtroom scene in the 1981 film The Verdict by Paul Newman and The First Deadly Sin (1980), both uncredited. He has won a Golden Globe, Screen Actors Guild Awards, and several Emmy nominations. Bruce Willis is undeniably a diverse actor and has ventured into different genres, always bringing his A-game. He became a 'bonafide' movie star in 1988 with the success of the action blockbuster Die Hard. Bruce has been releasing hit after hit. Thus, he is smiling all the way to the bank!
7. Ben Affleck
Having begun his career as a child, Ben Affleck has won accolades, two Academy Awards, and three Golden Globe Awards. He is ranked among America's wealthy actors with a net worth of $150 million. In 1989's Field of Dreams, he was an extra and has worked his way up by getting cast as Batman in Batman Vs. Superman: Dawn of Justice (2016). Other films include Pearl Harbor (2001), The Accountant (2016), to name but a few. He doesn't leave behind his close friend Matt Damon as they're making big moves in the movie industry together since the 1989 appearance as extras.
8. Clint Eastwood
As a member of Central Casting, Clint was cast severally for uncredited roles in the 1950s. He later moved to the Marsh Agency, where he landed his most significant role in The First Travelling Saleslady (1956). He turned down the James Bond role as he believed the character ought to be played by an English actor and proceeded to act in many other films such as Gran Torino (2008), ultimately switching to directing. Today, Eastwood boasts of creating perfectly paced and well-thought-out films. He employs his style of "shooting first and acting afterward."
9. Lady Gaga
Stefani Joanne Angelina Germanotta, professionally known as Lady Gaga, began acting on an episode of The Sopranos (2001) where she was seated by the swimming pool smoking a cigarette. She was 15 years old then but still amaze us with her talent that extends to music, as seen in A Star is Born (2018). Bradley Cooper brought out the star in Lady Gaga by portraying the two things she loves doing most; singing and acting. Premiering at the Venice Film Festival in 2018, Gaga won Best Actress, and the film has earned $436.2 million in the Box Office. Lady Gaga is an example of serving two masters at once and excelling at both.
10. Renee Zellweger
As one of the hazed freshman girls, Renee appears in 1933's Dazed and Confused. She has accolades, including two Academy Awards, four Golden Globe Awards, four Screen Actors Guild Awards, and two British Academy Film Awards. Her works include; Bridget Jones Diary (2001), Chicago (2002), Same Kind of Different as Me (2017) et.al. Hollywood is a hub of notable actors and actresses, but our take-home is that nothing comes easy. They all started from the bottom. Now they're here!!
Tell us what's wrong with this post? How could we improve it? :)
Let us improve this post!