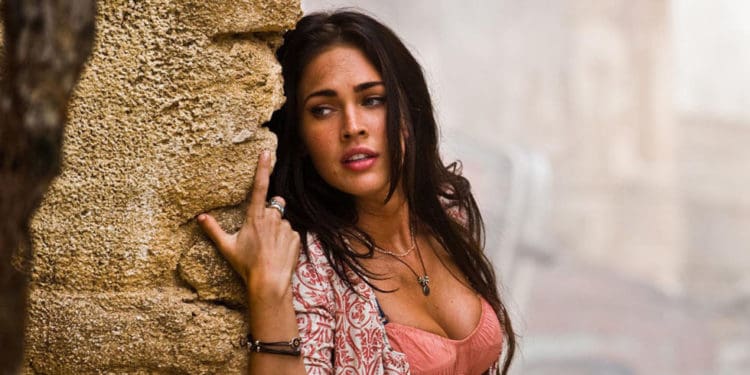 When it comes to talent versus looks Megan Fox seems to do better with the latter than she does with the former at times. She's not the worst actress in the world, but a lot of people throughout her time in the spotlight have decided that she's far from the best either. Whether it's her attitude on set or the fact that she does kind of lack in range at times there seems to be a lot that needs to be done in order to really make her one of the elite. Now as far as sex appeal she's got that down without a hitch as she is a very attractive woman and can turn heads without really trying. But in terms of being a well-rounded actress it would seem that she needs time and a little more experience to really nail down a persona. She's done well so far, but she's had a lot of costars to lean on as well, and she's played very similar parts in several movies.
Here are some of her best movies so far.
5. Jonah Hex
Jonah Hex was absolutely trashed when it came out since the movie didn't conform to anything the fans wanted to see and apparently the whole thing was one giant disappointment from start to finish. But as usual Megan Fox put on an alluring outfit and was someone that was there to make up for the otherwise disappointing time that people paid for. The reason it's on this list is that Megan Fox doesn't have a lot of movies to pick from and quite honestly anytime she's in an action movie has been where she shines the brightest since it almost seems as though she's made for films that move along at a quick pace.
4. Teenage Mutant Ninja Turtles
There were a lot of mixed feelings from fans concerning this movie since a lot of people still remember the first time that the turtles made a live action movie and were probably expecting something more along those lines. The downside of that however would have been that it wouldn't have been as enjoyable for those of us that are now adults wanting to see more than actors in rubber suits. The CGI might not have been perfect but it was great enough that it was a decent movie that people need to kind of lay off just a bit. The turtles were well done and April O'Neil was brought in as someone that had known of the turtles and Splinter but hadn't seen them in years.
3. This Is 40
Take a good look if you're in your 30s and are getting close to the big 4-0. Life isn't like this for everyone but you might find yourself from time to time looking back and looking at people younger than you and trying to remember what it was like when you still looked that young and full of life. The upside about being older however is that hopefully you've gained more wisdom, experience, and are more well-versed in the ways of the world than many younger folks will ever be at their age. Youth is a fleeting thing and something to really cherish, but once it's gone you're not getting it back. It's important to enjoy what you have rather than what you had.
2. Jennifer's Body
After she's kidnapped and subjected to a satanic ritual and left for dead Jennifer comes back, different. She was already one of the most popular girls in school, but now that she's back she's positively irresistible and knows it. The way in which she seduces men is hard to miss, but what she does with them when she has them is absolutely gruesome. When she came back she was possessed by a succubus, a demon that hungers for carnal pleasures as well as the flesh of mortal beings. While her friend becomes motivated to stop her rampage Jennifer begins to rack up a body count that's kind of impressive.
1. Transformers
This was another movie that left some people in awe and others disappointed since it wasn't quite what they were thinking. Bumblebee not being a VW bug anymore was kind of a shocker, but then things do need to change now and again. Fox's character was someone that was essentially a bad girl but was attempting to leave that life behind. In a couple of ways she was a lot stronger than she appeared since she not only knew a great deal about cars and how they operated but she was fearless when it came to getting back into the fight with Bumblebee offering up the firepower that was needed to keep them alive.
She's not without talent and she does have qualities that are useful in her career. But the fact remains that Megan Fox still needs something else in order to really become someone that people will feel inspired by.