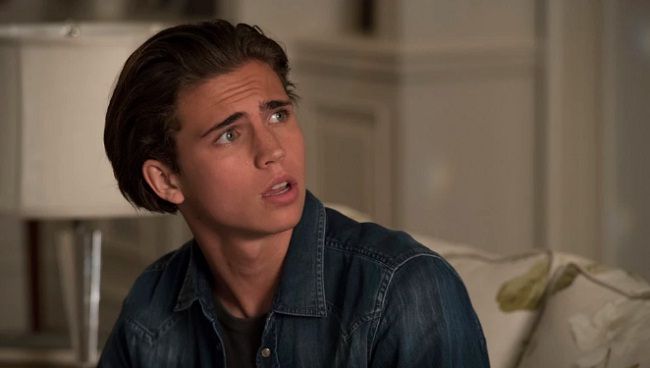 Over the last few years, Tanner Buchanan has positioned himself as one of the hottest young stars in the entertainment industry. While some people may have thought he wasn't anything more than another handsome face, Tanner has consistently proven them wrong. Since making his on-screen debut in 2010, he has risen through the ranks to become a star on both the big and small screens. Although he is currently best known for his TV roles, he has been getting more into films and it has been a great way for him to display the true versatility of his talent. If you're not familiar with Tanner's work just yet, he's definitely someone you should keep your eye on. Keep reading to see our list of Tanner Buchanan's five best movie roles.
5. Jake Squared
Jake Squared was Tanner's first movie role and it wasn't a very big project. As a result, many people may not even be aware that it exists. Although Tanner had a small role in the film, it was a great way for him to get his feet wet in the movie industry. The movie also gave him the opportunity to work with some talented industry veterans including Jennifer Jason Leigh, Elias Koteas, and Virginia Masden.
4. Anything
The 2017 movie Anything is another project that didn't get a lot of attention, but Tanner still put on a stellar performance. The movie is a romantic comedy centered around a man named Early (John Carroll Lynch) who is trying to cope with the recent death of his wife. He decides to relocate to Los Angeles to be closer to his sister, Laurette (Maura Tierney). Although she means well, she tends to be a little overbearing which results in him deciding to get his own apartment. As he attempts to get used to his surroundings, Early strikes up a friendship with his neighbor Freda Von Rhenburg (Matt Bomer) who is a transgender woman. Tanner's role in the film was somewhat small, but it was another great opportunity for him to work with some very talented actors and it provided a firm stepping stone for other great opportunities.
3. Chance
2020 was a tough year for the entertainment industry due to the COVID-19 pandemic, and Chance was one of the movies that were heavily impacted by that. The movie was originally supposed to be released in limited theaters, but that never happened to due COVID restrictions. As a result, the movie didn't get much attention, but it featured a great performance from Tanner. Chance is based on the true story of a young baseball player named Chance Smith who died by suicide after being involved in a love triangle. In the movie, Tanner portrayed a teen named Colton who went to school with Chance and started to move in on his girlfriend. Tanner's work in the movie brought the character to life in deep and heart-wrenching ways. If anyone thought he was only capable of playing lighthearted roles, this was a prime example of just how talented he really is.
2. Max Winslow and the House of Secrets
One of the things that is so impressive about Tanner's career so far, is the fact that he's already gotten experience working across multiple genres. Max Winslow and the House of Secrets is a science-fiction film about a group of teenagers who enter a competition to win a mansion from a billionaire named Atticus Virtue (Chad Michael Murray). However, things take a turn for the worse when they realize that they're actually competing against a super computer that controls the whole house and threatened to outsmart them all. As one of the show's main cast members, Tanner got a lot of screen time and it was nice to see him stepping out of his element to do something a little different.
1. He's All That
He's All That is Tanner's latest film role and it's also his biggest. Released on Netflix, the movie is a remake of the 1999 romantic comedy, She's All That. The remake follows the original almost to a T, except some modern changes have been made. Additionally, in the newer movie, the main characters' sexes are reversed. Instead of being about a popular guy who turns an unknown classmate into the prom queen, Tanner plays an un-cool student named Cameron who gets made over by the coolest girl in school. He's All That may be a simple and light-hearted movie, but it proved that Tanner has what it takes to be a teen heartthrob for the new generation.
Tell us what's wrong with this post? How could we improve it? :)
Let us improve this post!