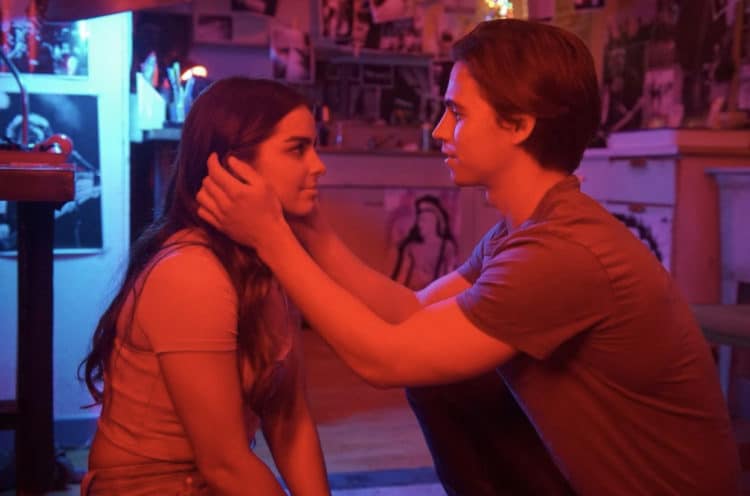 He's All That is not even a little bit of that. The gender-flipped reimagining of the movie She's All That rehashes the original 1999 romantic comedy. The main draw to the film is the casting of Addison Rae, a TikTok star. An 18-year-old Addison Rae Easterling, in July 2019, went from being a freshman at the Louisiana State University to an overnight star as one of the primarily recognized faces of Gen Z. This happened when she began posting on TikTok her short dance clips. As someone who was old enough when She's All That debuted – I can tell you for the fact that He's All That is no better than the first film. The two-star leads sufficiently satirize the prevailing media frenzies of their day and employ snappy one-liners.
The Intrigue
In the 90's movie, we see a jock who his girlfriend dumps. He then agrees to turn a geek into a prom queen in a bet. His award? To save himself from the shame of being abandoned. In the remake, the teen influencer Padgett pays her bills through popularity. When her jerk boyfriend humiliates her on a live stream, she transforms Cameron into a prom king to win back her followers and endorsements. It's pitiful that He's All That does not take advantage of the premise that times have changed and make use of it. The reboot by Mark Waters remakes the 1999 film without the addition of the endearing weirdness. In the original, Freddie Prinze Jr did performance art in a bid to woo his edgy conquest. On the other hand, we're supposed to believe Cameron is a loser even with his eight-pack abs and equestrian skills. The confessions, the dance-offs, and catfights in 'He's All That' do not have the feel of actual conflict in romance.
Fascinating Scenes
In the movie, we first see Padgett's pretty and pink bedroom. It displays her friendly persona and the pink color created for her social media fans. Padgett has up to 83.5M followers, who keep up with every detail of her life. They most especially follow her relationship with Jordan (an upcoming musical performer) and the makeover gifts. The generous cosmetics company sponsor enables her to help her single mom cater to household bills to save up for college.
When she discovers that her boyfriend is cheating, she broadcasts it live, like most of her other life moments. The meltdown is far from what we expect of a reality influencer. Thus, because of this, she loses some followers and Kourtney Kardashian (her sponsor). Padgett is desperate to reclaim her glory. She rashly agrees to a bet by her friend Alden (who in "The Game Plan" played Dwayne Johnson's daughter). Padgett is sure to get the school dork to become the Prom King. That is cynical and scruffy. We know where it's headed. From how she wins him over to how he surprises and challenges her. The movie revolves around Rae, just as its plot focuses on Padgett. The film presents Padgett as hardworking, warmhearted, kind, and optimistic. It does not bring out the heroine in her.
The Cast and Production
Rae's acting is not up to challenge, even when there's little expectation of her. She lacks an emotional arc or anything that resembles an inner life. Buchanan's performance in the film is nothing striking either. He's not had the chance to deliver. The movie's name (He's All That) is an irony. It belongs to Rae. When it comes to the movie production, "He's All That" is bland and sleek on the average wannabe influencer feed. Even the choice of wardrobe, which plays a critical role in any teen movie, is a wasted opportunity. There are numerous ways Waters and the screenwriter Fleming Jr. would have updated the film to become more meaningful to the new audience.
Instead, they made the movie all about an influencer and lazily used the social media device. She's All That is not a masterpiece. But its massive cast of appealing young actors on the verge of stardom undeniably wins. The most significant moment in the movie happens when the made-over Laney walks downstairs to meet Zack. He's taken aback by the perfect vision of a prom queen. They're both nervous, and Laney can hardly take a step in her shoes. Both hold onto each other's gaze. We catch our breath. Then she trips. Zack grabs her as the music stops abruptly. They then collect themselves and head to the party. It's so awkward. It's so romantic. The movie He's All That does get some points for not being 'too faithful' to the original. The update makes better some flaws from the original, such as fatphobia, women objectification, and the playing of sexual harassment by Dean to Laney just for laughs.
The Original
In the original, teens make out and lay in bed together, drank, vomited, and smoked. He's All That presents high school students that barely kiss, enjoy fancy mocktails, and by all means avoid swearing. The deliberate avoidance of anything racy gives the movie an uncanny, sterile feel. The movie feels like watching straight TikTok videos. Even with the flashes of promise, especially Rae's winning smile, her TikTok to film stardom does not hold much water here. The chemistry between Buchanan and herself appears forced, at best. But it would not be fair to have her bear the weight of the failed movie. She's one of the multiple successful pieces of the puzzle in the stale bait of nostalgia. She is a recipe that is not enough to add charm.
Watch He's All That on Netflix.
Tell us what's wrong with this post? How could we improve it? :)
Let us improve this post!