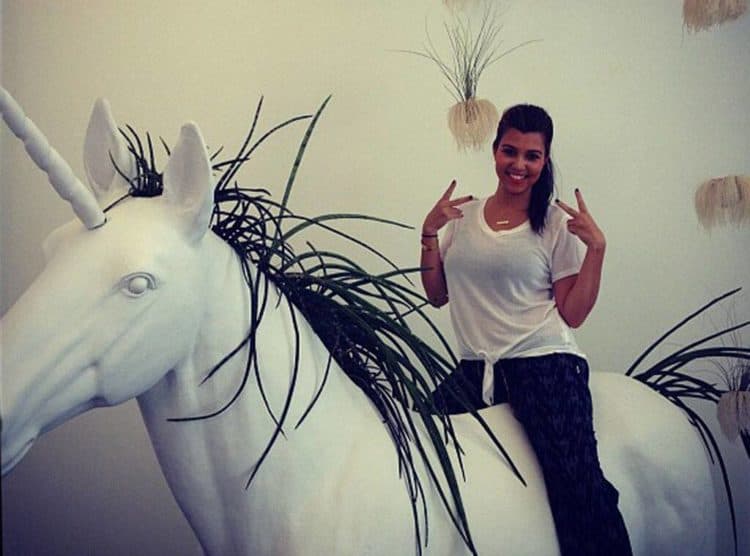 The relationship of Kourtney Kardashian and Travis Barker has always been the talk of the town. It looks like she is as popular as Kim Kardashian when it comes to opening up about what's going on in her personal life. Most recently, she went to Mexico on a vacation with her beloved Travis Barker and proved her fans wrong who think that she cannot ride. The Keeping Up With the Kardashians star could be seen in a red outfit. She was having a great time with Travis Barker. They not only looked perfect together but also their videos and photos went viral in no time. It is worth mentioning that the red outfit Kourtney Kardashian had worn was a little bit short. Still, she looked adorable in it while her horse was bringing her here and there with boyfriend Travis Barker.
A great dress sense
42-year-old Kourtney Kardashian has, no doubt, an outstanding and unique dress sense. Like all her sisters, she knows what to wear, when to wear, and how to gracefully carry the outfit. This is not the first time she has worn an extremely short dress. Kourtney Kardashian is good at wearing somewhat hot dresses when she is with Travis Barker. In fact, many of her bikini photos and images with short dresses keep trending on social media, especially Instagram and Twitter. While in Mexico with the love of her life, the Keeping Up with the Kardashians actress looked relaxed. She had a smile on her face and was too confident to prove to her fans that she is not afraid of riding and she is not even bad at horse riding. In fact, she was riding her horse in a professional and impressive way.
The relationship of Travis Barker and Kourtney Kardashian
45-year-old Travis Barker is so much in love with his girlfriend Kourtney Kardashian, and this is probably the reason why they often spend time out and take a lot of photos. A noticeable thing is that most of their photos show them getting too close to each other. This makes us feel that they have no control over their feelings, or you can call it love. Kourtney and Travis don't miss any chance when it comes to getting intimate, which is why this couple is too famous among the world's people and fans keep waiting for an update on their relationship.
The dress sense of Travis Barker
If Kourtney Kardashian has a great dressing sense, the Blink 182-drummer also knows what he needs to wear to impress his ladylove. In the short video, he was seen sporting black sunglasses. Travis Barker also wore a white tank-top on his own horse. On August 18, he shared footage of the fireworks going off in the air from Mexico beach. This shows how serious Travis and Kourtney are for one another. He doesn't miss any chance to wear classy dresses with an aim to keep winning the hearts of his fans and of course, Kourtney Kardashian. The lovebirds were nowhere to be found in the footage Travis Barker had shared with fans. However, it is easy to assume that they were having a great time together. The drummer wrote the caption of his post as "Mexico" and placed a face-with-party-horn emoji along with the text.
Kourtney Kardashian and Travis Barker were not alone
In case you don't know, let me tell you that Kourtney and Travis were not alone in Mexico. They went there along with Corey Gamble and Kris Jenner. The four people have been enjoying a good time under the sun. Some of the photos show them having fun together, while others photos show only Travis and Kourtney spending quality time together. Kourtney Kardashian and Travis Barker especially packed an unusual amount of PDA while at the pool in the Las Ventanas al Paraiso resort. They could also be seen hugging one another on the steps of a beautiful spot in Cabo San Lucas. Kourtney Kardashian had talked about this place on her Instagram account, calling it "yummy." Trips are not a big deal for the two, but this trip was too special for Travis Barker. He had to fly in a plane to get there, which is something he has never done in his life since the deadly crash of 2008. In this crash, four people lost their lives and Travis Barker was left with third-degree burns on a big part of his body.