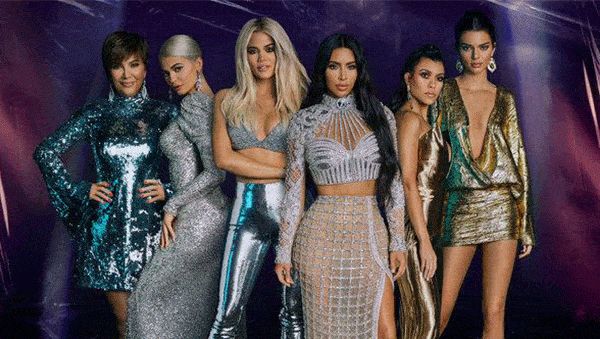 Even for people with no interest in reality TV whatsoever should be familiar to some extent with Keeping Up with the Kardashians through cultural osmosis. After all, it is a rare example of a reality TV show that has managed to become a household name, which in turn, has enabled more than one of its cast members to become superstars in the process. As such, whatever one might think about the show's merit or the show's lack thereof, chances are good that they will have heard of it, particularly since it is still ongoing after more than a decade's time.
How Has Keeping Up with the Kardashians Changed Over Time?
The initial setup for Keeping Up with the Kardashians wasn't particularly unusual. In short, the Kardashian-Jenner family were already famous to a small extent before their reality TV show. Partly, this was because Robert Kardashian had risen to prominence because of his involvement in the O.J Simpson case, meaning that some of that prominence rubbed off on his ex-wife Kris and their children. However, it should also be mentioned that Kris went on to get married to Caitlyn Jenner when she still went by Bruce Jenner before her gender transition in 2015, which was notable because Jenner was a decathlon champion at the Olympic level. With that said, the single biggest reason for the Kardashian-Jenner family's fame would have been Kim Kardashian, who was already involved in the world of reality TV before her family managed to get their own.
In short, Kim Kardashian started out as a personal assistant for Paris Hilton, who was a very well-known reality TV star in the 2000s but has since faded from prominence to a considerable extent. In said position, Kim Kardashian managed to befriend Hilton, thus resulting in her showing up on The Simple Life on multiple occasions. Combined with her relationship-building efforts with other celebrities, Kim Kardashian was already a name of some note by the mid 2000s. However, it should be noted that Vivid Entertainment released a leaked sex tape in February of 2007, which was reportedly a serious blow on a personal level but nonetheless played an important part in further raising the Kardashians' profile.
By August of 2007, it was revealed that the Kardashians would be starring in their own reality TV show. It has been said that the executive producer Ryan Seacrest decided to develop the show with The Osbournes in mind, which was another popular reality TV show from those times. With that said, the more interesting connection might be how the announcement for the show came a single week after the announcement that The Simple Life would be coming to a close, thus removing a huge source of competition for the new show.
Since that time, Keeping Up with the Kardashians has undergone huge changes, not least because of the effect that it has had on its cast members. Before the show started up, the Kardashians were already known by the public to some extent. However, there is a world of difference between their status in those times and their status in the present time, as shown by how they are now billionaires and millionaires who wield considerable influence over their legions of fans and other followers. Something that in turn, speaks volumes about the extent of the show's success.
Of course, that success has created other changes as well. For instance, Keeping Up with the Kardashians has had a number of spinoffs. Some of them have been focused on some of the sisters in a new setting, with examples including both Kourtney and Khloe Take Miami and its sort of successor Kourtney and Kim Take New York. Others have been focused on the cast members and their significant others, as shown by both Khloe & Lamar and Rob & Chyna. As such, what was once a single show has turned into something that is more accurately called a full-fledged franchise. On top of this, it should come as no surprise to learn that a decade's time has produced some significant changes in the cast members' lives, which in turn, have resulted in a number of specials for interested individuals. One example would be the special that was focused on Kim Kardashian's marriage to Kris Humphries in 2011. Another example would be the special that was focused on Caitlyn Jenner's life after her gender transition.
With that said, while much has changed about the cast members of Keeping Up with the Kardashians, the core premise of the show has remained very similar to how it started out. After all, it is still centered on the same people for much the same reason, which serves as a measure of familiarity for people who have been following the show for a very long time.
Further Considerations
No one will ever mistake Keeping Up with the Kardashians for high culture, not least because it was never meant to be that in the first place. However, it has more than succeeded with its core aim, as shown by the millions and millions of people who still follow it on a regular basis.
Various people have come up with various ways to explain the show's popularity. For example, some people have pointed out how the Kardashian-Jenner family are willing to reveal their private moments in a way that a lot of their counterparts are not, which when combined with their eagerness to share even the most trivial information about their day-to-day lives via social media, create a sense of intimacy that few other reality TV families can match. Likewise, it is worth mentioning that while Keeping Up with the Kardashians provides plenty of conflict-driven drama for interested individuals, it isn't 100 percent centered on that sort of content, which further encourages viewers to sympathize with them. On top of this, while the Kardashian-Jenner family is very far from being perfect in any sense of the word, they are quite good at their chosen line of business, meaning that their success isn't the product of 100 percent success but has benefited to a considerable extent from skill as well.