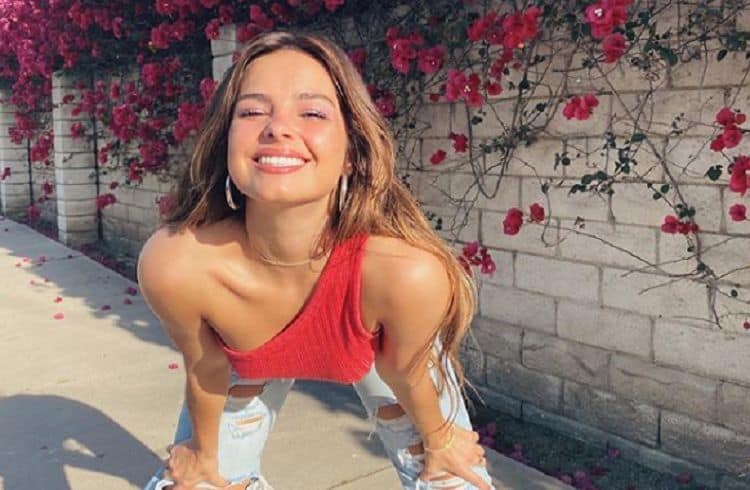 Social media is slowly becoming the Holy Grail for most teenagers today. Not just teenagers or the youth but almost everyone, including the old, is now dependent on social media for one thing or the other. Most people use it to post updates about their lives on a daily basis. While some use their online presence for fun, a certain crop of the new generation of teenagers has certainly found a way to create an earning from the various platforms. Today it is possible to link your social media account and make money from it. The crop of social media influencers is growing. Tik Tok is one of those platforms that has created internet sensations out of young people such as Lauren Godwin, Bryce Hall, Addison Rae among other digital influencers.
Who Is Addison Rae?
Addison Rae is an American social media influencer and model most famous for her short lip-sync videos on her Tik Tok account. Addison was born on October 06th in 2000 in Lafayette Louisiana USA. She was born to Monty and Sherri Easterling. She has 2 younger siblings called Lucas and Enzo Easterling. Addison Rae attended the Calvary Baptist Academy in her hometown in Shreveport in Louisiana. She is yet to decide on where to attend college to get her bachelor in Mass Communication. She is faced with 2 options, Louisiana State University or the University of Louisiana in the town of Lafayette.
Here are 10 things you didn't know about Addison Rae
1. Real name
Addison Rae's full birth name is Addison Rae Easterling. She chose to go with Addison Rae for short.
2. Social life
Addison is one of the most followed social media stars today. She boasts of over 3 million followers on her Tik Tok account. She made her first video officially on Tik Tok in 2019 after she noticed her lip-sync videos being reposted on various Instagram accounts. Her Instagram account has about 45,000 followers and she has 3 million+ followers on twitter.
3. Her parents
Addison Rae has one of the hippest parents. Her father and mother Monty and Sherri Easterling partake in her videos from time to time. In fact of all her videos, the ones that she features her parents are the ones that receive more hearts on the platform. Her mother is also a social media sensation with over 200k followers on Tik Tok. Sherri is not only an internet celebrity she is also a photographer and an engineer. The first video Addison Rae posted with her parents was of her lip-syncing to the rapper Drake's 'Money In the Grave' song.
4. Income
With the technological advancements today, it is easy to make money online. Digital influencers today earn through various ways such as brand endorsements, Google ad-sense, and advertising etcetera. According to NBC News, the average sponsorship payout of a Tik Tok star with 5 million followers ranges from $5,000 to $8,000. With the number of followers on Addison's social media accounts being that huge and rising, it is no surprise that brands would want to endorse her for product promotions. As of 2019, she had been endorsed by major brands such as Fashion Nova, Chantilly Boutique, McCary's Jewelers, and Uptown Cheapskate. Addison charges a minimum of $1,000 to $2,000 for an average estimate of 6% of the rate of followers on her posts.
5. She is athletic
Judging from her general physique, she seems to be very athletic. True to the fact, she has participated in various sports including softball and gymnastics. According to Healthy Celeb, she was a cheerleader in her high school. She attended the Universal Cheerleaders Association all-American camp in June 2018. She also played softball for her high school softball team, the 'Lady Cavs' and eventually won the 2016 Class 2A State Championship. She also plays volleyball and enjoys watching baseball, football, and basketball matches.
6. She is a dancer
Among all things, Addison Rae is also a trained dancer. She was even a member of the Shreveport Dance Academy as of early 2019. She loves dancing to slow and contemporary jazz music. Her favorite band to dance to is 'Florence and the Machine' and she finds hip hop dance too difficult to learn.
7. Management
Addison Rae is not only an internet star she also does some side gigs. Her other job is modeling. Addison is under the management of the Michael Turney Agency. The agency is located in Shreveport in Louisiana and is a modeling agency that hires models of every physique for paid modeling jobs. Some or most of her brand endorsement jobs require her to pose for pictures or be their brand ambassador and Michael Turney Agency handles all that paperwork for the young model.
8. She is a co-founder of the Hype House
She alongside other Tik Tok stars, Charlie D'amello, Chase Hudson and other Tik Tok creators formed a collaborative group called the Hype House. The Hype House is basically a mansion that 19 Tik Tok stars rent and live in in Los Angeles and create online content together. The teenagers meet up there frequently with some of them living permanently in the house and others popping in whenever they are in town. The house enables them to collaborate in teamwork in the creation of viral videos. When they introduced the Hype House it instantly started trending and got many retweets.
9. Net worth
According to Dreshare, Addison Rae has accumulated a total wealth of about $500,000 as of 2019. This sum of money she has amassed from doing sponsored content, from Google Ad-Sense, brand endorsements as well as paid promotions, modeling and so much more.
10. Summary
It is no secret that the youth of today are slowly becoming independent due to the revenues they earn from content creation. Addison Rae is among a group of young adults who seem to have cracked the code as far as an income stream and social media are concerned. Addison Rae posts content on her Tik Tok account under the handle " Addisonre". Her twitter and Instagram accounts are all self-named as "AddisonEasterling".
Tell us what's wrong with this post? How could we improve it? :)
Let us improve this post!