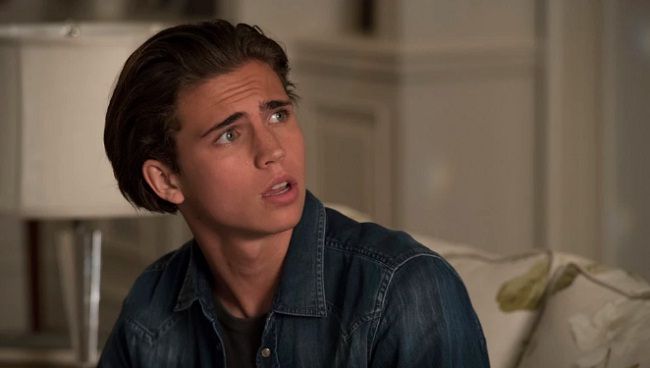 Tanner Buchanan's good looks may be the first thing many people notice about him, but it's his acting skills that really hold people's attention. Whether on the big screen or the small screen, Tanner knows how to put on a show. The young actor made his on screen debut in an episode of Modern Family in 2010. Since then, he has been working his way towards bigger and bigger roles and he has become best-known for his work on shows like Game Shakers and Designated Survivors. Tanner has proven that he has the ability to appeal to all kinds of different viewers. His Keep reading for 10 things you didn't know about Tanner Buchanan.
1. He Started His Career As A Tap Dancer
Tanner has been acting for several years, but before that he was actually a tap dancer. He told Cryptic Rock, "I started tap dancing when I was about 5 years old. I tapped in a convention called IMTA when I was about 9, and there were agents and managers there who asked if I ever tried acting. I said, "No," but I was a kid who always wanted to try new things."
2. He's Good Friends With Mary Mouser
Just because cast members appear to have good chemistry on screen doesn't necessarily mean that they do in real life. However, when it comes to Tanner Buchanan and his Cobra Kai co-star, Mary Mouser, their working relationship has blossomed into a real-life friendship. They are very close and like to hang out all the time.
3. He's A Metalhead
As someone who spent many years dancing, it's no surprise that Tanner is also a big music fan. What may be surprising through, is that he loves listening to metal. In his interview with Cryptic Rock, Tanner said that some of his favorite metal bands are Escape Plan, Blood Bath, and Pantera.
4. He Doesn't Post Often On Social Media
As a young actor most people would assume that Tanner spends a good amount of his time on social media. However, that doesn't appear to be true at all. He has a verified account on Instagram, but he only posted 19 times over the last four years. When he does post, it is usually to promote something he's working on.
5. He Practiced Martial Arts As A Kid
When Tanner was cast for Cobra Kai he had a slight advantage above many of his cast mates: he had already done some martial arts training. When he was a kid, he did taekwondo for a few years. Right before auditioning for Cobra Kai, he had been practicing muy thai for almost a year. Tanner and the rest of the cast underwent intense martial arts training to prepare for the series, but his previous experience definitely came in handy.
6. He's From Ohio
Tanner was born and raised in Ohio which is where he began tap dancing. While there are a lot of great things about Ohio, it's definitely not the best place to start a professional acting career. When Tanner decided that he wanted to seriously focus on acting, he and his mom moved to Los Angeles and he's been living there ever since.
7. He's Going To Play A Superhero
The last few years have been big for Tanner, and he's determined to keep up the momentum. He got the chance to play a super hero in the upcoming film The Hyperions. Unfortunately, no official release date has been announced for the movie although it is listed as being in post production on IMDB.
8. He Comes From A Close Knit Family
Tanner plays his role so well on Cobra Kai that many have assumed that he can relate to his character. In real life though, Tanner's upbringing was nothing like Robby's. Tanner comes from a very close knit and supportive family and he has a great relationship with his parents.
9. He's A Very Positive Person
The entertainment industry can be full of lots of ups and downs and it can be easy to feel discouraged. Despite the negativity that often comes with being in Hollywood, Tanner likes to remain open minded and positive and he also encourages other people to do the same.
10. He Used To Be In A Band
Tanner isn't just a fan of music, he also likes to make some of his own. He plays the guitar and was once the member of a metal band. Unfortunately, it looks like he's musical days are behind him now, but hopefully his fans will be able to catch a glimpse of what he's capable of.