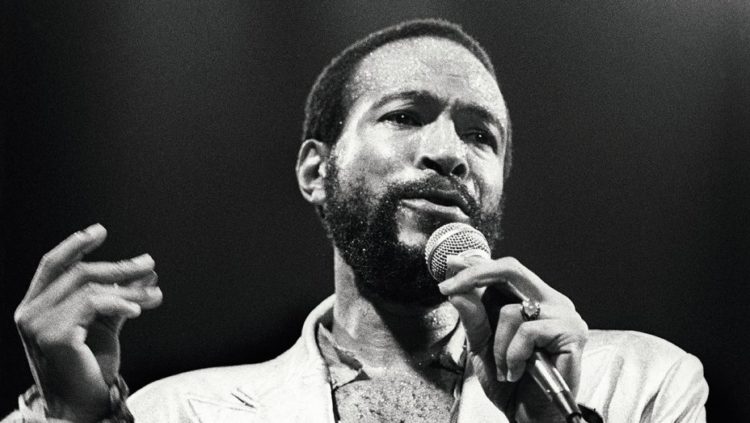 Over the last 15 years, there has been an increasing number of biographical movies about people in the entertainment industry. Although these films have already covered some of the most legendary figures in the business, there are still quite a few people who have earned their day on the big screen. After all, some people's stories go so far beyond their music that learning about their lives will bring a whole new understanding of their artistry. This is particularly true for many of the R&B artists who have dominated the charts for the last several decades. Although the harsh reality is that some of these people will never have movies made about them, we certainly think they deserve it. Keep reading to see the five R&B singers who deserve biopics.
1. Marvin Gaye
Marvin Gaye was easily one of the most well-known R&B artists of the 1960s and 70s, and he is arguably one of the greatest of all time. Although he made dozens of incredible songs, his life outside of the music also deserves some attention. Marvin was born and Washington D.C. and he came from very humble beginnings. He got his start as a performer by singing in a local church when he was a kid, and he began his professional career as a member of a quartet called The Marquees.
Things really started to take off for him during the 1960s and he found success as both a singer and a songwriter. His smooth style resonated with lots of people and it was clear that he had everything he needed to become a star. Throughout his career, he gave us hit songs like "What's Going On", "Mercy Mercy Me", "Let's Get It On", and "Sexual Healing". Sadly, Marvin Gaye's life was cut short when he was murdered by his own father in the spring of 1984. Marvin was just 44 years old at the time. With lots of success, drama, and tragedy, Marvin Gaye's story is one that definitely needs to be told. At one point, there was talk of a biopic being made about him, but it's unclear whether that's still in the works.
2. Monica
From the mid-1990s to the 2010s, Monica had the R&B game on lock. Her natural talent and down-to-earth personality always made her a fan favorite. Outside of her commercial success, though, Monica has lived a very interesting life that would definitely make for a great biopic. For starters, she started singing when she was just two years old. By the time she was 13, she was already recording her debut album. After sharing some insight on her journey during her Verzuz battle, lots of people would love to know more about what it was like for her to be so young in the industry. On top of that, Monica has had some interesting romantic relationships that have never been fully revealed to the public. A biopic would be the perfect way for her fans to gain more insight into who she is as a person. It would also help shed more light on how hard she's worked to accomplish everything over the years.
3. Luther Vandross
Many people would agree that Luther Vandross is one of the best vocalists of all time. Although he didn't typically write his own music, he put a tremendous amount of passion into every song he performed. Throughout his career, he earned the respect of millions of people all over the world, and he has given us several timeless classics including "Never Too Much", "A House is Not a Home", and "Superstar". Despite the amount of fame he achieved during his lifetime, Luther Vandross was always very private about his personal life which has only caused people to be more curious about what he was. Although it's been over a decade since his death, there are still lots of people around who were close to Luther Vandross who would probably be more than happy to help tell his story.
4. Usher
Usher is widely regarded as one of the best R&B singers and all-around performers of his generation, and he has been dominating the industry for much of his life. Still, however, some would argue that he hasn't gotten all of the credit he deserves. Even though he is incredibly well known, there are still lots of people who don't know the ins and outs of his journey through the music industry. From starting his career as a teenager to ending his business relationship with his mother, Usher has gone through a lot over the years. Additionally, he has had to endure a lot in his personal life as well including two divorces and the death of a step son.
5. Mariah Carey
Mariah Carey is one of the best-selling artists of all-time and her incredible vocal range will go down in history. In an industry where people are easily forgotten, Mariah Carey has managed to stand the test of time. Her art has touched the lives of countless people and it continues to do to so this day. She is also the inspiration for many of today's artists. Her story is one that definitely deserves to be told. Lots of her fans would love to learn about who she is outside of career and also get glimpse into all of the work that went into building such an impressive career.biographical movies