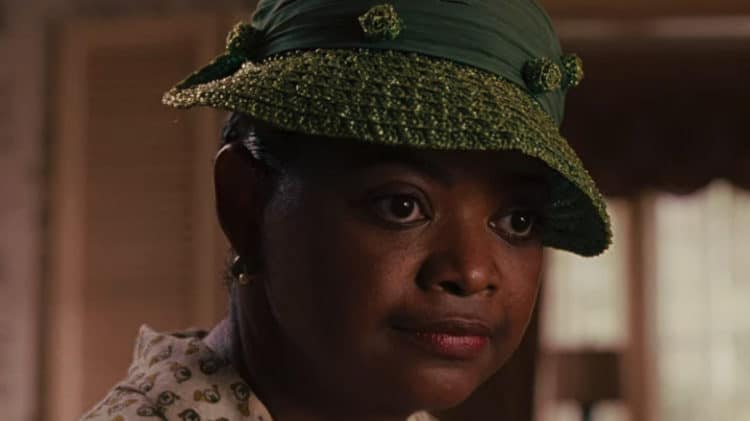 Based on the 2009 novel of the same name, The Help became one of the most memorable movies of 2011. The Help took a look at race relations in the segregated south through the eyes of two Black housekeepers who lived and worked in Jackson, Mississippi during the early 1960s. Not only were they paid very little for their work, but they were disrespected and disregarded on the job. Every day, they had to tend to the homes of upper-middle-class white families while they themselves were living in poverty. Not only was the movie a major hit at the box office, but it was also considered a critical success by reviewers. In addition to that, the movie also proved to be a great way for the cast members to share their skills with the world. In the years since the movie's release, some of the cast members have gone on to become some of the most familiar faces in the industry. Continue reading to find out what happened to the cast of The Help.
Viola Davis
By the time The Help came around, Viola Davis was already well on her way to establishing herself as a powerhouse in the entertainment industry. Her role in the 2008 movie Doubt earned her an Academy Award nomination for Best Supporting Actress. However, her role in The Help took her career to even higher heights. Her portrayal of Aibileen Clark earned her another Academy Award nomination as well as a Golden Globe nomination. She also won two Screen Actors Guild Awards. Since then, she has gone on to have an incredibly successful career on the big and small screens. She is now best-known for her role as Annalise Keating in the series How to Get Away with Murder and she has been in movies like Ender's Game and Suicide Squad. Somewhat surprisingly, however, Viola doesn't look back on The Help with positive feelings.
According to Vanity Fair, Davis said, "…have I ever done roles that I've regretted? I have, and The Help is on that list. But not in terms of the experience and the people involved because they were all great. The friendships that I formed are ones that I'm going to have for the rest of my life. I had a great experience with these other actresses, who are extraordinary human beings. And I could not ask for a better collaborator than Tate Taylor." She went on to say, "I just felt that at the end of the day that it wasn't the voices of the maids that were heard. I know Aibileen. I know Minny [played by Octavia Spencer, who won a best-supporting-actress Oscar]. They're my grandma. They're my mom. And I know that if you do a movie where the whole premise is, I want to know what it feels like to work for white people and to bring up children in 1963, I want to hear how you really feel about it. I never heard that in the course of the movie"
Octavia Spencer
Octavia Spencer began her acting career in the mid-1990s, but it wasn't until The Help that she really got a major opportunity. In the movie, she played Minny Jackson, Aibeleen's friend, and fellow housekeeper. Her role in the movie earned lots of acclaim from critics and it even earned her an Academy Award for Best Supporting Actress. After 2011, things really took off for Octavia, and she has appeared in a wide variety of TV and film projects. Octavia has become widely known for her versatility and she brings something special to every movie or show she's a part of. Most recently, she's had a starring role in the Apple TV+ series Truth Be Told. She also has a couple of film projects in the works that will likely be released in 2022.
Jessica Chastain
Like many of the other cast members in The Help, Jessica Chastain had been in the industry for several years before being cast in the movie. But although she had been in quite a few movies and shows, The Help was her first time having a significant role in a major film. In fact, 2011 turned out to be a major year for her career in general. She may not have played the most likable character in the movie, but she did a great job of bringing Celia Foote to life. Her role in The Help earned her an Academy Award nomination for Best Performance by an Actress in a Supporting Role. Since The Help, she has continued to find success. Most notably, she has been in movies like It: Chapter Two in Ava. In 2017, she even appeared in a music video for the Beyonce and Jay-Z song "Family Feud". Although Jessica has focused most of her attention on movies, she starred in a TV mini-series in 2021 called Scenes from a Marriage.
Bryce Dallas Howard
As the daughter of the legendary actor and director, Ron Howard, Bryce Dallas Howard has been around the entertainment industry for her entire life. Although having a famous father has definitely come in handy, Bryce has always made it a point to stand on her own two feet. Before The Help, Bryce had already started making a name for herself thanks to her role as Victoria Sutherland in the Twilight franchise and her portrayal of Gwen Stacy in Spider-Man 3. Interestingly enough, her castmate from The Help, Emma Stone, played Gwen Stacy in the previous Spider-Man movie. Being in The Help gave her an opportunity to show her range as an actress. Her portrayal of racist southern housewife Hilly Holbrook was convincing enough to earn her a Screen Actors Guild Award for Outstanding Performance by a Cast in a Motion Picture. Bryce has continued to act since The Help with roles in movies like Jurrasic World, Pete's Dragon, and Rocket Man. She has also followed in her father's footsteps and ventured on the other side of the camera. In 2019, she got a career-changing opportunity when she became a director for the Disney+ series The Mandalorian. Outside of acting, things have also gone well for Bryce since The Help. In 2012, she and her husband welcomed their second child.
Allison Janney
With more than 30 years of acting experience under her belt, Allison Janney is a truly talented star who has the ability to play a wide variety of characters. In The Help, she played Charlotte Phelan whose daughter, Eugenia, is the writer who spearheads the idea to sit down with the maids and record their stories. Like many white women of the time, Allison has cordial relationships with the Black people she employs, but it's clear she sees them as less than equal. Even though she didn't have the biggest role, Allison made the most of every moment she had in front of the camera. Allison has continued to work very consistently since the movie's release and that includes film and TV roles. Most notably, she played the role of Bonnie Plunkett in the TV series Mom from 2013 to 2021. During her time on the show, she also got the chance to reunite with Octavia Spencer who had a recurring role during the first three seasons of the series.
Emma Stone
Emma Stone is one of the biggest names in Hollywood, and the success of her work in The Help has a lot to do with that. Even though she had already started building a successful career prior to the movie, many of her roles had been on the more comedic side. The Help gave her the chance to prove that she had the depth to take on more serious roles. Her portrayal of Eugenia "Skeeter" Phelan gave the world a chance to see her in a different light, and she earned lots of great feedback from reviewers. Since 2011, Emma's career has taken off in a major way. In 2017, she was the highest-paid actress in the world. In 2021, she played the title character in the Disney movie Cruella. On top of the success she's had in her career, Emma has experienced a lot of great things in her personal life. She married Dave McCary in 2020 and they had their first child together in 2021.
Ahna O'Reilly
Ahna O'Reilly isn't as well known as some of the other cast members from The Help, but her role in the film is one of the most memorable. She played a housewife named Elizabeth Leefolt and she was the person who Aibileen worked for. Elizabeth was notoriously apathetic when it came to her daughter Mae Mobley, and proved to be a cruel person all around. Since The Help, Ahnha has made dozens of other on-screen appearances. However, The Help remains her most well-known role. When she isn't working, she loves reading and spending time with her family.
Chris Lowell
In The Help, Chris Lowell played Skeeter's love interest, Stuart Whitworth. However, Stuart's father is a conservative senator which means that going after someone with an interest in Civil Rights probably isn't the best move for him. As you can imagine, this causes a rift between them. Since Chris didn't play a major role in The Help being in the movie didn't boost his career the same way it did for others. However, he has continued to work over the years. Some of his more recent credits include the Netflix TV show, Glow and the movie Breaking News in Yuba County.
Tell us what's wrong with this post? How could we improve it? :)
Let us improve this post!