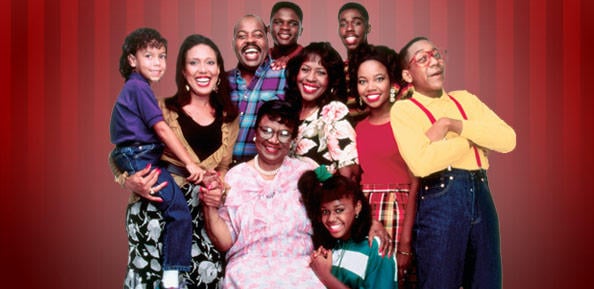 Family Matters is easily one of the most iconic Black sitcoms of the 90s. It introduced us to the legendary Steve Urkel (Jaleel White) and it was an important part of ABC's Friday night TGIF lineup. The show was full of comedy and also had episodes that were centered around teaching important life lessons. Although this may be hard for some fans to believe, it's been almost 23 years since Family Matters aired its final episode. Although the show's cast members were huge stars during its run, many of them have faded out of the spotlight in the years after the series finale. Keep reading to find out what happened to the cast of Family Matters.
Jaleel White as Steve Urkel
Although Jaleel White had been in the industry for a couple of years before being cast in Family Matters, playing Steve Urkel proved to be his big break. Originally, the show was meant to mainly focus on the Winslow family, but Jaleel White quickly stole the show. His portrayal of the character turned him into a huge star and his signature phrase "did I do that?" was iconic during the 90s. Although Jaleel has continued to act since his days as Urkel, Family Matters continues to be his most well-known acting credit. Along with his live-action work, Jaleel has also done a good amount of voice acting over the years. However, the entertainment industry hasn't been his only focus over the years. In 2021, it was announced that he would be getting into the cannabis business with a strain of marijuana called Purple Urkle which will be sold in dispensaries in California. Outside of his work, Jaleel is the proud father of one child.
Reginald VelJohnson as Carl Winslow
What some people may not know is that Carl Winslow's character was actually introduced before Family Matters existed. Reginald VelJohnson first played the character in 1989 in the TV series Perfect Strangers. Family Matters ultimately became a spinoff of that series. Reginald has continued to work consistently since his time on Family Matters and has been involved in a wide variety of projects. Most recently, he has been in the TV series Turner & Hooch.
Jo Marie Payton as Harriette Winslow
Like Carl Winslow, Harriette's character originated in Perfect Stranger. However, she had a recurring role whereas Carl only appeared in one episode of the show. As one of the stars of Family Matters, Harriette was known for being a strong and feisty wife and mother who always had her family's best interest at heart. Jo Marie Payton's portrayal of the character was authentic and funny. Needless to say, lots of fans were disappointed when Jo Marie chose to leave the show before it ended. Although she has continued to work since then, many of her roles have been guest appearances. Like many of her Family Matters co-stars, Jo Marie has also had a successful voice acting career. One of her most notable roles is Suga Mama in The Proud Family.
Kellie Shanygne Williams as Laura Winslow
Not only was Laura Winslow Kellie Shanygne Williams' first TV role, but it was also her biggest. Laura Winslow was one of the most popular characters in Family Matters and viewers got the chance to see Kellie grow up right before their eyes. Unfortunately, however, she wasn't able to keep the momentum going after the show ended. She has only made a few on-screen appearances since her days as Laura Winslow and she hasn't had any other major roles. Even though her career has slowed down, things see to be going well for her in other areas of her life. She has been married since 2009 and she's a proud mother of two.
Judyann Elder as Harriette Winslow
When Jo Marie Payton decided to leave the show during its final season, she was replaced instead of having the character written out. Judyann Elder portrayed Harriette for the remainder of the final season which ended up being less than a dozen episodes. Interestingly enough, Judyann had a small guest role on the show in 1994. Judyann has worked fairly consistently since Family Matters. Her most recent TV role was Family Time which she was in from 2012 to 2017. She hasn't made a TV appearance since and she doesn't appear to have any projects in the pipeline.
Rosetta LeNoire as Estelle Winslow
Rosetta LeNoire began her acting career during the 1930s and she initially made a name for herself through her work in theater. She moved over to the TV world during the early 1950s. Family Matters, however, was her most well-known TV role. During the 1990s, Rosetta LeNoire made Estelle Winslow one of the coolest grandmas on TV. After the show ended, she made just one additional TV appearance in 1998 in an episode of the TV series Cosby. Rosetta passed away in 2002 at 90 years old. She left behind one child.
Darius McCrary as Eddie Winslow
Known for being Laura's cool older brother, Eddie Winslow's character was initially depicted as being somewhat of an airhead although this became a little less prevalent as the show went on. Eddie had interests that were typical of teenage boys and Darius McCrary did a great job of bringing the character to life. Even though he was relatively new to the industry when he was cast in the show, you'd never be able to tell. While it's true that Family Matters is still his most recognizable role, Darius has found a decent amount of work over the years. During the 2010s he had significant roles in The Young and the Restless and Anger Management. In general, Darius has been pretty private when it comes to his personal life, but we do know that he has been married twice and has two daughters.
Telma Hopkins as Aunt Rachel
Before getting into acting, Telma Hopkins has a successful career as a singer. During the 60s and 70s, she worked with some of the biggest artists in the music industry including Marvin Gaye and Isaac Hayes. She got into acting during the late 1970s, and she had a couple of significant roles before being cast in Family Matters. She was a main character in the show during the first four seasons and had a recurring role for season six. Telma has had quite a successful acting career in the years since Family Matters and she still has a lot left to offer. She will be in the upcoming movie The Matrix Resurrections which is set to be released in 2022.
Jaimee Foxworth as Judy Winslow
Jaimee Foxworth's character, Judy Winslow, had a main role in the show for the four first seasons before disappearing unexplainably. When the show returned for the fifth season, it was like the character never existed. According to Distractify, Jaimee was written out of the show simply because they felt the character was no longer needed. Unfortunately for Jaimee, the decision ultimately ended her career. She has not had any acting roles since Family Matters. Jaimee struggled with substance abuse and mental health issues over the years, but fans will be happy to know that it seems like she's doing better. She is very active on Instagram and she is a dedicated mother who appears to be in a good place.
Bryton McClure as Richie
Bryton McClure was a cute kid when he was cast as Richie in Family Matters, but he proved that he could do much more than be cute in front of the camera. After Family Matters, he hasn't had any trouble finding consistent work. In fact, you've probably seen him but may not have recognized him now that he's older. He was in The Vampire Diaries from 2010 to 2011 and has played Devon Hamilton in The Young and the Restless since 2004.
Shawn Harrison as Waldo Faldo
In his role as Eddie's best friend, Waldo, Shawn Harrison was always around to provide some comic relief. The show was Shawn Harrison's first major acting opportunity and it continues to be his most well-known role. However, Shawn hasn't left the entertainment industry behind. He's had a few roles here and there over the years and he has also gotten into writing, directing, and producing.
Michelle Thomas as Myra Monkhouse
Michelle Thomas joined the cast of Family Matters for season four and became a main cast member by season six. Her character, Myra Monkhouse, had a crush on Steve Urkel. Unlike Laura, she genuinely liked Steve and didn't need him to transform into Stefan. Myra was a fun and bubbly character and she quickly became a fan favorite. Sadly, like several of the show's other stars, opportunities began to dry up for Michelle when the show ended. In an article from Cheat Sheet, Jaleel White said, "When the show went down, a lot of realities for a lot of us kicked in. And moving on as an actress, I think Michelle ran into some difficulties. I remember even for a while, she worked as a waitress, and she would work way out in like Palmdale [California] because she didn't want anybody in LA seeing her have to wait tables". Things started looking up for her in 1998 when she got a recurring part in The Young and the Restless. However, she fell sick shortly after and passed away in December of that year after being diagnosed with a rare form of cancer. She was only 30 years old at the time of her death.
Orlando Brown as 3J
Orlando Brown was only on Family Matters for its last three seasons, but his character left a lasting impression. He continued to work throughout the 90s and in 2003 he got another major opportunity when he was cast as Eddie in That's So Raven. However, when that show ended in 2007 things started to go downhill for Orlando. He dealt with a very serious drug addiction but as of October 2021, he looks to be clean and doing well.
Cherie Johnson as Maxine Johnson
In her role as Laura's best friend, Maxine, Cherie played a supporting role throughout Family Matters' run. Since Family Matters, she has focused a lot of her attention on movie roles, many of which have been minor. In 2021, she reprised her role as Cherie in the Punky Brewster reboot.