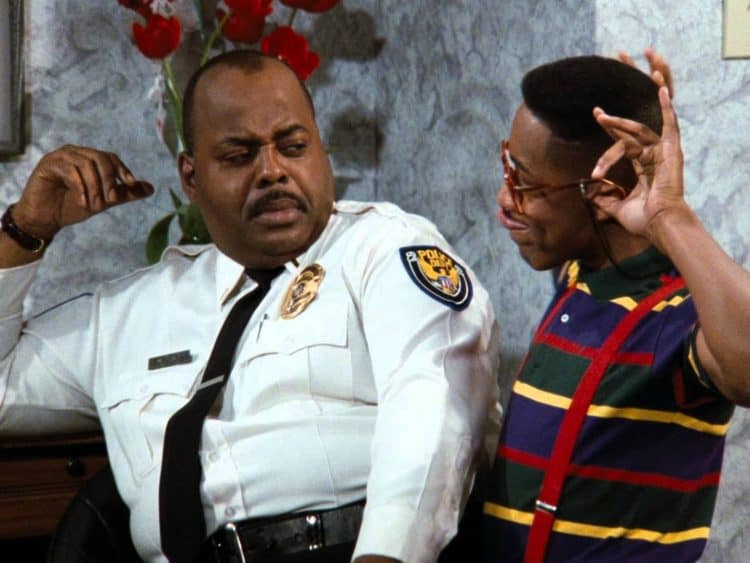 Oddly enough Reginald VelJohnson's bio states that he retired in 2016, and yet there are still credits extending into 2020, which kind of indicates that someone jumped the gun on stating that he's retired or he didn't feel that retirement suited him that well. However it happened, it's easy to think that stepping away from the business and the lifestyle might not have been as easy as he wanted it to be since he's been around for a good amount of time and he's created a few different images, two in particular that I'll talk about, that a lot of people tend to remember. It's interesting to realize that he was in the same acting troupe as Morgan Freeman and CCH Pounder, who are great actors in their own right, but it's also enough to realize that the three of them might have influenced each other just a bit as they learned how to captivate the audience. Without trying to sound insulting it's kind of fair to state that Reginald didn't reach the same heights that Freeman did since he had some success in the movies and a bit on TV as well, but it does feel that he hit a peak that he never went past. Some folks are destined to reach a little higher while some are bound to be remembered even if they don't go quite as far. Thankfully, Reginald managed to come up with two different acts that people still remember fondly to this day since he played them so well.
He has had a penchant for playing authority figures since early on in his career, but it's worked in a big way. He was a corrections officer in The Ghostbusters if people recall, and while he wasn't a big part of the movie he's still easy to recognize. Where he's extremely easy to recognize is in one of the greatest Christmas movies of all time that has nothing to do with Christmas, Die Hard. Playing the part of Sgt. Al Powell was definitely a wise decision since it's immortalized him in a way that not a lot of other roles have considering that he played opposite Bruce Willis and was able to become a part of one of the best movies ever made that so many people have enjoyed over the years. In the opinion of many people, the Die Hard series should have ended with the first or second movie, both of which Reginald starred in as the same character, but of course, that's not what happened. While he didn't come back for the other Die Hard movies he did manage to move on and take on another role that saw him playing another cop.
Only a year after taking the role on Die Hard he picked up the role of Carl Winslow on Family Matters, a show that took off and lasted for nearly a decade and, funnily enough, started on the show, Perfect Strangers. Carl Winslow was a great role since it kept him busy for a while and it cemented him in the public consciousness once again since the police officer/family man was someone that people could relate to and he was someone that looked out for his family while still doing his job without letting the two interfere with each other that much. In a way, he kind of did for Family Matters what Uncle Phil did for the Fresh Prince of Bel-Air since he was the guy that stood up as the moral backbone of his family and was also the disciplinarian when he needed to be. He was even plagued by an annoying presence, but unlike Jazz, Steve Urkle was far more annoying and yet somehow managed to become a huge part of the show that people locked onto in a very big way. The dynamic between Carl and Steve wasn't always the best but it was usually pretty comical since the two had mutual respect for each other that was easy to observe when Steve wasn't being his usual annoying and geeky self, which was rare. But Carl is also known for a particular episode when his son Eddie was pulled over, apparently for speeding, but also because he was apparently a young black man in the wrong neighborhood.
Carl confronted the officers that stopped his son after hearing Eddie's story and deciding to see for himself what was going on. The point was that Eddie was appalled that his father wouldn't believe him, but Carl wanted to take a measured approach and find out for himself what had happened instead of taking hearsay and flying off the hook over what happened to his son. It might not have been the popular approach, but in the show and in real life it's a wiser decision than many want to admit.
As far as his career is going today it does sound as though Reginald is still acting, even if some sites apparently list him as retired.
Tell us what's wrong with this post? How could we improve it? :)
Let us improve this post!