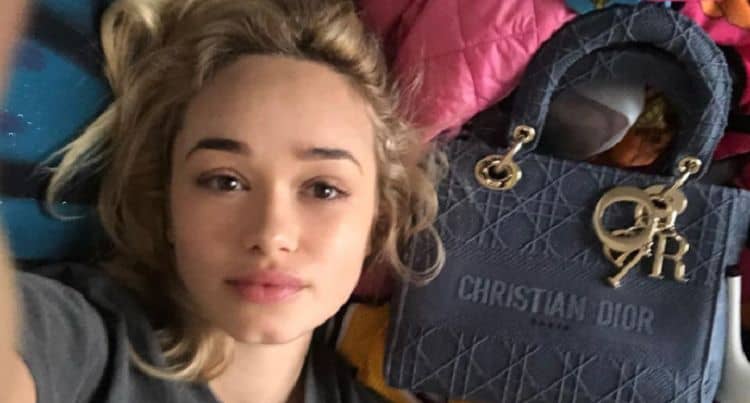 Rose Williams hasn't even been in the industry for 10 years yet, but she's already making her mark both on and off the screen. The talented British actress has already become a fixture thanks to her stellar performances, and she's excited to show the world what else she can do. At this point in her career, she is best known for her role as Charlotte Heywood in Sanditon. Her vibrant energy and natural acting skills have earned her the respect of those she has worked with and those who have seen her work. Rose currently has a couple of other projects in the works that are sure to help her continue to establish her status as a star. Here are 10 things you didn't know about Rose Williams.
1. She Originally Wanted To Work In Fashion
There are lots of actors who could never imagine themselves doing anything other than acting, but Rose isn't one of those people. Her initial plan was to work in the fashion industry and when she was a teenager she started working at a local clothing store. She eventually decided to pursue a career in acting instead, but fortunately, the two industries have lots of overlap.
2. She Likes To Paint
Rose was born into a family where her creativity was always fostered. Her mother worked for the BBC in the costume department and her father worked various jobs in the entertainment industry. Rose's mother encouraged her and her sister to paint and draw at an early age.
3. She's Passionate About Social Justice
There are some celebrities who choose not to do anything with their platform other than entertain, but that isn't true for Rose. She is all about using her position to raise awareness of the things that are important to her. She is a strong supporter of things like ending racism and police brutality.
4. She Likes Taking Pictures
Being in front of the camera is what has made Rose famous, but she isn't afraid to step behind the camera as well. Although she doesn't have any experience working as a director, she does love taking pictures. She is a natural at knowing exactly when to capture a beautiful moment. She has shared several of the photos she's taken on Instagram.
5. She Initially Auditioned For A Different Role In Sanditon
Life has a funny way of working things out exactly how they're supposed to be, and this is something Rose experienced firsthand when she earned her role in Sandition. According to Vogue, Rose originally auditioned for a supporting role in the series but she turned it down because she was already scheduled to do something else. However, when the chance to audition for a leading role came around, she decided to give it a chance.
6. She's A Dancer
Rose's acting skills are undeniable, but that isn't the only way she likes to express her creative side. She is also a very talented dancer who has been trained in a number of styles. Although it doesn't look like she's ever pursued dance at the professional leve, it's still something she enjoys doing when she gets the chance.
7. She Doesn't Back Down From A Challenge
There are a lot of people who are perfectly fine with playing it safe for their entire lives, but that's not how Rose gets down at all. She actually enjoys challenging situations and she is always looking for opportunities that can help her grow as a person and an actress. This way of thinking has probably been very beneficial to her over the years.
8. She Loves To Travel
The world is a big and beautiful place and Rose intends to see as much of it as she can. She is the type of person who doesn't like to stay in one place for long and she always looks forward to learning about different people and places. Luckily for her, her career as an actress has given her plenty of opportunity to travel.
9. Stress Helps Her Be More Productive
Stress is something that most people try to avoid, but Rose has learned to embrace it. In fact, she believes that she works the best and feels the calmest when things are stressful. While talking to Vogue, Rose said, "The most stressy moments are when I am most peaceful."
10. She Has A Tattoo That Helps Her Stay Grounded
There are plenty of celebrities who lose themselves once they start to get attention. Rose, however, is all about being humble. She told Glamour, "I just got a tattoo on my wrist that says 'gratitude.' Any moment I feel wobbly about something I look at that tattoo and think, 'No! It's really amazing you get to do this as a job!' It was to keep me in check."
Tell us what's wrong with this post? How could we improve it? :)
Let us improve this post!