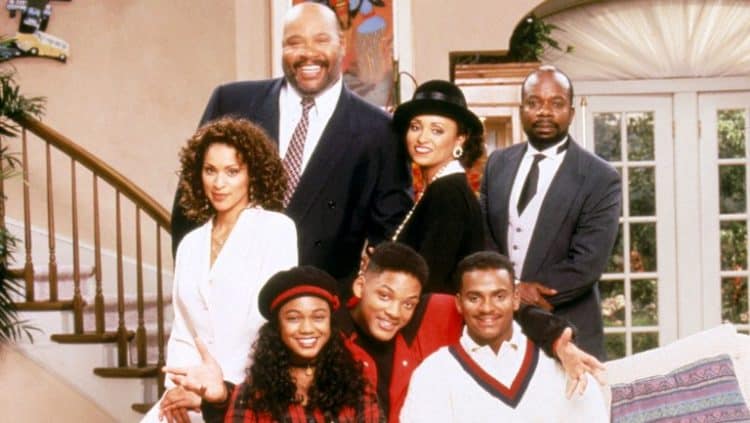 If you were around during the 1990s, you'll probably agree that it was a great decade for Black sitcoms. In fact, there were more Black sitcoms — and shows in general — in the 90s than there are now. Although we're not more than 30 years away from the start of the decade, many of these shows are still near and dear to viewers' hearts. Not only were these shows great for their time, but many of them have aged surprisingly well. Some of these shows even helped launch the career of some very well-known stars. Keep reading to see our list of the best Black sitcoms from the 90s. If you haven't seen some of the shows on the list, they're definitely worth circling back and watching.
The Rise of Black Sitcoms
Black sitcoms have had a very interesting journey that goes all the way back to the early 1950s. In the summer of 1951, Amos 'n' Andy became the first Black sitcom to hit the air. It had previously been a radio show for several years. The show only ran for two seasons due to criticism over what many felt were negative stereotypes of Black people. After the show's end in 1953, there were no Black sitcoms until the 1970s. During the 70s, several Black sitcoms hit the airwaves and many of them become very successful. Some of the most popular of the decade were The Jeffersons, Good Times, and Sanford and Son. Although these shows were successful, they were mostly popular among Black audiences. Race was often somewhere at the center of these shows, even if it was done in a comedic way. Like Amos 'n' Andy, some of the 70s' Black sitcoms were also accused of perpetuating negative stereotypes.
In the 1980s, we saw sitcoms attempt to paint a more diverse representation of the Black community. Shows like The Cosby Show and A Different World depicted middle-class Black families and focused on storylines that were seen as universally relatable. This approach is something that continued through many of the 90s' Black sitcoms. The 90s was definitely the Golden Age when it came to Black sitcoms. This was largely due to the fact that several networks were willing to invest in Black sitcoms in an attempt to gain more Black viewers. On top of that, many of these shows did not focus on race which made them palatable for non-Black viewers. More than anything, though, many of these sitcoms were just downright funny and featured the work of some incredibly talented people.
Here are our picks for the 10 best black sitcoms of the 90s
10. Smart Guy
Smart Guy may not be as well known as some of the other shows on this list, but it definitely deserved more attention. Starring Tahj Mowry, whose older sisters were also stars of a great sitcom, Smart Guy followed TJ Henderson, an incredibly smart 10-year-old who skipped elementary several grades and went straight to high school. Despite his unusual level of intelligence, TJ often struggled to fit in with the much older kids in high school. On top of that, his older siblings were also annoyed by the fact that he had become one of their peers. Smart Guy was one of those shows that appealed to a younger audience but was entertaining enough to attract older viewers as well. The series ran for just three seasons from 1997 to 1999. Smart Guy originally ran on The WB (now known as The CW) although reruns eventually aired on the Disney Channel.
9. My Brother and Me
My Brother and Me is another Black sitcom from the 90s that doesn't get nearly as much recognition as it deserves. The show aired on Nickelodeon for just one season between 1994 and 1995. In fact, it was the first show on the network to feature an all-Black cast. The series followed two brothers, Alfie and Dee Dee Parker who came from a middle-class home in North Carolina. Both of their parents were part of Black Greek letter organizations and in many ways they represented the All-American family. Throughout the series, Alfie and Dee Dee dealt with typical childhood issues such as bullying, dating, and problems at school. My Brother and Me was originally intended to last for more than one season, but disagreements behind the scenes resulted in the show being canceled.
8. Sister, Sister
Starring identical twins Tia and Tamera Mowry, Sister, Sister, was a hilarious show about a set of twins who had been adopted by different families at birth. Neither sister knew about the other, which resulted in them being incredibly surprised when they bumped into each other at a mall. Both twins and their parents ended up becoming a blended family, which lent itself to lots of hilarious moments. The series turned Tia and Tamera into two of the hottest young stars of the decade, and it also provided a nice second wind for Tim Reid and Jackee Harry who had found lots of success during the 80s. The series was also a starting point for Marques Houston who went on to have a successful career as an R&B singer.
7. Moesha
Airing from 1996 to 2001, Moesha is easily one of the most memorable Black sitcoms of the 90s and early 2000s. Starring R&B singer Brandy Norwood in the title role, Moesha was a fun show that followed the ups and downs in the life of a teenage girl. The show covered some very important topics such as drug use, pregnancy, sexuality. The show was also responsible for another popular Black sitcom, The Parkers. Even though it's been about 20 years since Moesha aired its last episode, the show has aged very well. When it was added to Netflix in the summer of 2020, it quickly reached the streaming platform's top 10.
6. Kenan and Kel
Kenan and Kel is often overlooked when people talk about awesome Black sitcoms from the 90s, but it definitely deserves a spot on this list. The show, which was set in Chicago, followed the lives of Kenan Rockmore and Kel Kimble. Although the characters shared the same first names of the actual stars of the show, the series was not based on either of their lives. Throughout the series, Kenan and Kel found themselves in some very sticky situations. This was largely due to the fact that Kel tended to be somewhat clueless. Like many other Black sitcoms in the 90s and early 2000s, Kenan and Kel often featured celebrity guest appearances.
5. The Jamie Foxx Show
These days, Jamie Foxx is known for being an award-winning actor and singer. However, in the 1990s, his star was still on the rise and one of the things he was best known for was his self-titled sitcom. In the show, Jamie played a character named Jamie King who somewhat resembled who he was in real life. Jamie King was an aspiring musician who moved from Texas to Los Angeles to pursue a career in the entertainment industry. To support himself, he got a job working at a hotel that was owned by his family. Throughout the series, Jamie found himself in funny and awkward situations oftentimes involving his family and coworkers. The show ran for five seasons and was instrumental in launching Jamie Foxx's career on a larger scale.
4. Living Single
Often thought of as the original version of Friends, Living Single followed the lives of six friends living in Brooklyn. Although the characters lived in two separate households, they all lived in the same brownstone. Unlike some of the other shows on this list, the characters on Living Single were adults instead of high school or college students. This allowed the series to appeal to an older audience. During its first season, Living Single became a huge hit and even brought in more viewers than Martin. In the last season, however, it was clear that there were some issues behind the scenes. One of the show's stars, T.C. Barker was fired in the final season, and another, Kim Fields, left during that season due to some personal issues. When T.C. asked why he was let go, he told Black Enterprise that it was due to the fact that he constantly spoke up in regards to the production company giving more attention to Friends.
3. Martin
Martin is hands down one of the most iconic sitcoms of the 90s — and many would argue, of all time. Starring Martin Lawrence in the title role, his character was a Detroit-based radio personality. A lot of the show's comedy centered around the fact that Martin was the type of person who primarily only looked out for himself. The show aired for five seasons and could have likely gone on longer had it not been for being the scenes issues with Martin and his on-screen girlfriend, Tisha Campbell. In 1997, which ended up being the final season of the show, Campbell sued Martin on the grounds of sexual harassment and other charges.
2. The Fresh Prince of Bel-Air
The Fresh Prince of Bel-Air is arguably one of the best sitcoms to ever exist – Black or otherwise. On top of that, it has a theme song that many people can easily recite at the drop of a time. There was simply something magical about the kid from West Philly who went to live in Bel-Air with his wealthy relatives. Although the show was set in a middle-class environment, it still touched on issues that were relatable to people from other communities. Now, 25 years after the show's final episode, it is finally on the brink of getting a reboot. The upcoming series which will simply be titled Bel-Air, will air on the Peacock streaming service and follow the same premise as the original.
1. Family Matters
With Steve Urkel, Family Matters gave us one of the most iconic TV characters of the 90s. Family Matters was actually a spin-off of another sitcom called Perfect Strangers, but the original series did not feature a predominately Black cast. Family Matters followed the lives of the Winslows, a middle-class family living in Chicago and their annoying yet lovable neighbor, Steve Urkel. Although Steve wasn't originally intended to be the main character, he eventually stole the show. During its time on the air, Family Matters was part of ABC's Friday night lineup which was called TGIF. Out of all of the shows on this list, Family Matter ran the longest with nine seasons.Tisha Campbell