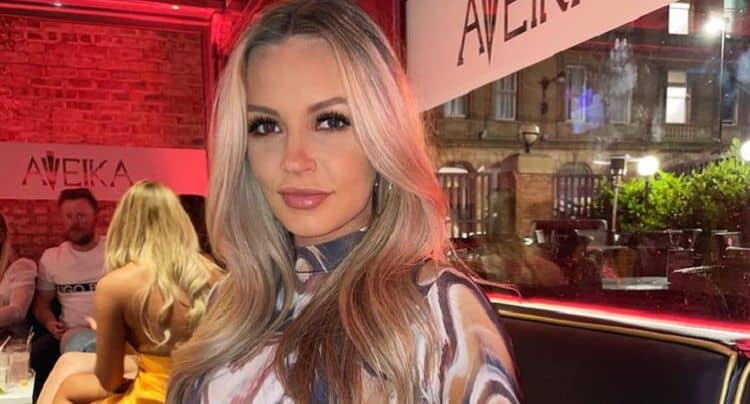 Being in a relationship with someone who is in the public eye often means that the spotlight will eventually come your way, too. That has become the case for Vicky Turner. Her boyfriend, Kyle Christie, is a contestant on The Challenge on MTV. Although Kyle and Vicky have been together for the last few years, the public learned just how serious their relationship was when it was revealed that they were expecting their first child. Now, people are interested in learning more about Vicky. Her relationship with Kyle might be her current claim to fame, but there is much more to her than that. Keep reading to learn 10 things you didn't know about Vicky Turner.
1. She Is Passionate About Mental Health Awareness
Mental health is one of those things that most people would consider a sensitive subject. As a result, lots of people shy away from talking about their own mental health challenges. However, in 2018, Vicky decided to open up about some of the things she's struggled with over the years. She didn't go into detail on social media, but she returned to her old school to talk about her experiences.
2. She Is A Model
Vicky's pretty face is probably the first thing that a lot of people notice about her and her looks have landed her some great opportunities over the years. She is a professional model who is signed to the UK-based Boss Model Management. Unfortunately, we weren't able to track down a list of the brands she's worked with.
3. She Studied Journalism
Whoever said that it's not possible to have beauty and brains has clearly never met Vicky. Education is something that is important to her. According to her Instagram bio, she graduated with a degree in journalism. However, she didn't mention which school she went to. It also doesn't appear that she's ever worked in the journalism field although her bio mentions that she works in social media.
4. She And Kyle Have Been Together Since 2018
Love has a way of finding people when they least expect it, and that appears to have been what happened between Vicky and Kyle. Although we didn't uncover any details on exactly how the couple met, we do know that they got together some time in 2018 and they've been going strong ever since.
5. She Has A Big Social Media Following
Even though Vicky isn't technically the 'famous' one in her relationship, she has still managed to build a pretty significant online following. She currently has more than 33,000 followers on Instagram. It appears that a good portion of them are following her because of her and not her relationship with Kyle.
6. She Loves Fashion
Even when Vicky isn't walking a runway or working a photoshoot, fashion is still something she loves. She has a great eye for putting outfits together and fashion has given her a perfect way to express her creativity. No matter the occasion, you can bet that she's going to show up looking stylish.
7. She Is A Dog Mom
Vicky is technically still waiting on her first child, but her motherhood journey actually began a long time ago. She is a very proud pet parent to her fur baby, a German shepherd named Oakley. In addition to making appearances on Vicky's Instagram, he also has an account of his own. According to o his bio, Oakley is W"orld Championship V1 bloodline bred".
8. She Likes To Travel
We don't have any information on where Vicky was born and raised or what her upbringing was like, but we do know that she loves getting out and seeing the world. She has been fortunate to be in a position that has allowed her to do lots of traveling over the years. In the summer of 2019 she even took a trip to Egypt.
9. She Participated In Blackout Tuesday
For the most part, Vicky hasn't shared her personal opinions on social media, but in the summer of 2020, she participated in a virtual show of solidarity called Blackout Tuesday. The event was designed as a way for people to show their support for the Black Lives Matter Movement on social media.
10. She Doesn't Appear To Have Any Experience In The Entertainment Industry
Vicky definitely appears to have what it takes to be a star, but it doesn't look like she has any interest in breaking into the entertainment world. As far as we know, Vicky has not been in any TV shows or movies. Maybe one day, she will decide to give acting a try.