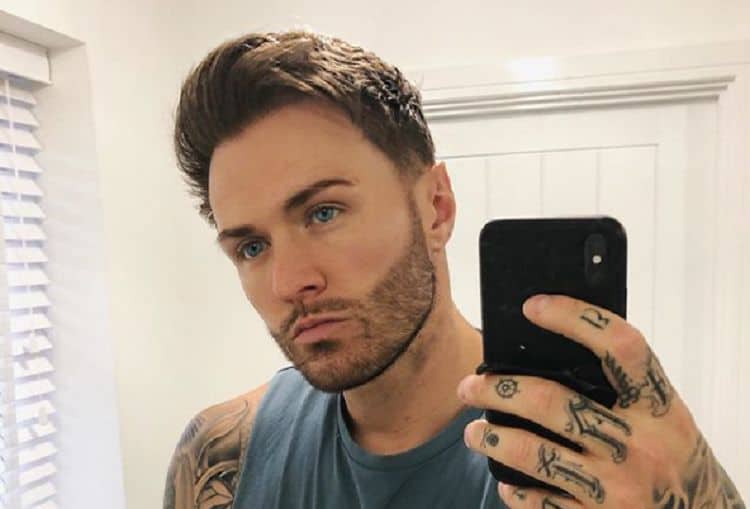 Kyle Christie first hit the reality TV scene in 2014 as a member of the British reality TV show, Geordie Shore. As you may be able to guess by the name, the show follows a similar format to the hit series, Jersey Shore. Since leaving the show in 2016, he has become even more popular as a competitor on MTV's The Challenge. Throughout his time on The Challenge, he has become known as a fierce competitor and he's even won some money in the process. Kyle is a prime example of how reality can ultimately lead to bigger and better opportunities when people play their cards right. Keep reading for 10 things you didn't know about Kyle Christie.
1. He Got A Hair Transplant
Hair transplants have become a popular options of people suffering from baldness or thinning hair. However, like any other procedure, there's always a risk that hair transplants won't look the way you envisioned. Unfortunately for Kyle, this turned out to be the case after he underwent a hair transplantation procedure.
2. He Loves To Travel
Kyle was born and raised in England, and as much as he loves his home, he knows there's much more the world. Kyle loves to travel far and wide and he enjoys getting the chance to meet with new people and experience different cultures. Some of the places Kyle has visited include the Czech Republic, Spain, and Egypt.
3. He's Gotten Plastic Surgery
Hair transplants aren't the only procedure Kyle has had done. He's also gotten some work done to his face as well including a nose job having his jawline reshaped. Some people who were introduced to Kyle during Geordie Shore have expressed that he's almost unrecognizable.
3. He Left Geordie Shore To Spend Time With A Sick Family Member
When Kyle decided to leave Geordie Shore in 2015, lots of fans assumed it had something to do with his rocky relationship with fellow cast member, Holly Hagan. However, that wasn't the case at all. He chose to leave the show so that he could go home and spend time with his grandfather who had been diagnosed with cancer.
4. He's A Proud Dog Dad
Sorry cat people, but learning that someone is a dog person definitely gives them a leg up. Kyle hasn't started a family of his own yet, but he's already getting practice in with his adorable fur baby, a German Shepherd named Oakley. Kyle loves spending time with Oakley whenever he can and he has even started an Instagram page so that people can follow Oakley's adventures.
5. He Was On MTV Cribs
If you grew up during the 2000s, you probably have fond memories of the show Cribs. Long before social media was a popular thing, Cribs gave people the chance to take a look into celebrities multi-million dollar homes. The show was revived win 2017. However, instead of being aired on TV, it was posted on Snapchat. Kyle and his house were featured in an episode in 2019.
6. He Loves Fashion
Kyle may not be a professional model, but he still has a great appreciation for fashion. If there's one thing most people have noticed about Kyle it's that he is very stylish. He loves putting together outfits and he has a great sense of what kinds of things go well together.
7. He Compared Himself To Spongebob
Kyle has gotten a good bit of flack for all of the cosmetic procedures he's had done. Some people have even criticized him for spending so much money on his looks – a point he rebuttals by saying most of the work he's gotten done was heavily discounted or free. Despite the negative things people have to say, Kyle has managed to keep a sense of humor through it all. In a picture he posted on Instagram in 2018, he jokingly referred to himself as "Sponge Bob square jaw".
8. He's Struggled With His Self Esteem
Kyle has struggled with accepting himself and his appearance for years. This is likely what has lead him to go under the knife so many times. Sadly, even after everything he has gotten done, Kyle still isn't satisfied with the way he looks. This just goes to show that no matter how successful of popular you are, confidence could still be something you struggle with.
9. He's A Business Man
Kyle is most well-known for his appearance on Georgie Shore and MTV's The Challenge, but reality TV isn't the only thing he's relying on for a check. According to his Instagram bio, Kyle is the director for a company called Switch Now International which focuses on helping businesses save money.
10. He Has A Big Social Media Following
Since being in the spotlight for the last several years, Kyle has built up a pretty impressive social media following. He has over a million followers on Instagram, and that number will likely continue to grow. Having such a large platform has allowed him to work with brands and gain other business opportunities.