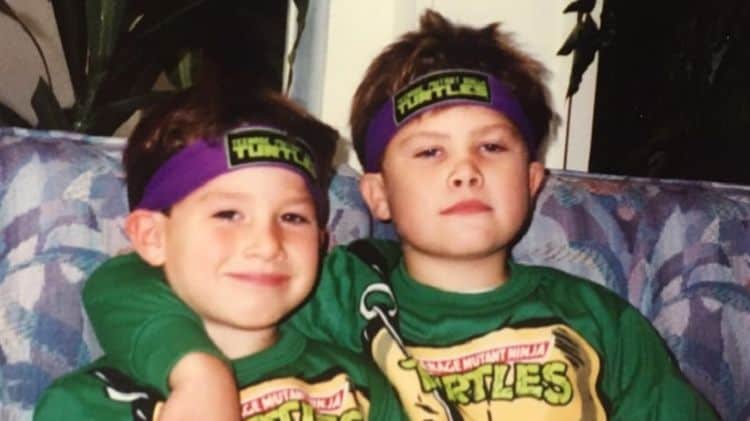 Casey Jost has been in the entertainment industry for well over a decade, and during that time he has managed to cover a lot of ground. Most people probably know him best for the work he's done with Impractical Jokers, but that might not be the case for much longer. Casey has a big new opportunity on the horizon and it will likely take his career to even higher heights. It has recently been announced that Casey and his brother, Colin, will be the writers of an upcoming Teenage Mutant Ninja Turtles movie for Paramount Pictures. Not only is this a great opportunity professionally, but as a lifelong TMNT fan, this is an extra special moment for Casey. Continue reading for 10 things you didn't know about Casey Jost.
1. He's A New York Native
Casey was born and raised on Staten Island and he is very proud of where he's from. His family's roots in New York run very deep. His mother worked with the York Fire Department and his father taught at Staten Island High School. In 2015, he was even in a movie called Staten Island Summer.
2. He's A Formally Trained Actor
The entertainment industry is a very competitive place, and people have to do what they can to stand out from the competition. More often than not, constantly sharpening their skills is the key to success. Casey has done exactly that. He began studying with Upright Citizens Brigade in 2007.
3. He's All About Family
Casey comes from a very close family. His brother, Colin Jost, has also had a very successful career in comedy and acting and the two have a tight relationship. On top of that, Casey is happily married to Lisa Kleinman. The couple tied the knot in 2014. As far as we can tell, they do not have any children.
4. He's A Talented Musician
Most people are familiar with Casey for the work he's done as an actor and comedian, but some don't realize that he also loves music. He has some serious skills when it comes to singing, playing the guitar, and playing the piano. In the summer of 2021, he released an album called Measly.
5. He Has A YouTube Channel
Casey isn't someone who would typically be considered a "YouTuber", but he does have a channel on the platform and he's fairly active. He's uploaded different kinds of content over the years, but lately, it seems to be mainly focused on his music. Since starting the channel in 2008, he has gotten more than 183,000 views.
6. His Favorite Thing About Comedy Isn't What You Might Think
Lots of comedians will tell you that their favorite thing about doing comedy is making people laugh, but that's not what Casey enjoys most. He told First Order Historians, "My favorite thing about comedy is connecting with people. Whether it's on stage with the audience, fellow improvisers, or in a writers' room. It's the best."
7. He Likes To Travel
If you love a good adventure from time to time, then you and Casey Jost have something in common. He loves traveling and he has gotten to visit lots of amazing places over the years. Some of the countries he's been to are Iceland and Italy. He has also been to places all over the United States.
8. He Has Great Advice For Up And Coming Entertainers
With the amount of success he's had so far, I think it's safe to say that Casey knows a little about what it takes to make it in the entertainment industry. When First Order Historians asked if he had any advice for people trying to get into comedy, he said, "Humility and confidence! Humility to know that you need to work with people and that you're not God's gift to comedy. Confidence to put your material out there and be proud of it. A balance is key."
9. He Would Be Open To Hosting A Game Show
One of the things that have allowed Casey to be so successful is the fact that he's willing to try new things. He is always open to new opportunities and he isn't the kind of performer who wants to be boxed in. While talking to First Order Historians, he hinted at the idea of him hosting a game show at some point in the future.
10. He Was In The Last Dance
In 2020, the miniseries The Last Dance had a hold on basketball fans everywhere. People loved learning more about Michael Jordan's career directly from the man himself and those who he played with and against. In addition to interviews from the athletes, the miniseries also included interviews with some fans, and Casey Jost was one of them. Casey's interview was featured in the series and he brought the funny as always.
Tell us what's wrong with this post? How could we improve it? :)
Let us improve this post!