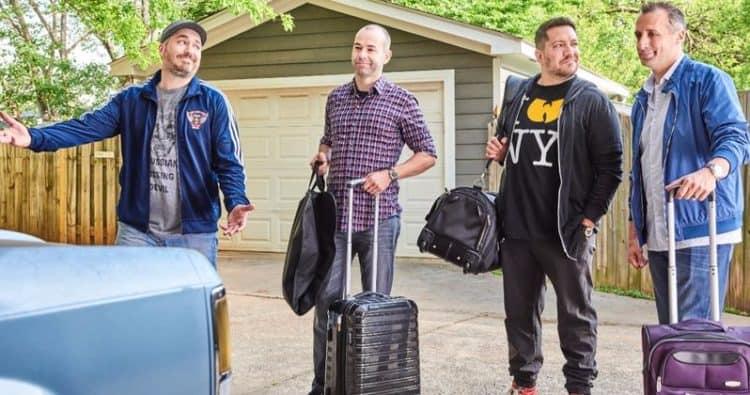 Over the last 10 years, Impractical Jokers has kept viewers entertained with endless improvisational jokes and pranks. During each episode, the four cast members compete to see who can put on the best "performance" by engaging random people in public and following embarassing commands from the rest of the joker team. However, the people on the show are unaware that they're being recorded. As you can probably guess, things can get pretty wild. Although there may be some people who doubted that the show could be successful, year after year the cast continues to come back with more funny material.
Throughout the show's run, however, some viewers have wanted to know more about the four jokers. Many have wondered whether they were friends before the fame, or if their bond is strictly based on the show. The truth may be surprising to some. Keep reading to learn more about how Impractical Jokers became a show.
How Impractical Jokers Came About
Even if you're a longtime fan of Impractical Jokers, you may not be aware of how the show got picked up. The story is actually about more than just a TV show, it's rooted in lots of friendship, laughs, and good times. According to Mass Live, the four stars of Impractical Jokers (Brian "Q" Quinn, James "Murr" Murray, Sal Vulcano, and Joe Gatto) attended Monsignor Farrell High School together. They went on to form a comedy troupe called The Tenderloins.
Eventually, they decided that they wanted to share their talents with a wider audience and they got the idea to do a TV show. When asked who came up with the concept for the series, Joe Gatto, one of the stars told Mass Live, "The four of us did while we were having lunch at James and my apartment. James and I were roommates together for a while in Manhattan. We were sitting around eating, which is when we come up with most of our great ideas. We thought what could we do make our version of what would be a hidden camera comedy show." He continued, "We didn't like to do the traditional prank show where we felt bad for people having jokes pulled on them."
The impractical jokers filed the pitch for their show entirely on an iPhone. Although this may have been a low-budget approach, it was exactly what was needed to secure a production deal.
Are The Impractical Jokers Really Still Friends?
Although we've already established that the Impractical Jokers cast started their journey as friends, some people may be wondering if their friendships are still solid. Fortunately, the answer is yes. During his interview with Mass Live, Joe Gatto said, "We all do have different interests in other things. We all have different friends. I have a family and stuff, so there are other people to spend time with, but for the most part it is a tight knit group of guys who are just thankful to be doing this together."
On top of the work they do on TV, the guys from Impractical Jokes also tour across the United States and other parts of the world as The Tenderloins. Mixing business with pleasure is something that most people would advise against. While it's true that this combination certainly doesn't work for everyone, it has proven to be the perfect recipe for success when it comes to Impractical Jokers. When Brian, James, Sal, and Joe met in high school, they probably had no idea that they'd all still be friends decades later and have become TV stars along the way.
The Future Of Impractical Jokers
Impractical Jokers started off as nothing more than a dream, and now it means so much to millions of people. The series is currently in the process of finishing up its ninth season, and viewers will be happy to know that it's already been renewed for season 10. That being said, there's no word yet on when the 10th season will debut. More than likely, however, it will be some time in 2022. At the moment, the show has not officially been renewed beyond a 10th season, but we have every reason so believe that Impractical Jokers is nowhere near finished.
Not only is Impractical Jokers a show, it's become an entire brand. In addition to the main series, Impractical Jokers has also spawned four spin-offs: Jokers Wild, Impractical Jokers: Inside Jokes, Impractical Jokers: After Party, and Impractical Jokers: Dinner Party. Even after all of the things the guys have done, they still haven't run out of ideas.