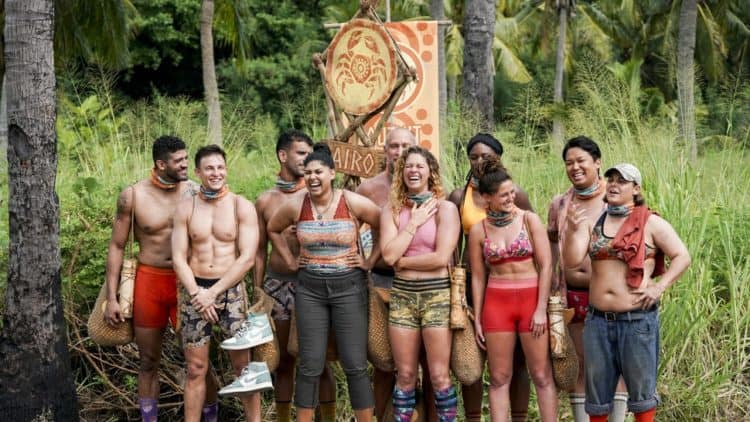 The 90 minutes of season 39 of "Survivor" is not a thing to miss. The reality show challenges the players to outshine their opponents by ensuring that their game is the best. Two legends, Sandra Diaz-Twine and Boston Rob who were winners in the last season will lead 20 new members in the episode. The two are not part of the competition but will mentor the new players. The players are not only chasing the title "Sole Survivor" but also a whopping grand prize of $1 million. Here is the cast of "Survivor" Season 39:
Ronnie Bardah
Ronnie is a pro poker player from Massachusetts. He feels he is winning the title because of the life he has already survived. Ronnie grew up in a rough neighborhood that equipped him with the right skills to handle anything. He is ready to break hearts, even his own to be the Sole Survivor.
Elizabeth Beisel
Elizabeth is an Olympic medalist from Rhodes Island. She is competitive, gregarious, and loyal. Elizabeth's plan for the game is to make use of her physical, mental, and social strength. She claims she is a tough girl who will fight until the end.
Missy Byrd
Missy is an intelligent and relentless air force veteran from Georgia. Missy is a fan of Beyoncé and wants to go by one of the singer's songs "I'm a Survivor." She wishes to claim the title by honoring all that Beyoncé said in the song.
Dean Kowalski
Kowalski is a sales technician from New Jersey. He is observant, jovial, and likable. Dean believes that social intelligence will assist him to be the winner. He also has an additional advantage of his puzzle and athletic abilities to win what he refers to as the most uniquely challenging game he as ever seen.
Tom Laidlaw
Tom is a former NHL player from Canada. He is dedicated, disciplined, but stubborn. Tom is the oldest contestant, according to Parade. He is hoping to take home the million dollars by forging strong alliances and winning challenges. Tom is not afraid to do whatever it takes to win.
Aaron Meredith
Aaron is a gym owner currently in Rhodes Island. He is intelligent, healthy, and considers himself a lady-killer. He is bringing a strong social game to the table because of the threat of his fellow competitors. By making use of the social game, people will know him, like him and trust him. He finds that strategy as being the best to influence people.
Vince Moua
Vince is an admission counselor from California who is quick-witted and never ashamed of himself. He has gained confidence and learned to trust through the challenges he has faced in his life. Vince plans to eliminate anyone he feels is a threat to his winning chances using his smart plans. He is confident about winning and is already asking judges to guarantee his win.
Karishma Patel
Karishma is a personal injury lawyer from Houston who describes herself as being charismatic, impulsive, and reliable. She feels she was born to play the game. Through her challenges in life, she knows herself better and believes she can outplay everyone. To her, surviving the game is more valuable than the money.
Elaine Stott
Elaine is a factory worker from Kentucky who loves fishing. Elaine wants to use the plan of befriending people to gain their trust. She has undergone a lot of heartaches recently with her mother being in a coma. However, she is ready to make use of her people skills to form alliances and believes her kindness will have contestants underestimating her abilities.
Chelsea Walker
Chelsea is a digital content creator from Los Angeles. Chelsea has been a victim of underestimation and has always proven the people underestimating her wrong. She has the passion and desire to win since she admits to being competitive and self-driven.
Lauren Beck
Lauren is a nanny from Michigan who loves people and has an astronomical ability to connect with them. She just got her bachelor's degree in journalism, and her love for children led her to choose to be a nanny. She has been a fan of "Survivor" and is not looking to make friends but to win.
Molly Byman
Molly is a competitive and vibrant law student from North Carolina. She fits anywhere and can form relationships with anybody. She plans to be the sole survivor by considering others and persuading them to do what she wants.
Janet Carbin
Janet is an enthusiastic and aggressive chief lifeguard from Florida. Her way to bagging the million dollars is using her ability to read people. Moreover, athletic and social skills will still facilitate her win.
Kellee Kim
Kellee is currently a master's student from Philadelphia. Her game plan to win the title is by making difficult things appear ridiculous, an idea she is good at and sees it useful in the game. She believes that luck and support from the people will make her a winner.
Jason Linden
Jason is a charismatic personal injury lawyer from New York City. Jason believes developing close relationships is a great winning strategy in the game. He will make use of his understanding of human connections to control the game and let the people decide on having him get the title.
Jack Nichting
Jack, a graduate student from Virginia, wants to make use of his social nature in the game to get rid of all his competitors. He also does not want to pose as a threat which could have him eliminated, therefore he will ensure that his game is at its best.
Noura Salman
Noura is an ambitious entrepreneur from Maryland. According to CBS, she loves exploring relationships. She believes that she is taking the title home since she is a multidimensional person. Her social skills will assist in influencing and winning people.
Tommy Sheehan
Tommy is a fourth-grade teacher from New York who believes physical ability is not the way of winning. Since he is outgoing and goofy, he hopes to connect to people and to spend time with them as the way to take home the money.
Jamal Shipman
Jamal is a counselor from Rhode Island. He has been studying the game and feels that it is time to use the strategies he has accumulated now that he is a participant.
Dan Spilo
Dan is a talent manager from Los Angeles. He believes that making himself indispensable, the rest of the tribe will want to have close by to guarantee their win.