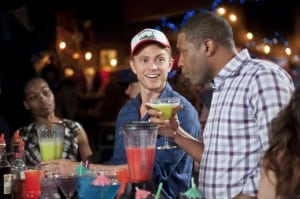 Zoe has a major wake up call when she nearly chokes to death on a donut bite while watching one of Dash's vlogs about George and Tansy. That experience makes her realize that if she were to die right now, she'd not have anyone by her side and that's a scary thought for the serial monogamist, particularly with Lavon and George in relationships. She goes to the office to try and get her mind off of things, considering that all she has at the moment is her job, only to find that Jonah and Brick are being very secretive and maybe taking patients away from her. Zoe thinks that Brick is back at trying to muscle her out of the practice, but later, she finds out from Jonah that the file he has was Brick's – and it wasn't good.
Dr. Breeland has a pituitary tumor and will be undergoing surgery the following day. Granted, it's a nonsecretive (aka much safer) tumor, but still, it's a major surgery. The only other people who know are Shelby and Jonah; in Brick's mind, Lemon and Magnolia have too much going on in their lives for him to trouble them with this type of news. Plus, Zoe's such a blabblermouth that telling her would be like telling the entire town, so he tried his best to keep her out of his business. So much for that.
And of course, Dr. Hart fulfills every negative thought Dr. Breeland has about her by immediately going up to Shelby to talk about the surgery, inadvertently mentioning the idea of Brick dying and piercing through Shelby's very thick layer of denial in the process. The organizer and compulsive shopper decides to leave town once she begins thinking about the type of commitment required in staying with someone who goes through that type of surgery; she doesn't think that she's strong enough to handle something like this, nor is her affection for Brick strong enough to make her stay with him. However, Zoe tracks her down at Stow That Stuff, a place that Shelby has done about half her shopping at this month and somewhere she likely finds relaxation in times of crisis. Dr. Hart holds her coupons hostage and gets Shelby to go to the hospital and see Brick before the surgery, since patients with a support system are known to fair better in surgery.
Shelby puts on a pretty good show in Brick's hospital room, all smiles and kind words, only for him to surprise her with a low-key marriage proposal. At first stunned, she ultimately says yes, causing both Jonah and Zoe to freak out. The latter later confesses to getting so involved in Brick's illness because she doesn't want him to die; she's the closest thing she's got to a father right now and even though the two have their differences, she wants him to be around a lot longer. Feeling guilty about strong-arming Shelby into going to the hospital, Zoe goes to see Brick and tell him everything that happened, only she was beaten to the punch. He already knows from talking to Shelby and honestly, he's fine with it. He loves her enough to where he's going to enjoy whatever time he gets with her on this Earth, even if that means that they'll never get married. The main reason he proposed when he did was to lay his cards out on the table; he didn't want to go into the operating room with any regrets, anything left unsaid. He wanted Shelby to know how much she meant to him and have the last words on his lips be that of joy, of love, of hope.
Zoe hears this and immediately goes to see George, telling him that she regrets telling him to date other people and that she thinks he might be the one. He responds that she had plenty of other chances to let her feelings for him be known and it's too late now, considering how his relationship with Tansy is going.
Rammer Jammer Fight Club
Wade and Lemon have an owner's breakfast to discuss their recent good fortunes. Along with Wanda being rehired following the loss of her bees and them finding a chef in Shanetta, the Rammer Jammer has turned its first profit under its new administration, meaning that there are already plans on where to allocate that windfall. While Wade wants to invest in a flat screen television specifically to target sports fans, Lemon would rather purchase an antique parlor set and turn the Rammer Jammer into a place of book clubs, Belles, and wine tastings. The two obviously disagree and won't budge on their positions, but they take things to another level by involving AnnaBeth and Lavon. Lemon and AB round up the other Belles in order to decorate the Rammer Jammer with the newly purchased furniture, hoping that seeing the type of clientele that the atmosphere will bring in will change Wade's mind. However, Wade has Lavon in his corner and spreads word to the other members of the BlueBell Longshoremen's Union of a Fight Night promotion, wherein they'll watch the World Championship MMA bout on TV that evening.
The night of both engagements, Lemon and Wade are at a stalemate, neither wanting to leave the Rammer Jammer and give the other an inch of breathing room. They know that if they do, they won't be able to set up their night and the other could swoop in, steal the room, and get their way. However, the two separate parties eventually begin and neither is budging; the BlueBell Decanters and the dock workers, two groups who don't exactly rub elbows all that often, are now forced into the same room at the same time. This means that things have to be taken to another level, which they are when Wade stops a California merlot from arriving at the Rammer Jammer for Lemon's wine tasting and Lemon cuts the cable for Wade's fight night, leaving each with no way of truly winning.
So what do they do?
Welcome to the first annual BlueBell Wine and Fight Night – except with no wine and no fight. Everyone from both sides ends up having a nice time together and mingles accordingly, turning the night into the most successful of Lemon and Wade's tenure as owners. There are drinks named Beyonce Navels and women's arm wrestling matches (dominated by Crickett), proving that Lemon and Wade may be different but they can work together just as well.
The next order of business? Knocking down a wall to help build a function room for their next events. However, once they do break out the sledgehammers, they discover that the wood is rotted and will have repairs that cost them more than they made that night.
On a Boat
Tansy's wigs have been taking up more and more room on George's boat, but now, she'll really be muscling in on his space, as her brothers have come to town. Rocket, Rudy, and Chicken are a rowdy bunch of southern boys that come to visit their sister and bring plenty of stuff along with them, signifying that they plan to do more than just pass through. While they're sleeping the next morning, Tansy puts up George's minor league baseball shot glasses and tells him about the big infants that she calls brothers – who George agrees to take to lunch. Regardless of their reputation, they're Tansy's family and he wants to get to know them better, so they head to the Rammer Jammer – once Rudy and Rocket push Chicken off the boat, of course.
At the Rammer Jammer, Chicken keeps throwing beers back, Rocket gets skeevy with a group of women at another table, and Rudy suggests ordering two of everything on the menu before leaving. Before they can continue their behavior, they see Wade, who they obviously are still upset at over how things ended with Tansy. He ends up kicking them out for drawing on the walls and throwing stuff and they plan to pee in his tail pipe when George finally stands up, informing them that he won't participate in anything like that before storming off.
Of course, Tansy's upset that he left the three of them out on their own where they can get into more trouble, which they do by getting arrested for peeing into Sheriff Bill's tail pipe. George has one of three options: he can leave them there overnight, he can bail them out, or he can have them released into his custody and be held responsible for their actions. He chooses the third option, since he considers them to be like family, and Tansy overhears, causing her to forgive him immediately. She then threatens her brothers with a phone call to their mother if they don't get it together, also kicking them off of the boat and forcing them to stay in her trailer.
Additional thoughts and observations:
-"In case anyone is interested, I just almost died."
-"Stupid Google."
-"What the hell is a mixed martial arts?"
-Wade and Lemon could have very easily worked out a compromise for their conflict. Aside from something like the NCAA tournament, major sports events tend to be in the evening, so why couldn't the wine tasting club schedule their meetings around that? All of that was likely just a tug of war for control of the Jammer between Wade and Lemon, leaving the issue to not be as important as the result, but still.
-Although I think that Hart can make Zoe a bit too manic and flail-y, they've nailed her character work/mindset this season. I completely buy that the breakup with Wade has got her so out of whack that she immediately goes back to the George well, since she's always had feelings for him, they have history together, she feels safe/comfortable with him, and he's one of the very, very few men of BlueBell that fits what she wants. Zoe's such a serial monogamist that she doesn't want to date; she doesn't want the awkwardness, the risk in things going wrong, the difficulty of putting her heart out there. After what happened with Wade, she wants (or thinks she wants) something that's comfortable and poses no risk in breaking her heart again, i.e. George.
-All that being said, I do like that they had George react strongly when faced with Zoe confessing her desire to be with him. The show may make Zoe a big character, but they use the supporting cast to bring her down to size when needed, which tonight (i.e. Jonah) proved. It doesn't buy into the delusions of its main character, which is refreshing.
-I'm still not feeling Lavon and AnnaBeth romantically. As friends, they work quite well together, but otherwise, they leave me kind of cold. I know that it makes sense that good-looking single people in a close proximity would find one another and get together; I just think that it'd be nice for the show to not have to tie everyone into a romantic relationship in order for them to get a storyline.
–Next week on Hart of Dixie: Zoe tries online dating, Lemon and Wade consider throwing in the towel, Tansy still has doubts about her relationship with George, Brick and Shelby make an important decision regarding their future, and Lavon refuses AnnaBeth's help in a rivalry with a neighboring Mayor.