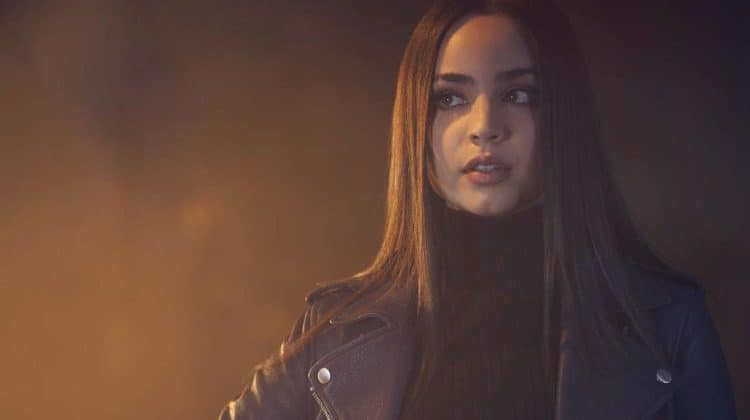 Singer and actress Sofia Carson is known to some as Evie, the daughter of the Evil Queen in the Disney movie, Descendants (2015) and its sequel, Descendants 2 (2017). To others, she's Lola Perez from Disney's adventure comedy, Adventures in Babysitting (2016). To many more, she's Ava Jalali, the teenage trendsetter and hacker from Freeform's 2019 hit, Pretty Little Liars: The Perfectionists. However you know her, one thing's for sure- you're going to get to know her even better in the years to come. With 2019 set to take the young starlet's career to new heights, it's time you found out more about Sofia Caron.
1. She has a degree in Communications
Carson was born in Fort Lauderdale, Florida, in 1993. After graduating from Carrollton School of the Sacred Heart in Miami, she enrolled at the Motion Dance Studio. While studying at the institution, Carson was active in the IMPAC Youth Ensemble program and competed with the program at various venues across the states. She subsequently studied at UCLA, where she majored in communications with a minor in French.
2. She started out as a singer-songwriter
Before a career in acting beckoned, Carson was on track to be the next big thing in music. In 2012, the Fort Lauderdale native was signed to BMI. While acting has since taken over as her primary calling, Carson has proven her talents as a singer on her debut single "Love is the Name", released on April 8, 2016, the promotional single, I'm Gonna Love You from August 2016, and the single Back to Beautiful (a collaboration with Norwegian DJ and producer, Alan Walker) from February 2017. She's also put down vocals on tracks for various other artists, including R3hab's "Rumors", Alan Walker's "Different World" and Galantis's "San Francisco"
3. She featured on the soundtrack to Descendants
In addition to her independent musical releases and collaborations, Carson has featured on several film soundtracks (proving, in so doing, that combining acting with music is a sure-fire way to success… or at least to reaching as wide an audience as possible). Some of her most popular work to date has been on the soundtrack to Descendants, which inspired such releases as Rotten to the Core (2015), Set It Off (2015), Chillin' Like a Villain (2017), It's Goin' Down (2017) and Ways to be Wicked (2017).
4. She's a serial loser
Despite being only 26 years old, Carson has already seen the kind of award recognition that even the most revered entertainment veterans would be envious of. Unfortunately, while her nominations have been coming in thick and fast over the last few years, Carson has yet to triumph on awards night. To date, her nominations have included the Producers Choice Award at the 2016 Premios Juventud, Choice Music: Next Big Thing at the Teen Choice Awards, Best Crush Single at the Radio Disney Awards, and Best Supporting Actress at the Imagen Awards.
5. Her TV debut was in Austin & Ally
In 2014, Carson picked up her first acting gig with a guest role in the Disney Channel series, Austin & Ally. Carson's skills in front of the camera clearly impressed, and just a few months later, she was invited to join the cast of MTV's Faking It, the romantic comedy starring Rita Volk, Katie Stevens, Gregg Sulkin, Michael Willett and Bailey De Young.
6. Descendants was her big break
Carson may have achieved some minor success in TV prior to her casting in Descendants, but it was her role as Evie that made her the household name she is today. When Descendants was cast, most of its stars were already recognizable (Booboo Stewart through the Twilight franchise and Cameron Boyce and Dove Cameron through the Disney Channel). Carson, however, was a relative unknown. That all changed with the film's release, and just a year later, Carson was rubbing shoulders with the likes of Ariana Grande and Gwen Stefani at the 2016 Radio Disney Music Awards.
7. She has the patience of a saint
According to Screen Rant, Descendants was as much a test of Carson's patience as it was her acting abilities. In order to look the part of a queen's daughter, Carson had to sit through two and a half hours of "clothes and make up" a day, with her blue wig alone taking an hour to get on. Fortunately, the downtime gave Carson the perfect opportunity to read up on her lines and get herself mentally prepared for the shoot ahead.
8. She originally auditioned for Audrey
Descendants could have been a very different film altogether had Carson won the part she first auditioned for. The actress first read for the part of Audrey, Prince Ben's girlfriend and the daughter of Princess Aurora and Prince Phillip. Several callbacks and 4 months later, the producers decided that Carson wasn't quite the right fit for Audrey and handed the role to Sarah Jeffrey instead. Carson's initial disappointment quickly turned to relief when the producers told her she would still be starring in the film, albeit in the role of Evie rather than Audrey.
9. She narrated the audiobooks to Descendants
Descendants may have given Carson the jumpstart she needed to propel her acting career to the next level, but it also opened the doors to a hither too unexplored genre. Clearly impressed by the young star's talents, Audible invited her to narrate the audiobooks to the quartet of books from the author of Descendants, Melissa de la Cruz. The first audiobook in the series acts as a prequel to the first Descendant's movie, given fans the chance to learn more about what happened in the lead up to the film's events.
10. She's set to star in Descendants 3
2019 is set to be a year of record highs for Carson. Not only is she starring in Pretty Little Liars: The Perfectionists, she's also due to reprise her role as Evie in the franchise that made her name, Descendants, Descendants 3 is currently set to premiere on the Disney Channel on August 2, 2019. The third installment in the franchise will reunite Carson with her former castmates Dove Cameron, Cameron Boyce, Booboo Stewart, and Mitchell Hope. At the moment, producers are keeping the storyline under wraps, leaving us all on the edges of our seats in anticipation of what's to come. The one thing we do know (and prepare yourself for a spoiler) is that this is due to be the last ever film in the Descendants franchise.