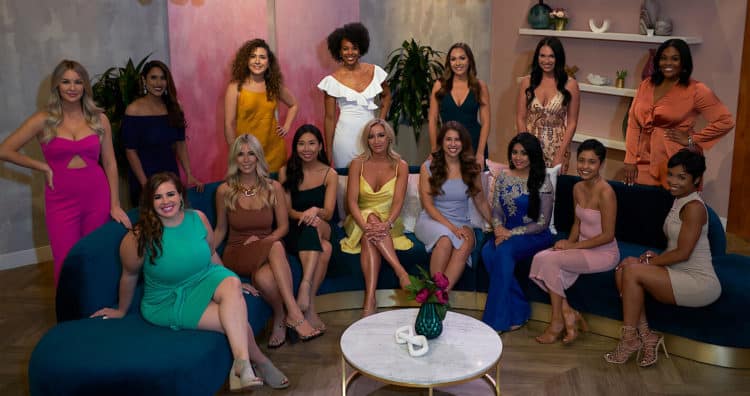 The second season of Love Is Blind could not have come at a better time! A February 11th premiere is all that was needed to get the fans of the show in the mood of the moment: Love. Before we get into what the newer faces are up to, how have the old pod squad members been doing? Things are going great with the Hamiltons, who are still head over heels in love as the first time we met them. Barnett and Amber are solid as always, and 'haven't killed each other yet', as Amber would put it. As long as Jessica stays miles away, things are perfectly fine. Speaking of Jessica, she has moved on from everything Love is Blind and found a love of her own, so has Mark, who has a little bundle of joy. Carlton is so not single, while Diamond continues to find herself, and grace the covers of magazines while at it. Damian and Gigi are not together for obvious reasons, and last but not least, Kelly is focusing on chasing life, just like Kenny, who's recently engaged. Out of six couples, two proved that love is indeed blind, validating the experiment altogether.
This season has started off on a promising note, with each participant coming to the pods for the right reasons. 33-year-old entrepreneur Chassidy believes that her physical insecurities have influenced her dating life, and being in the pods will allow her to be seen for who she truly is on the inside. " This experiment allows me to be judged for who I am as a person, versus the physical," she says. As Katy Perry's 'Unconditionally' plays in the background, 28-year-old Haseeb, a lawyer who has never experienced true love, voices his desire to get married.
Vanessa and Nick Lachey, graceful as ever, welcome everyone to the pods. The dating world is murky, and the singles in the room know it more. Seeing someone physically comes with a lot of stereotypes, and the pods are here to solve that. Over the next ten days, the ladies and the eligible single men on the other side will get to mingle, bond, and if lucky, get engaged, all without seeing what the other person looks like. Race, background, and income are non-issues in the pods. With no devices in sight, the search for a soulmate seems to be a promising exercise.
The pods are open, finally! There is as much excitement amongst the participants as there is nervousness, but it doesn't take a long while before everyone gets into the thick of things. Separated by a thin wall, Iyanna, who works at a surrogacy agency, lets Jarrette in on her tumultuous childhood. Despite not having a close relationship with her own mother, Iyanna wants a big family in the future. It's a miracle that she is okay, given the things she has gone through. Jarrette wants somebody who'll be with him through thick and thin, and so far his chemistry with Iyanna fits the bill.
32-year-old Mallory gets to have a brief alone time with Jarette, but she seems to have more chemistry with Salvador. The pods are getting a bit spicy, with Iyanna having a fun moment with Kyle and Olivia wishing she had a body like J-Lo's. Abhishek, a veterinarian, has a list of preferences that are not so well received. He asks Mallory whether she's Latina, tells Iyanna he loves buying clothes for girls, and goes further to ask about her size, and is curious as to whether Hope hits the gym. He's thrown off by Chassidy's age since he prefers younger women. He crosses the line when he asks Depti a question that would reveal her size. To sum it all up, "Shake" is going against everything that the pod is about; what's on the inside.
By the end of day one, Iyanna has established that she and Shayne won't be a great fit. . "Shake" isn't going to work either. " I'm really feeling Nick. I'm feeling Jarrette quite a bit. Jarrette had a really nice voice," she says. Joey has people he has vibed with, people he doesn't feel any connection to, and 'ten in the middle that I have no idea.' As the connections begin to grow, we see Shayne develop a strong attraction towards Natalie. The two confess to being number one on each other's lists. However, Natalie isn't the only one who's caught Shayne's eye, Shaina is in the picture, and she thinks their names are serendipitous at best.
After achieving all that he has set to in life, Nick feels that the only missing thing is someone to share the joy with. He feels comfortable around Danielle but isn't too certain about Trisha. Kyle, a construction worker, is here for the right reason. Someone in the pods ought to see him beyond his blue-collar job that has been a problem in real life. During a conversation with Shaina, Kyle learns that she has been engaged before. Their conversations seem effortless, so is the banter between Shaina and Shayne. With Shaina, Shayne sees a less-rigid, playful side as opposed to Natalie, who's more serious.
Natalie is smiling hard when she thinks of Shayne. She's convinced he's her husband, even though she does not know his second name. She goes on about him at the ladies' quarters, putting Shayne in an awkward position with Shaina. Back at the Nick-Danielle camp, it's settled. Danielle is the one. They've talked about travel, children, and everything under the sun. They cannot imagine a life without each other. Nick gives Danielle a gift, an empty book in which the two of them will write the story of their new life together. He gets down on one knee and proposes. She says yes.
In the Shayne-Natalie-Shaina love triangle, things get twisted when Shayne mistakes Natalie for Shaina. While Natalie has fully settled on him, it turns out that they are not on the same page. "…You are talking to other people, too. Are you not?" he asks. Natalie's mood has changed. She feels led on. The two of them leave the pods on a sour note. Will they survive their first argument? Only time will tell. Time, however, is in the lovebirds' Nick and Danielle's favor. Having agreed to be engaged, the first episode ends right as Nick is about to meet his fiancée.
Tell us what's wrong with this post? How could we improve it? :)
Let us improve this post!