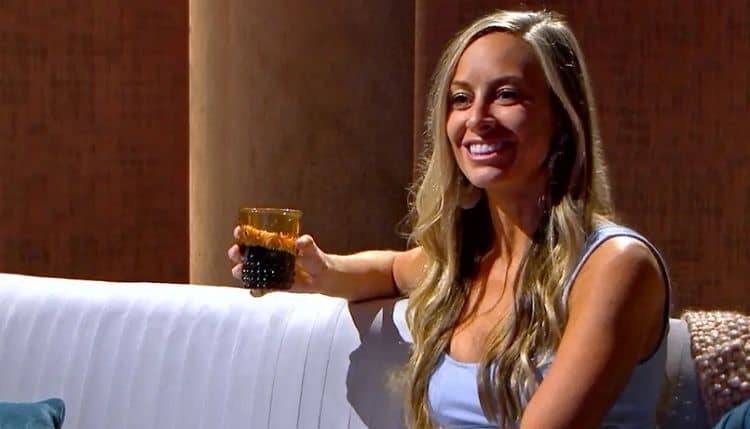 A new season of Love is Blind is on its way, and the show's millions of fans are waiting. During the first season, we got to experience the genuine and vulnerable love that the Hamiltons portrayed. We went on a wild adventure with the Barnetts, who fought their way out of a love triangle to stay married. We held our breaths every time Damian and Gigi popped up, mainly because we never knew what bombshell they'd drop next. The first season saw Jessica lead Mark on, only to reject him, and Diamond unleash her inner Beyoncé. Needless to say, a lot transpired behind the scenes. Here's everything we need to know before we take to the pods again:
1. The Show Aired More Than A Year After Filming
While Love is Blind took Netflix by storm in 2020, it's interesting to learn that the show was filmed back in 2018. By November of 2018, the last two couples standing had gotten married. On how they managed to live their lives before the show blew up, Lauren, who is still married to her love from the show, Cameron, said at an interview: " Throughout the past year and a half, before this show came out, people really didn't know who we were. So, we were able to luckily go about our normal lives then do what we do. After the show came out, that was a little different. But luckily we had that time and space to really work on ourselves."
2. Some Couples Never Made The Cut
At the beginning of Love is Blind, we watched everyone take to the pods. The couple that had the most chemistry found themselves blindly getting engaged. While there were six couples whose journeys we watched through the show, there were other couples that got engaged but didn't make the cut because the crew wasn't prepared for that many engagements. Danielle Drouin, a yoga instructor, and Rory Newbrough both got engaged at the pods, alongside Lexie Skipper and Westley Baer. The couples' engagements did not get featured on the show, neither did their journeys, but they both split before they could say "I do."
3. Amber And Barnett Fought About Jessica
When she finally saw Barnett, Lauren said she understood why a lot of wine had been downed in his name. Almost instantly, Barnett had his way with ladies. It was a surprise that he chose Amber, but, in his opinion, there was a lot that wasn't caught on camera that explained why he made the decision. It's safe to say he made the right call since both he and Amber are still solid. A lot of trouble in their relationship brewed over Jessica during filming, and at a past interview, Amber revealed that she and Barnett had a fight about her. " Me seeing the stuff about Jessica in Mexico for the first time, I was not happy. But I was equally as unhappy thinking that Matt didn't tell me." Amber told ET.
4. There Was Yet Another Love Triangle
Fans never knew what to really expect of the Jessica-Amber-Barnette drama. For the better part, Jessica was always one drink away from causing a mess. On one hand, she was trying to figure it out with Mark, on the other hand, she was suppressing her feelings for Barnett, who had settled on his now-wife, Amber. Though the love triangle stood out, there was yet another love triangle that we never got to see. Every time Rory came into the picture, he was the people's confidante. He himself had gotten engaged to Danielle, but things took a different turn when she fell for somebody else.
5. Every Couple Had A Wedding Budget
In case it was a wonder how the couples managed to pull off the weddings, there's no need to wonder anymore. There was a budget set aside specifically for weddings, but any couple that had extra fine taste would have had to fund amounts above the budget from their own pocket. In the case of Amber and Barnett, Amber revealed on the show that she was $400 above the budget. Financially, Amber was the most open person, revealing that she had unpaid student loans and credit card debt. Somehow they worked it out, and she has since gotten herself a job according to an Instagram Q & A.
6. LC Had A Crush On Kenny
At first, LC seemed to be having a good bond going with Barnett, but that was squashed when Barnett chose to go with Amber. We did not see much of her, but later it was revealed that she had a fling with Mark after filming wrapped. Word on the street was, the pair wasn't exclusive but LC was upset when she learned that Mark was seeing someone else. When a fan asked whether LC had a crush on any cast member, she said, " After filming wrapped in 2018 for season one, I did have a little crush on Kenny. I don't even know if he knows that. But only for a few months and then I kinda got over it. Way better as friends and I adore him and his Fiancée."
7. Mark And Jessica Had A Genuine Connection
As much as we got the idea that Mark and Jessica were not a perfect match, and that the former was trying a little too hard, the opposite is quite true. According to Mark, there were a lot of behind-the-scenes exchanges with Jessica that did not make the final cut. " We didn't just connect because Jess and I were from Chicago, like 'Oh, She's the one!', we really connected on a deeper level. We did a gift-giving day. We had a nacho and queso day. We did things." Mark revealed. While Jessica's rejection of Mark was not a surprise, she had asked to leave because her dog got sick on the day of the wedding, but she couldn't.
8. The Connections Weren't As Rapid As Shown
To someone watching from the outside, time in the pods seemed to have started and ended in a split second. The connections formed on screen were not as fast as they were portrayed. According to Lauren and Cameron, they spent at least sixteen hours each day talking to someone on the other side. " It was just under about two weeks, the pod process. I did start feeling things after a while because these increments of time were like…they were small, but if you happen to think, that's what we were doing every day. We didn't have home, we didn't have TV. Like, all we had to think about was each other." Lauren revealed this at an interview.
Tell us what's wrong with this post? How could we improve it? :)
Let us improve this post!