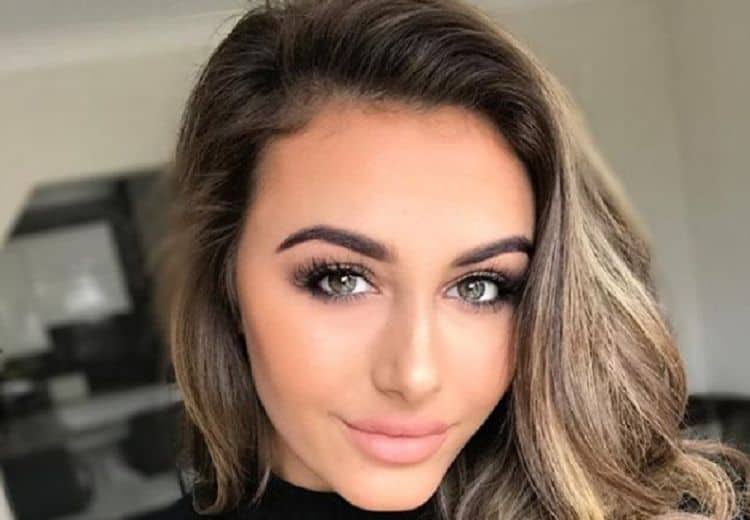 22-year old Chloe Veitch is slowly but surely becoming a familiar face on Netflix. When we first met her, she was trying to find love the right way on Too Hot to Handle and turned herself quickly into a fan favorite for staying away from the drama. A year later, she would show up on The Circle, and once again get attached to another player, only to end up disappointed. She keeps looking for love in the wrong places but is still her chill, cool self, and that's why she's a darling to many. The players on The Circle would agree since she wound up as a runner-up. We're looking forward to seeing her stick around, but first, here's a roundup of her Netflix journey so far:
"Too Hot To Handle", Season One
What happens when you put a group of extremely attractive people in one room? The answer to the question would be a bunch of many things depending on many factors; religion, morality, sophistication, or lack thereof. Science, however, says that nine times out of ten, sex is bound to happen sooner or later. Haven't we all watched Big Brother? Too Hot To Handle gives a bunch of sexy people the ultimate test; to choose between romance and thousands of Benjamins. For every sexual activity, the total prize of $100,000 is rendered deductible. Chloe Veitch appeared on the first season of the show, where she quickly became a fan favorite for being drama-free. True to the show's ultimate goal, Chloe was hell-bent on finding love the good old-fashioned way by making a genuine connection emotionally. While she was at first easy to like for her good looks, Chloe's attempts at building connections with Bryce, Kori, and David proved that there was more to her than a beautiful face. She was focused on winning the show and called out other contestants who broke the rules. In the end, she was one of the winners who split the $75,000 prize.
"The Circle", Season Two
In the second season of The Circle, Chloe Veitch was lucky to be the last 'real' girl standing. At first, Chloe was part of the #GirlGang movement alongside Savannah and Terilisha. On her bio, Chloe had it that she was a lover of empowering women, so an all-female alliance was a no-brainer. The three had sworn to have each other's backs, but things took a different turn when Savannah, being an influencer, decided to save Trevor. Terilisha, on the other hand, wanted Courtney to go because she saw him as a potential threat. A lot of girl drama followed afterward, that saw both Terilisha and Savannah leave, but not before Savannah's minion Courtney, a real-life pop-culture enthusiast posing as a barista, let newbies Khat and Mitchell know that the girls were not to be trusted. As 'The Joker', Courtney was part of the inner circle, and given powers that no other players had ever been given; to influence the minds of new players. He was strategic in his approach, choosing to pose as Emily. Later, Mitchell would connect the dots due to the close relationship between Courtney and River, who was an author named Lee in real life. Following the failure of the all-female alliance, River and Courtney managed to grab Chloe's attention and form a new group, the Cardashians. The three seemed solid, until Trevor, Chloe's love interest, who was the real-life Trevor's wife, DeLeesa, created a master plan of 'his' own. Together with Mitchell, they would lure Chloe into forming a trifecta that would see one of them win the game. Things went south after Mitchell got eliminated, but it left Chloe at a difficult place when she learned that 'The Joker' was Courtney, and he had said some things about her. When the final ratings came in, there was trouble in the Cardashian camp due to Chloe's uncertainty, but she was still loyal to the trio. River chose to vote with his heart, while Courtney was strategic not to put River high up, in case he won the game. In the end, Chloe's catfish-meter faced the ultimate test when she came face to face with Trevor, also known as DeLeesa, who she'd had a soft spot for all along. Too bad she thought Terilisha was the catfish.
"Love Is Blind", Season Two Promo
Chloe was not on the first season of Love is Blind, and no one knows whether she will be on the second. She has however grown to be a familiar face, and Netflix saw it fit that she also takes to the pods. Who knows, she may have gotten lucky, just like Cameron and Lauren from Season One. In Chloe Veitch Tries Love is Blind, Chloe brought all of her bubbly self to the pod, first meeting with Shubham from the first season of The Circle. Just like he was on The Circle, Shubham's honor-student personality had not changed one bit. So much that he asked Chloe what she thought about artificial intelligence. Chloe's answer on space, computers, and video games, was as close as she could get, but not before she called Shubham a clever little devil. Next in line at the pods was Kevin Kreider from Bling Empire. He marveled at the interior décor, just like every other Love is Blind cast member in the past, but caught Chloe off-guard in his mention of feng shui. Kevin's focus was definitely more on the room, and he pulled a Kevin when he chose to lift his shirt and show her his abs, which is a breach of what the pods are about; emotional connection. The pair proceeded to fire a couple of questions at each other, through which we learned that Kevin once had a girlfriend for two weeks back in college, who he did not love but got down and dirty with one too many times. Chloe also got a chance to know Peter Vigilante from season two of Too Hot to Handle, who was the ultimate mama's boy and couldn't stop talking about sex. Last but not least was Dustin the scarecrow from Sexy Beasts, who she thought she loved and was gelling well with. In the end, we never got to know who won Chloe's heart, but it's only a matter of time before we see her on another Netflix show doing what she does best; finding love.