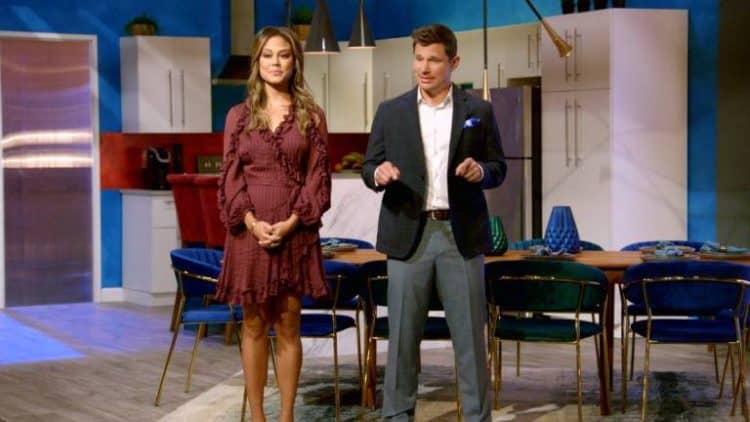 Netflix's Love Is Blind has brought a whole new twist to the way we view relationships. The show is entirely based on cast members finding love based on the emotional connection they share, as opposed to the physical. At first instance, the concept is a trainwreck, seemingly comparable to Married at First Sight, but so far, the show has proven that love can be blind after all. Out of the six couples whose love stories we followed, two got married and are still standing strong. Of those who broke up, some are not single anymore, while others are yet to get hold of Mr. and Mrs. Right. With the second season set to make a comeback in 2022, here are details of where the cast members are now:
1. Lauren And Cameron
From the get-go, Lauren and Cameron warmed our hearts with how open and vulnerable they were with each other. While everyone else's love story had loopholes, there was not a single shadow of doubt that Cameron and Lauren were meant to be. Through the screens, the genuine energy they both had engulfed all of us. Only Lauren's old man may have put a halt to the fairytale as we knew it, but that didn't happen. Cameron promised to take care of Lauren and continues to do just that. The Hamiltons continue to document their lives as a couple through their YouTube channel, where we've seen them give us a tour of their beautiful home, remake their gym, and recap some of their favorite scenes on the show. Three years down the line, Lauren and Cameron are still married and have proven that love is blind.
2. Giannina And Damian
If the word 'rollercoaster' had a face attached to it, then it would be the experience we had with Giannina and Damian, because that was one hell of a ride! Damian should have seen it coming when she chose to propose as well, knowing he was down on his knees, but, in classic Gigi fashion, she still got him hooked. The only theory that could explain the madness we witnessed could be that there was a lot that happened behind the scenes that viewers did not really get to see. No couple can fight that much, reject each other at the altar, date again, and still have someone come between them. Barnett would agree, since he refused to give a comment on Gigi and Damian's relationship. As was expected, Giannina exclusively told ET she was single as of August of 2021. While we saw Damian cozying up to Francesca, who was a familiar face from Too Hot to Handle, it's not quite clear who he is currently seeing.
3. Jessica And Mark
In the beginning, Jessica and Mark seemed like a solid couple. Way before meeting face to face, Mark was certain that it was Jessica all along, as so was she. Things got a little shaky when Barnett came into the picture. All of a sudden, Jessica wanted to explore something with Barnett, who said he'd marry her if it was only the two of them in the pods. What followed was a complete mess, with Jessica quickly turning into a villain, fronting a relationship with Mark while secretly trying to break up Amber and Barnett. The last time we saw them on screen, the Barnetts had rejected Jessica's anniversary gift and left her in tears. Fast forward to today, Jessica is in a happy relationship with a surgeon named Ben. She is very much engaged and has seemingly gotten the happy ending she was hoping for. Mark, on the other hand, has a child with Aubrey, whose name came up when the cast last got together.
4. Amber And Barnett
When she finally saw Barnett, Lauren said she understood why a lot of wine had been downed back at the ladies' house. Barnett was trying to find his footing at first, going back and forth between Jessica, Amber, and Lauren 'LC' Chamblin. Things were a bit murky, with him saying he would propose to Jessica, putting LC at the top of his list, and eventually choosing Amber, who he admitted he was scared of. At first, Amber gave viewers a couple of red flags. She wanted to be a housewife, had amassed $20,000 in student debt, and was couch surfing. We've got to give it up to her for being honest with Barnett. Honesty proved to be her best policy. Just like the Hamiltons, the Barnetts have proven that love is blind.
5. Kelly And Kenny
No one would have thought that the relationship between Kenny and Kelly could have ended as it did. The pair really did look like they were going to make it to the end since their families appeared to have been the most comfortable around each other. Throughout the show, a constant topic that came up was that Kelly was not physically attracted to Kenny, which obviously explained why she said "No' at the altar. At the reunion, however, Kelly revealed that both of them had agreed to not push through with the wedding. Kenny was mad when he was stood up, but he happens to be in a better place now. He is engaged to Alexandra Garrison, with whom he recently hosted a couple's shower. Kelly has kept her love life on the low but appears to still be hanging out with fellow co-stars Jessica and LC.
6. Diamond And Carlton
The relationship between Diamond and Carlton brought more drama to the show than viewers had asked for. What started as Carlton coming clean about his sexuality ended with flying drinks, a couple of slurs thrown around, and a recitation of Beyoncé's lyrics from one of her most quoted works yet, 'Don't Hurt Yourself'. At the reunion, Carlton seemed remorseful about how everything went down and gave back the ring he had thrown into the pool. Although it was a symbol of something new, the next time we heard from Diamond, nothing solid came from that promise. She brought a date to the anniversary party, with whom she wound up as friends. Diamond revealed that the show changed her love life by making her stronger, and she now knows what she wants in her next relationship. Carlton has moved on with a mystery man whose Instagram account we are likely to never find out, if his teasing is anything to go by.
Tell us what's wrong with this post? How could we improve it? :)
Let us improve this post!