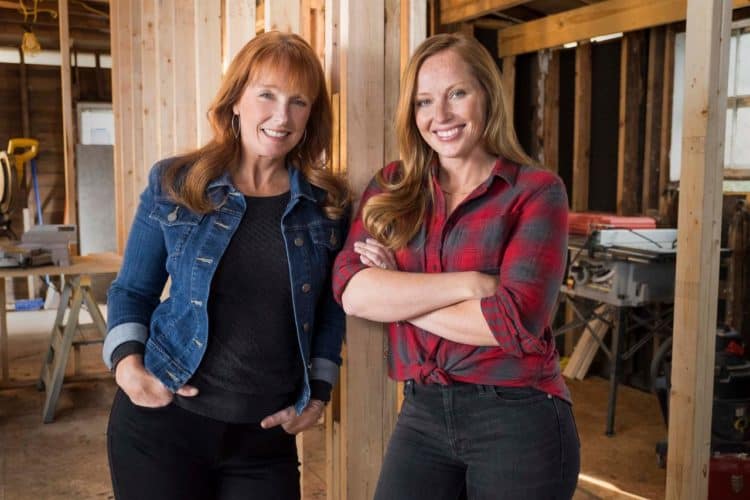 Good Bones is a HGTV show. Based on this, interested individuals should have no problems guess that it is about real estate properties of some kind. However, that doesn't actually say much because the same can be said about all of HGTV's content. Instead, it is more useful to describe Good Bones as one of the numerous shows in which the hosts turn broken-down homes into places where people would want to live, meaning that much of its particular appeal comes from its hosts rather than its premise.
How Does Good Bones Distinguish Itself From Similar Shows?
In short, Good Bones is hosted by a mother and daughter duo named Karen E. Laine and Mina Starsiak-Hawk. After Mina had graduated from university, she was in search of something with which to occupy her time, thus resulting in her buying her first house with her mother's help. The two had plenty of time on their hands, which is why they set out to renovate the house by learning from books, experimentation, and YouTube tutorials. Upon completion, the duo decided to buy another house and then another house until they realized that they had pretty much stumbled upon a full-blown business.
After that, the duo continued to rehabilitate houses. By the time that they had reached 22, they managed to catch the interest of the production company High Noon Entertainment, which some people might recognize as the same name behind a number of similar shows such as Fixer-Upper and House Hunters. Initially, the duo's expectations were relatively low even though they had been chosen to shoot a pilot because the people at the production company had told them upfront that their chances of getting a full-blown show on HGTV were relatively low. However, it wasn't too long before that pilot turned into a show, which in turn, managed to bring in 14 million viewers in the first season. Something that pretty much secured its continuing existence for the next while.
As such, it is safe to say that the mother-daughter duo is one of the characteristics that serve to distinguish Good Bones from other shows of its kind. Certainly, there are other shows in which there are teams and even closely-related teams working on similar projects. However, a team-up between a mother and a daughter is still unusual enough to secure a measure of interest. Something that is particularly true because the two do have some significant differences from one another personality-wise. For instance, Karen is the quirkier of the duo in spite of the fact that she is also the lawyer who handles the legal side of things for their business. Meanwhile, her daughter Mina is much more practical-minded, meaning that she is the one who sees her mother's more interesting ideas to a state of completion.
With that said, what really sets Good Bones apart from its counterparts might be the attitude of the mother-daughter duo. There are a lot of people out there who are bound to compare their chosen line of business to house-flipping. However, the duo are insistent that what they are doing isn't house-flipping because they have concerns beyond just maximizing their revenues and minimizing their expenses in order to maximize their profits. Instead, they say that they are neighborhood rehabilitators whose works can influence the overall status of entire areas, which explains why they go to the lengths that they go to when it comes to their projects. Interestingly, the duo's efforts have actually gotten them priced out of a neighborhood where they once did many of their renovations, though that is perhaps the inevitable fate of people who share their goals.
Finally, there is one other potential point of interest when it comes to Good Bones, which is that the mother-daughter duo claim to have an aversion to the artificial drama that often comes up in similar shows. According to them, they don't need to invent any problems for what they do because their home renovation processes come with plenty of problems of their own. Sometimes, this means the "standard" challenges that one can expect from a project as complicated and as time-consuming as renovating a house. Other times, well, it turns out that the duo have had some pretty unpleasant discoveries over the course of their home renovation career. On the unpleasant end, they have found everything from mummified spiders to a freezer without power that had been stuffed full of unused meat for some reason. On the even more unpleasant end, the houses that the duo choose for renovation are apparently often filled with feces of various kinds.
How Has Good Bones Changed Over Time?
On the whole, Good Bones doesn't seem to have changed much over time in spite of the fact that it is now on its fourth season. Sure, the duo now have more home renovation experience than ever before, seeing as how they filmed their pilot when they had just finished up their 22nd house. However, the fundamental nature of the show as well as the way that the duo handle their business have managed to remain more or less the same. Besides this, it is worth noting that Mina has since become a mother in her own right after meeting her husband through mutual friends, but since that doesn't actually impact the show that much, it isn't particularly relevant.
Further Considerations
Summed up, Good Bones is one of those shows that managed to find a solid concept before executing it to a fair amount of success. Time will tell whether this will remain true or not in the times to come, which in turn, will tell whether the show will receive shakeups or not. So far, it has managed to remain relatively unchanged, which speaks well of its appeal for its intended viewers. Something that interested individuals might want to take into consideration when it comes to their viewing choices.