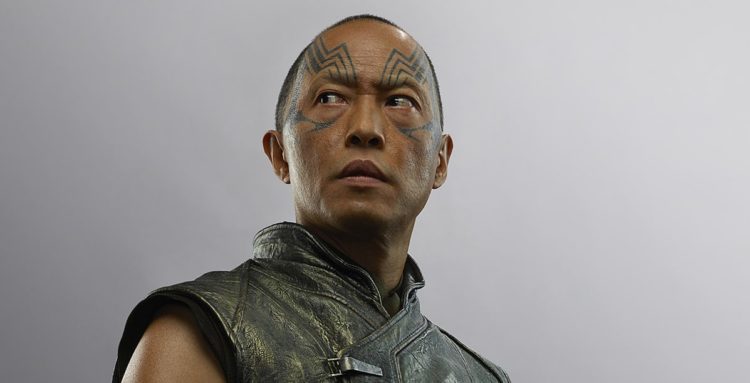 If you're not up on who the Inhumans are then you're likely not going to know who Karnak is. But that's why we're here and that's why w're ready to explain. Karnak is one of the Inhumans, though unlike the rest of the group he wasn't exposed to the Terrigen Mists that gave the other Inhumans their powers. Instead he came by the power he wields naturally as he's simply an above-average fighter that is a master at the martial arts and is able to utilize an ability that is very close in description to the shatterpoint ability that has been seen in another franchise, Star Wars. This isn't what it's called of course, but Karnak also has another ability which could be chalked up to foresight that is given to him thanks to his continuous study of combat techniques and being able to read his opponents.
He can accurately predict just how a battle will go and come up with an entire, branching tree of thought when it comes to facing down an opponent, which counters he would have to use, which attacks would be most effective, and what outcomes would be favorable versus those that would not. It's the kind of battle prowess that you might think is only possible after having been training for decades and Karnak is a master of it. He knows just how to hit someone to target their greatest weakness and how to end a fight with only minimal, if any, damage to himself. Whether this would work against every opponent isn't certain since weak points become less of a thing when the opponents start to get too strong and too well-fortified, but anyone beneath the level of say, the Hulk might not want to face off with Karnak.
Unfortunately this ability makes him a bit arrogant as well as it's a byproduct of knowing just how things will go and what he can do to affect the different outcomes. To many this would no doubt make him rather off-putting since he would obviously choose not to expend energy on anything that he deemed unworthy of his time or as useless in his estimation. One has to wonder if this works just in combat or if he can use it other situations as well such as in conversation and perhaps in his everyday life. This ability makes him one of the toughest among the MCU to face, but it also has yet to really be shown on screen just how awesome this ability can be. In truth it's been shown, but not in a way that people would automatically assume was the best version there is. Unfortunately whoever was directing the Inhumans didn't seem to feel the need to stick to the source material or make the show any more dynamic than they did, as it was cancelled in short order.
Karnak has gone up against some of the strongest beings in the Marvel universe and unfortunately where his arrogance would be enough to beat them down if it was a weapon his fists haven't always gotten the job done. In a fight with the Hulk in fact he was proven to be quite ineffective as he simply doesn't have the kind of power that's needed for the job. And this was pre-World War Hulk, when Black Bolt could still beat Hulk in a fight. Imagine what World War Hulk could do to Karnak. Another problem with his abilities is that once he commits to an attack there are still many avenues he can go down, but against a skilled opponent there is still a chance to surprise him, as his arrogance can be blinding as well as annoying. Black Panther proved this in a fight shortly after Karnak boasted that he could break him quite easily. The knee that T'Challa put into Karnak's face disabused the Inhuman of the notion that he'd get an easy win very quickly.
So while his abilities are quite impressive and are able to put him in the running to be one of the deadliest fighters in the MCU they're also limited in that he thinks a bit too highly of himself and doesn't always give proper respect to his opponents or what they can do. This means that anyone that could bring a level of fighting that's close to his own, or the kind of durability his blows can't penetrate, would be able to change the game immediately and render him all but useless in a fight. As far as the Inhumans and several other humans and other superheroes go Karnak is quite deadly, but when it comes to dealing with other beings that are just as strong if not stronger than he is, Karnak becomes something of an afterthought. Unfortunately that could be part of why he's not such a memorable character.