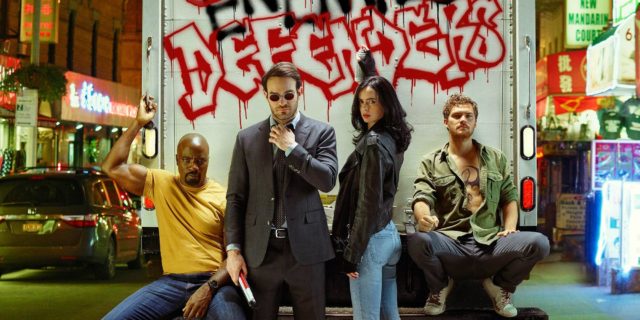 We've been waiting with baited breath since Luke Cage and then Jessica Jones and finally Iron Fist came out to see the Defenders finally take to the streets, and soon enough that's what's going to happen. It's not going to be what we think though most likely since already the group seems to be at odds with one another. The slight misrepresentation of Iron Fist and the differences that still abound between the comics and the live action will no doubt need to be resolved or let go eventually, but all in all there seems to be a lot to be excited about as the Defenders get set to hit the streets.
Here's a few things we can take from the Defenders trailer.
They're not going to like each other right away.
Each one of the heroes is used to being on their own and as a result they don't play well with others. Their independent streaks are each a mile wide if not more and their personality conflicts don't seem like they'll get ironed out within a single episode, or even a single season. Even if they start working together as it looks like they are in the trailer there's a good chance they'll be at each other's neck occasionally.
Iron Fist is the most optimistic among them about the team.
You would almost think that Danny Rand would be just the same as the others, but he looks genuinely ready to be a part of a team. Where this comes from is not certain, but he's more of a team player at this point than the rest of them. Luke Cage and Jessica Jones have been more than happy to work on their own, while Daredevil has almost always been a loner despite working with others on occasion. Iron Fist could be in for a rude awakening.
The show will detail their personal quirks rather well.
Jessica Jones likes to drink. Luke Cage is a loner that doesn't rely on anyone. Daredevil doesn't really like to be around anyone, and Iron Fist is a little bit of an elitist jerk. None of these are overtly negative character traits but they will come into play when the team dynamic starts to form. No doubt they will have to learn to trust each other and that lesson is going to be a tough one to get used to.
Sigourney Weaver can play a villain, but this might not be the right venue for her.
She really seems like more of a classic villain, not a comic book villain. In many ways she is a great actress, but seeing her cast in this current role is a little awkward. Maybe her acting abilities will make it seem to be a lot better than it already hasn't, but The Defenders still doesn't seem like the right role.
So far it looks like The Defenders might be worth watching, more so than the rest of them on their own. But time will tell.
https://youtu.be/cvyv2Scr9SU