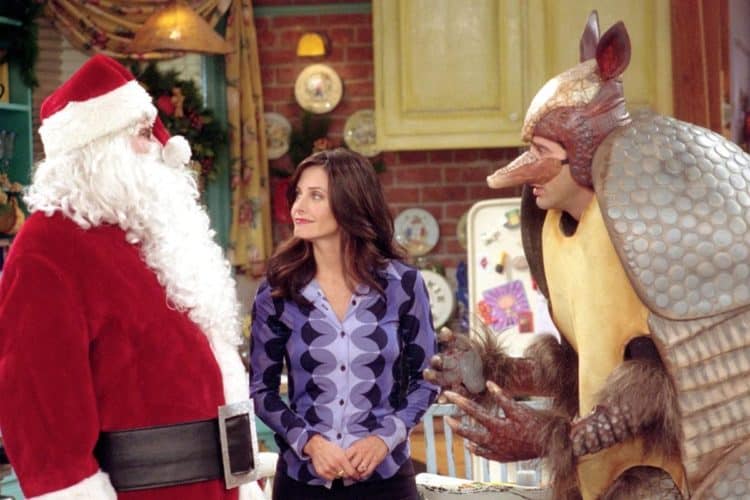 The cast of Friends was phenomenal in their acting, so much that the show had several awards to show for the ten years they had been on air. Behind the scenes, Friends had writers without whom the show would have been a dull one. Long before the words came alive, whether it was Chandler's sarcasm, Phoebe's 'wokeness', Monica's obsessions or Ross's intellectual abilities, a team of writers had to decide which words were perfect for a scene. Just like the actors had fun on screen, the writers had the best time when it came to playing with words. Besides giving different meanings to words like 'unagi' and 'phalange', sometimes the writers took friendships and gave them dialogues that resembled that of a couple. They did it so well, and like the great actors that they were, the cast of Friends brought those words to life beautifully.
1. Monica Cheats On Rachel With Julie
Monica and Rachel ( Jennifer Anniston) had been friends for a long time. Her brother Ross's (David Schwimmer) undying love for Rachel was no secret, so to a degree, Monica owed Rachel loyalty. Things got crazy when Monica and Ross's new girlfriend, Julie (Lauren Tom) became more acquainted with each other. Julie was the sweetest girl, and try as Rachel would, there was really no fault in her, until she got cozy with Monica. At the height of it all, Monica ( Courteney Cox) and Rachel got into an argument when she discovered the pair had started to hang out. Here's a snippet of the conversation:
Monica: Look, when it started I was just trying to be nice to her because she was my brother's girlfriend. And then, one thing led to another, and before I knew it we were…shopping.
Rachel:[Gasps] Oh my God!
Monica: Wait, we only did it once. It didn't mean anything to me.
Rachel: [Walks away] Yeah. Right. Sure.
Monica: Rachel, I was thinking of you the whole time! Look, I'm sorry. I never meant for you to find out.
Rachel: Oh Please! You wanted to get caught.
Monica: That is not true!
Rachel: So you just sort of happened to leave it (receipt) in here?
Monica: Did it ever occur to you that I might just be that stupid?
Rachel: Okay, Monica, I just have to know one thing. Did you go with her to Bloomingdales? [Monica appears guilty] Ohh! Okay…I just really need to not be with you right now.
2. Chandler Finds A New Roommate, Eddie
Joey and Chandler had come a long way. Chandler ( Matthew Perry) had come to Joey's rescue many times since he was the more financially responsible one. When Joey's pockets were starting to look good, he decided to move out. Joey's new place, his palace, was the bachelor's haven he had always wanted, complete with every ornament he wished for. Chandler was disappointed, but he had to move on. In came Eddie (Adam Goldberg), Chandler's new roommate, who moved the mail station, and also cooked eggs in a different way. Things had changed since Joey and Chandler parted ways. Joey (Matt LeBlanc), who was jealous all along, finally snapped when Eddie finished the last of the juice from a box:
Joey: Alright! That's it!. He just comes in here, Mr. Johnny new eggs with his moving the mail and his see ya pals. And now there's no juice. There's no juice for the people who need the juice, want the juice! I need the juice!
Chandler: There's another carton right over there.
Joey: Hey, this isn't about juice anymore, right man?
Chandler: Alright. So what's it about.
Joey: Eggs. Whose eggs do you like better, his or mine?
Chandler: I like both eggs equally.
Joey: Come on! Nobody likes two different kinds of eggs equally. You like one better than the other and I wanna know which.
Chandler: What's the difference? Your eggs aren't here anymore, are they? You took your eggs and you left. Do you really expect me to never find new eggs?
Joey: Well maybe this isn't about the eggs. Maybe this is about the chicken that laid them.
Chandler: What chicken? There's no chicken.
Joey: I can't talk to you.
3. Monica Announces Her Breakup With Allan
Monica was always cautious about introducing the people she was dating to her group of friends. When they met Alan (Geoffrey Lower), it was love at first sight. Ross thought he'd be the yardstick against which all future boyfriends would be measured. The friends went to the game with Alan, and he was amazing. It's the 'Alanness' of Alan that made the squad love him so much even when Monica thought he was 'too Alan.' It was as if he wasn't only dating Monica but her friends too. When Monica decided to break up with Alan, he was kind of relieved. " I had a great time with you. I just cant's stand your friends," he told Monica. While Alan took the break up easily, the same could not be said for the other five, who had developed a unique way of expressing their disappointment.
Monica: It's about Alan. There's something you should know. I mean, there really is no easy way to say this. I've decided to break up with Alan.
Ross: Is there somebody else?
Monica: No, no, no. It's just…you know, things change. People change.
Rachel: We didn't change.
Joey: So that's it? It's over? Just like that?
Phoebe: You know, you let your guard down. You know, you start to really care about someone and I just…I…I [Chews hair]
Monica: Look, I could go on pretending…
Joey: Okay!
Monica: No! But that wouldn't be fair to me. It wouldn't be fair to Alan. It wouldn't be fair to you.
Ross: Yeah, well…who wants fair? I mean, I just want things back. You know, the way they were.
Monica: I'm sorry.
Chandler: Oh! She's sorry! I feel better.
Rachel: I just can't believe this. I mean with the holidays coming up…I wanted him to meet my family.
Monica: I'll meet someone else. They'll be other Alans.
Everyone: Oh, Yeah, Right.
Monica: Are you guys gonna be okay.
Ross: Hey, hey, we'll be fine. We're just gonna need a little time.
Monica: I understand.
Tell us what's wrong with this post? How could we improve it? :)
Let us improve this post!