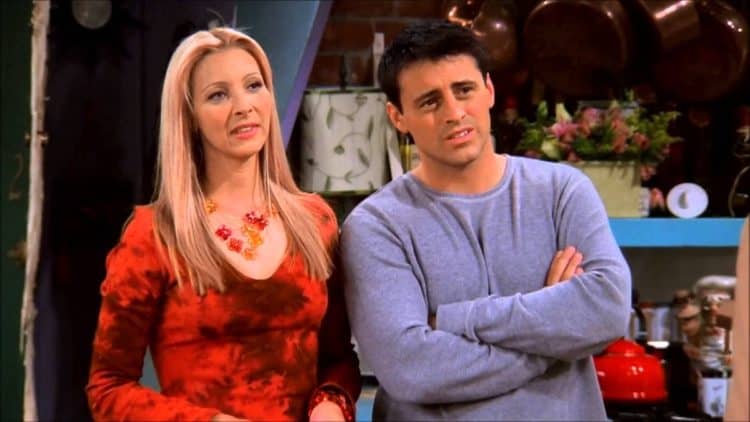 Phoebe was introduced to the group of Friends when she became Monica's roommate. Of all the characters, Phoebe had the roughest upbringing. At a very young age, her mother killed herself, and she took to independence. She got alienated from her family and grew up with a lot of street smarts. The carefreeness she developed from raising herself led to the delivery of some memorable lines. These are some of her very best:
1. "I Don't Even Have A Pla-"
Rachel was worried that perhaps leaving home and trying to be independent was not the right move. In place of the luxury life she had lived, she now had to fend for herself. Phoebe and Monica ( Courteney Cox) tried to convince her that everything would be alright. Instead of cheering Rachel up, her negative energy lured them in, and suddenly the whole room was in a somber mood. While Rachel walked to the door to attend to the pizza delivery guy, Monica asked Phoebe whether she had a plan for her life. " I don't even have a pla-" Phoebe replied.
2. "Nestlé Toulouza"
Phoebe's issues with her family did not stop at her disconnect from her twin sister, Ursula ( Lisa Kudrow). Her biggest memory of her grandmother was her incredible cookies that were made with love. When Monica learned of the amazing cookies, her initial instinct was to get the recipe. The pair looked everywhere but couldn't find it. It seemed to be some magic secret until Pheobe mentioned that her grandmother had gotten the recipe from her French grandmother " Nestlé Toulouza". Phoebe was in for a rude shock when she discovered the cookie recipe was from Nestlé Toll House.
3. "Suzie, Can I Call You Suzie ?"
Mike and Phoebe (Lisa Kudrow) had just gotten back together and he needed to break things off with his soon-to-be ex-girlfriend. When she heard of 'Precious', Phoebe was amused from the get-go. " Is she a pure breed or did you pick her up at the Palm?" Phoebe asked. Although Mike had reserved a table at a restaurant, Precious went to his house instead, coming face to face with Phoebe. Phoebe was the bearer of bad news, and she could not bring herself to call her 'Precious'. "Suzie, Can I call you Suzie?" Phoebe enquired.
4. " Oh, My eyes! My eyes!"
Every friend discovered Chandler and Monica's affair in their own unique way. Joey put two and two together when Monica and Chandler both had work getaways, Rachel heard them over the phone, and Ross (David Schwimmer) saw them through his apartment. Just like Ross, Phoebe saw Monica and Chandler getting cozy through Ross's apartment. At the time, he was apartment searching, and Phoebe and Rachel were helping out. Phoebe couldn't believe the romance that was unfolding before her eyes. She screamed at the top of her lungs. " Oh! Oh! Oh! Chandler and Monica! Chandler and Monica! Oh my eyes! My eyes!"
5. " It's A Normal Swedish Name, Ikea"
As a freelance masseuse, Phoebe expressed how much she hated corporates. It turned out that she loved their money after all. Unlucky for her, Rachel had a gift voucher and Phoebe was to be her masseuse. Rachel had had a front-row seat to Phoebe's complaints, so she tried to pretend she was someone different by feigning a Swedish nationality. Rachel didn't get to see her face, but she recognized Phoebe's shoes. When she asked to know her masseuse's name, Phoebe picked the only Swedish word she knew. " It's a normal Swedish name, Ikea." She revealed.
6. " No Wonder You're Pregnant"
After Rachel got pregnant, she had the strongest maternal instincts. She wanted to be around children, and giving them candy during Halloween seemed like the perfect job for her. The children walked to her doorstep, trick or treating, and Rachel seemed to be enjoying every minute of her job. A beautiful ballerina came around, and Rachel was really impressed by her dancing, she added more candy. The little girl said she loved Rachel and hugged her, prompting Rachel to give her all of the candy. When Rachel told Phoebe how she ran out of Candy, Phoebe commented, " No wonder you're pregnant."
7. "So, Where Does Everyone Summer?"
Phoebe and Mike ( Paul Rudd) were from two different worlds. While one was brought up in a sophisticated family with posh friends and fine living, the other had to practically raise herself. When those two world's collided, Phoebe found herself in a difficult place. She could have pretended to be just as sophisticated when meeting Mike's parents, but she chose to be herself after his encouragement. It did not go well. By the time she was done with her account of her life, she was ready to go into pretend mode. " So, where does everyone summer?" Phoebe asked in an awkward tone.
8. " Is Daddy Getting Angry?"
Once in a while, Phoebe often found herself making fun of other members of the friend group. When she wasn't alluding to the fact that Rachel ( Jennifer Aniston) was being a child by avoiding Ross's wedding because of history, she was making moves at chandler. Ross found himself on the receiving end of her playful side when he called Rachel 'mommy'. Ross had taken to calling Rachel that, hoping it would be Emma's ( Cali Sheldon) first word. When Ross asked to be called 'daddy', Phoebe jumped in. "…Is daddy getting angry?" she asked.
9. "I'm Extremely Talented"
No one was ever so appreciative of their abilities as Phoebe was. When she was helping Joey ( Matt LeBlanc) with his lines, she managed to catch how good she was at delivery. She took Joey's script and aced it. Phoebe incorporated emotional intonation in her rehearsal and used gestures to express herself. What resulted was a light bulb moment that saw her pause to take it all in. " Oh my God! I am extremely talented!" she remarked.
10. "Smelly Cat, Smelly Cat, What Are They Feeding You?"
Phoebe was extremely famous for many of her original compositions. Watching her perform at Central Perk was such a delight. For someone who sang off-tune, she had a whole ton of courage in her. Her inspiration was top-notch, and it seemed to stem from anything. One of Phoebe's most memorable compositions was about a smelly cat. "Smelly cat, smelly cat, what are they feeding you?" She sang. Overall, Phoebe's awkwardness paid off in the long run.
Tell us what's wrong with this post? How could we improve it? :)
Let us improve this post!