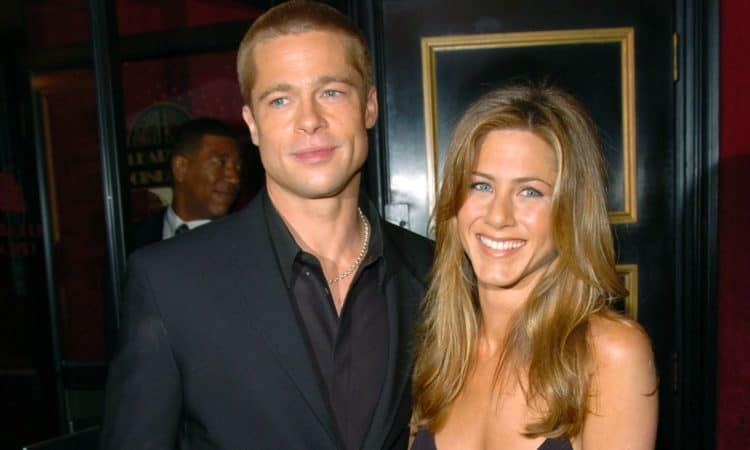 Something is definitely cooking between Jennifer Aniston and Brad Pitt, but they call it friendship. Brad Pitt and Jennifer Aniston were among the hottest and most beautiful couples in Hollywood in the 2000s. People were inspired by their love and used to wait for their movies. Things changed when Angelina Jolie entered the life of Brad Pitt. Aniston and Pitt broke up, and the world felt shattered.
Is It Friendship or Love?
In most situations, when couples break up, they don't check on each other, aren't seen together, and break all the contacts. However, the situation of Jennifer Aniston and Brad Pitt is entirely different. They have remained good friends after the break-up. It looks like the former couple has grown up and has understood that ending a relationship doesn't mean they have to avoid each other for the rest of their lives. Since their split, Brad and Jennifer have been linked to different Hollywood elites. For example, Brad Pitt began dating Angelina Jolie and it was said that Jolie became the reason for his separation from Aniston. They tied the knot in 2014 and separated their ways in 2016. Angelina and Brad have six children together. On the other hand, Aniston was in a relationship with singer John Mayer. They remained together from 2008 to 2009. In 2011, Jennifer started dating actor Justin Theroux. They got married in 2015 and divorced in 2018. They don't have any kids together. Despite all the relationships and affairs Jennifer and Brad have had, their closeness as friends has not been impacted.
What Jennifer Aniston Has to Say
Jennifer Aniston has done so many interviews. The Friends actress has opened up about her stance on dating her ex-husband Brad Pitt. According to the actress, she and Pitt are on good terms. They are very good friends and share happy moments. On SiriusXM's The Howard Stern Show, Stern asked Jennifer Aniston about working with Brad Pitt on the live table reading of Fast Times at Ridgemont High. The response of Aniston was quite surprising. "It was absolutely fun. Brad and I are buddies, we're friends," Jennifer Aniston said. "And we speak, and there's no oddness at all, except for everyone that probably watched it and was wanting there to be, or assumed there to be. We had fun, and it was for a great cause, [Sean Penn's community relief nonprofit] CORE."
Afterward, Jennifer Aniston was interviewed by a famous online magazine. It became the cover story and went viral. In this story, Jennifer Aniston revealed that she is not interested in online dating. However, finding a good life partner is important because nobody can live their life alone. She further revealed that she doesn't use dating apps. She had rather like to stick to normal ways of finding a life partner or dating someone. Having someone in your life is so special. This makes you feel secured. Aniston then made it clear that she and Pitt are good friends. When asked if there was hope, she said that she had an interest in living an enjoyable life. She wants to have a lot of fun with her partner. She hopes to find someone very soon but Brad Pitt is nothing but a friend.
From Knowing Each Other to Marriage to Separation
In 1994, Jennifer Aniston and Brad Pitt crossed paths for the first time. Hollywood got changed at that time. Jennifer once said that she met Brad accidentally because her manager was a good friend of his manager. He looked sweet to her. In 1998, they went on their first date. It was a true Hollywood romance. They kept things simple until 1999 when they made their relationship public on the red carpet of the Emmy Awards. In July 2000, they got married in a lavish style. In January 2005, Aniston and Pitt officially split and offered this statement:
"we would like to announce that after seven years together we have decided to formally separate. For those who follow these sorts of things, we would like to explain that our separation is not the result of any of the speculation reported by the tabloid media. This decision is the result of much thoughtful consideration. We happily remain committed and caring friends with great love and admiration for one another. We ask in advance for your kindness and sensitivity in the coming months."
Jennifer never called Brad a mean person, but she was uncomfortable with his closeness and frankness with Angelina Jolie. Naturally, no wife will tolerate her husband laughing and spending a lot of time with another female. If Jennifer Aniston and Brad Pitt are really good friends, we hope this friendship will remain forever and no other emotions will get involved.