Billy Bob Thornton is a widely recognised movie star and TV actor. He was born in Hot Springs, Arkansas in 1955. He got started in acting in the early 1980s, when he moved to Los Angeles. From here, he began appearing in small roles in television and film. In 1996, he wrote, directed, and starred in the film Sling Blade, which earned him critical acclaim and an Academy Award for Best Adapted Screenplay.
Thornton continued to act in both independent and mainstream films, cementing his stature as a versatile thespian. His immense talent was recognised once again in 1998 when he received an Oscar nomination for his role in A Simple Plan. Thornton's talent in both writing and acting has solidified him as a well-respected figure in the entertainment industry. So, with that said, here are the top 20 Billy Bob Thornton movies of all time.
1. The Man Who Wasn't There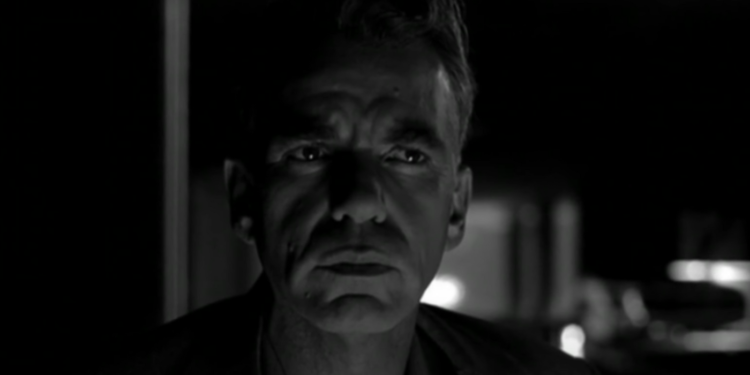 The Man Who Wasn't There is a crime drama from The Coen Brothers. The movie takes place in the 1940s and follows a man named Ed Crane (Billy Bob Thornton), who is a barber in a small town. After getting entangled in a blackmail scheme, Ed finds himself in trouble with the law and must navigate his way through a dangerous world of criminals and corrupt officials. The film's plot is intricately woven, with a noir feel that beautifully captures the era it is set in. Thornton's performance in the lead role is stunning, and he perfectly encapsulates Ed's unassuming and reserved personality.
2. Sling Blade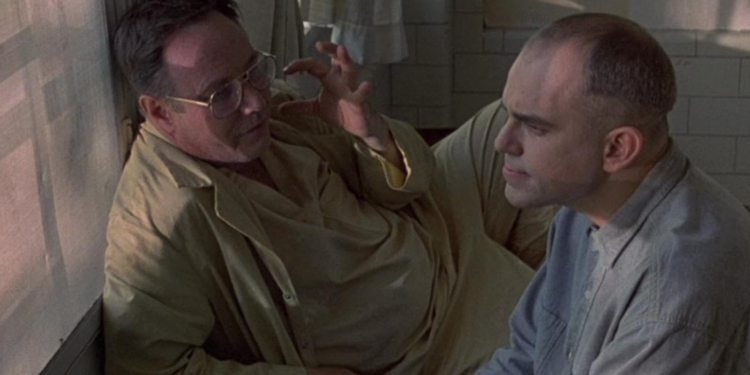 Sling Blade is a 1996 American drama that served as Billy Bob Thornton's breakthrough role in the film industry. The movie, set in rural Arkansas, tells the story of Karl Childers, a mentally disabled man who befriends a young boy and his mother. Thornton both wrote and starred in this film, which went on to win him an Academy Award for Best Screenplay. This effectively cemented his reputation as a formidable creative force in Hollywood. Although he did not win Best Actor, Thornton's lead performance remains a standout rendition from that year.
3. Bad Santa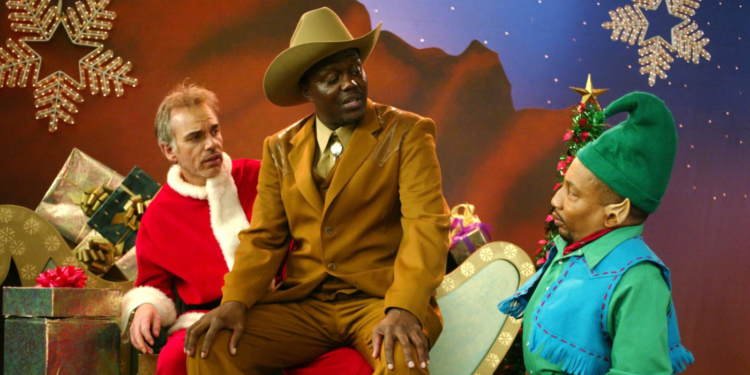 Bad Santa is one of the most outrageous and zany comedy films of all-time. Upon its release, it received mixed reviews from critics, who were taken aback by its crude language and sexually explicit humor. However, it has become a cult christmas classic over the years, and stands tall with classic holiday films like Die Hard.
The movie follows the story of two seasoned thieves played by Billy Bob Thornton and Tony Cox. Their tactic – posing as Santa Claus and his elf in order to rob stores during the holiday season. While their plan seems foolproof, things start to take a wild turn when they encounter a troublesome child who becomes obsessed with their scheme.
4. Monster's Ball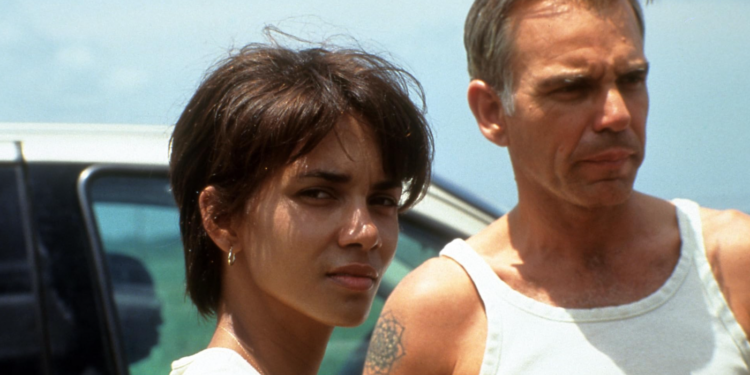 Monster's Ball tells the story of two individuals who are brought together by an unfortunate circumstance. The movie follows the life of Hank Grotowski (Billy Bob Thornton), a correctional officer who intertwines with Leticia Musgrove (Halle Berry), a widow who works as a waitress. Hank and Leticia's paths cross when Hank executes Leticia's husband, who was on death row. As they spend more time together, the two become romantically involved.
However, their relationship is complicated by their personal issues, including grief, racism, and societal constraints. Halle Berry's portrayal of Leticia in the film was remarkable and highly praised. In fact, she won an Academy Award for Best Actress, making history as the first African-American woman to win the award in this category.
5. A Simple Plan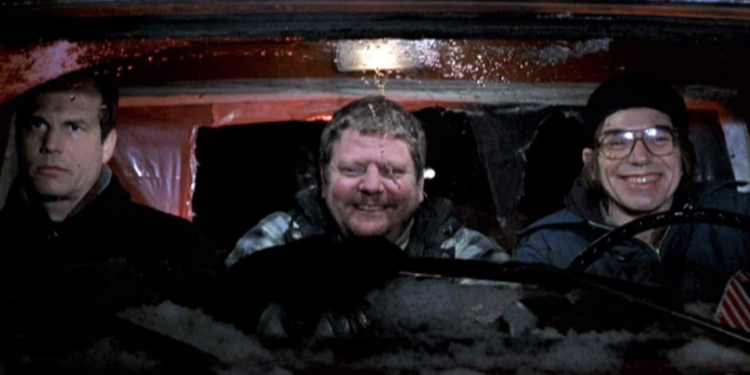 A Simple Plan is a 1998 crime thriller film directed by Sam Raimi. The movie tells the story of Hank Mitchell (Bill Paxton) and his brother Jacob (Billy Bob Thornton), who stumble upon a crashed plane containing millions of dollars. They decide to keep the money, but their plan quickly unravels as tensions rise and paranoia sets in. As their greed takes over, the brothers are forced to commit heinous crimes to cover their tracks. The film's slow-building tension and realistic portrayal of a seemingly simple plan gone wrong, make for a gripping and thought-provoking viewing experience.
6. Bandits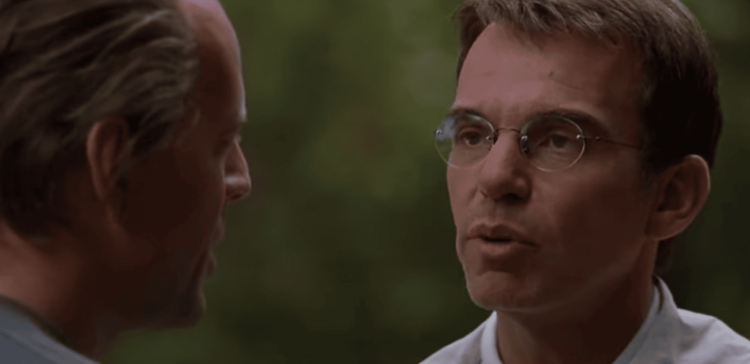 Despite a stellar cast and a simple yet compelling plot, Bandits is a film that has often flown under the radar. The movie follows three individuals as they become involved in a dangerous love triangle, with their heists as bank robbers being the backdrop for their complicated relationships. The focus of the film is largely on the human characters and their emotions, rather than the action sequences that are typically associated with heist films. Bruce Willis, Cate Blanchett, and Billy Bob Thornton deliver exceptional performances and give life to their complex and flawed characters.
7. One False Move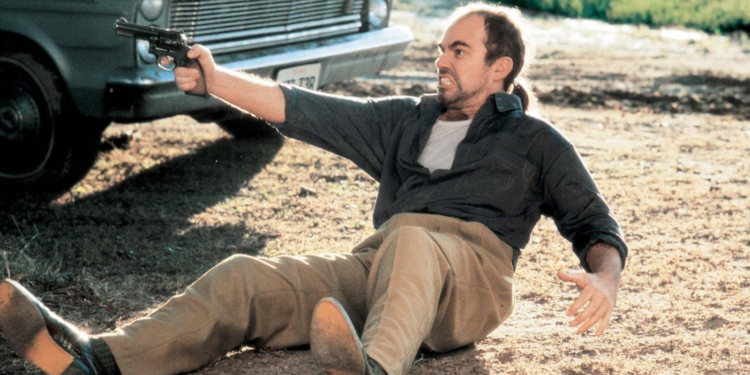 One False Move is a gritty crime thriller that tells a gripping story of murder, betrayal, and intrigue. The movie follows the journey of a trio of ruthless criminals, led by a cold-blooded killer named Ray Malcolm (Billy Bob Thornton). As they flee from California to Arkansas, they plan to sell a large stash of drugs they stole from a dealer. However, their plans soon devolve into chaos when they encounter a small-town police chief and his team of detectives.
8. Blood In, Blood Out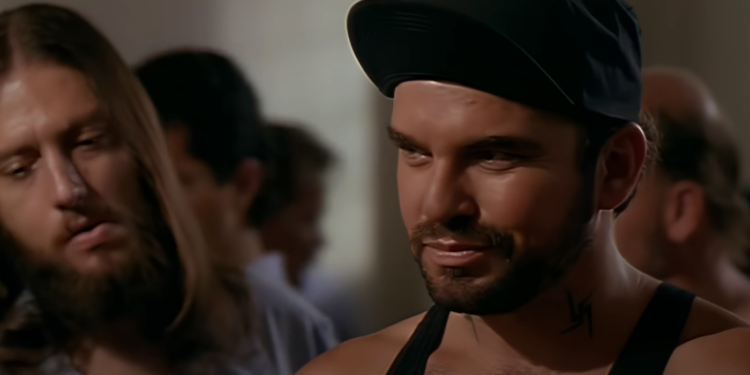 Blood In, Blood Out is a powerful drama that has amassed a large cult following. It tells the story of three young hispanic men caught up in the brutal world of gang culture in Los Angeles. The film follows the paths of Miklo, Cruz, and Paco as they struggle to navigate their way through poverty, violence, and discrimination. Billy Bob Thornton stars as Lightning, a feared prisoner who dishes out unflinching justice.
9. Mr. Woodcock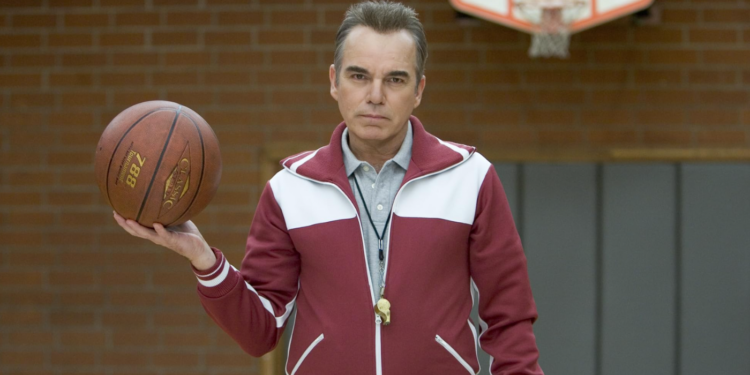 Mr. Woodcock revolves around the character of John Farley (Sean William Scott), a successful author who returns to his hometown only to discover that his old high school gym teacher is now dating his mother. What follows is a series of hilarious events as John tries to win back his mother and teach his former teacher a lesson.
10. Waking Up in Reno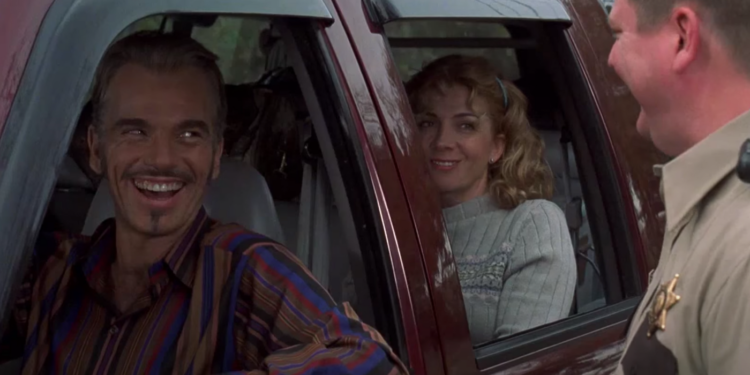 Waking Up In Reno follows two couples who embark on a road trip to Reno, Nevada, for a monster truck rally. The film stars Billy Bob Thornton, Charlize Theron, and Patrick Swayze. Thornton and Theron play a couple who are having marital problems, and Swayze and Natasha Richardson play their best friends. As the couples make their way to Reno, they begin to confront their own issues and past mistakes. Resultantly, this leads to unexpected revelations and a newfound appreciation for each other's relationships.
11. Bad Santa 2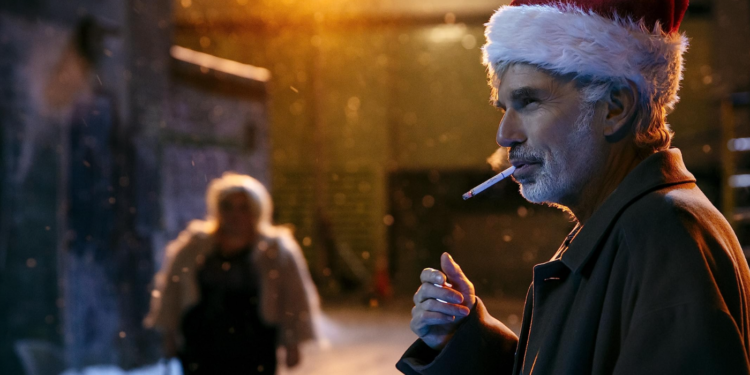 In Bad Santa 2, we catch up with con artist, Willie Soke. After the events of the first film, he's hit rock bottom. He's drinking more than ever, struggling to get by and longing for the next big score. Along comes his old partner-in-crime Marcus, who invites him to team back up for another job. While the film didn't reach the same heights as the first, it still has some standout moments. Furthermore, Thornton shines once again as perhaps his most iconic character.
12. Bad News Bears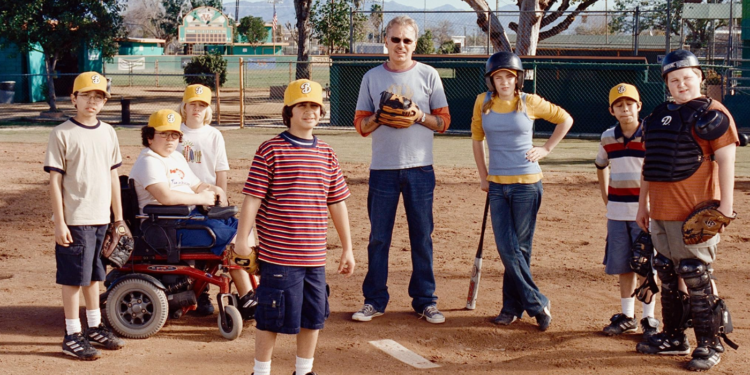 The 2005 comedy, Bad News Bears, is a revamped version of the 1976 movie. Billy Bob Thornton plays Morris Buttermaker, a washed-up minor league baseball player in the movie. After some squandering, Morris becomes the coach of a lovable yet unlikely team of misfit Little League players. Made up of foul-mouthed kids and uncoordinated players, the team must come together to compete against rival teams and make it to the championship game. With Thornton's deadpan humor and the team's antics, Bad News Bears is a hilarious and heartwarming film. It manages to stand on its own two feet while also paying homage to the original classic.
13. Armageddon
Armageddon is a 1998 science fiction disaster film directed by Michael Bay. It features a star-studded ensemble cast that includes the likes of Bruce Willis, Ben Affleck, Liv Tyler, and Billy Bob Thornton. The movie revolves around a group of deep-core drillers who are recruited by NASA to save the earth from a massive asteroid impact. Furthermore, the film was a huge commercial success, grossing over $553 million worldwide.
14. A Million Little Pieces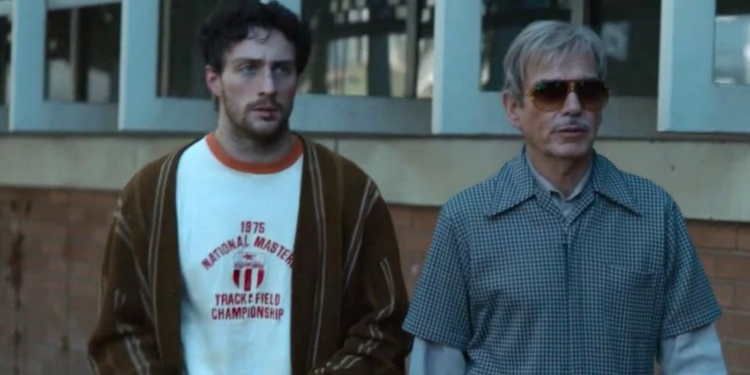 A Million Little Pieces tells the story of James, a young man suffering from addiction who decides to check himself into a rehabilitation center. The film delves into the struggles that come with trying to overcome addiction. Additionally, it pays attention to the relationships formed within the center as everyone tries to support each other towards recovery. Billy Bob Thornton serves up an impressive rendition as Leonard, a foul-mouthed ex mafia member riddled with his own demons.
15. Entourage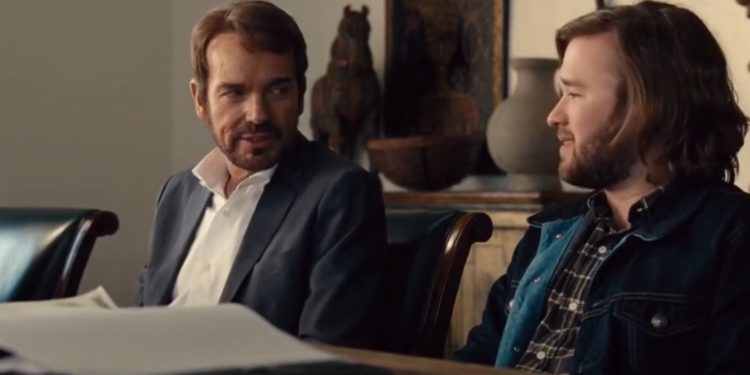 Entourage is a feature-length film that marks the return of the hit series of the same name which aired from 2004 to 2011. The film, which is written and directed by series creator Doug Ellin, brings back all of our favorite characters, including Vincent Chase, Ari Gold, Turtle, Eric, and Johnny Drama.
The film became highly in demand due to the massive success of the show, and it was almost inevitable that it would be made into a movie. The plot follows the gang as they navigate the ups and downs of Hollywood, this time with Vincent taking on the role of a director in his latest project. Billy Bob Thornton joined the eclectic cast of the show, alongside Haley Joel Osment.
16. Faster
Faster is an action-packed movie starring Dwayne Johnson as an ex-convict who sets out to avenge his brother's murder. Johnson's character, known only as Driver, is a no-nonsense, muscle-bound force of nature who will stop at nothing to get the job done. The movie follows Driver's relentless pursuit of those responsible for his brother's death, as he cuts a bloody path through the criminal underworld. With intense car chases, explosive shootouts, and a memorable performance from Johnson, Faster is a must-see for fans of action films. Billy Bob Thornton stars as the overzealous cop who is hot on Driver's tail throughout the whole movie.
17. The Gray Man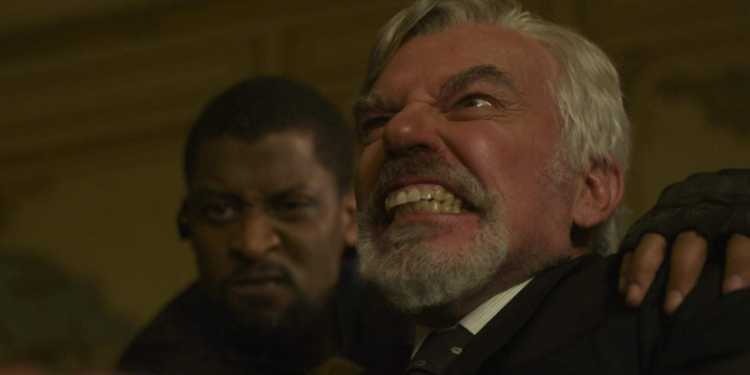 The Gray Man is a high-octane action thriller film directed by The Russo Brothers, starring Ryan Gosling, Chris Evans, and Billy Bob Thornton. The film is adapted from the novel of the same name by Mark Greaney and follows former CIA operative turned assassin Court Gentry, known as the Gray Man, as he is hunted down by Lloyd Hansen, a former team member turned rogue agent.
18. The Judge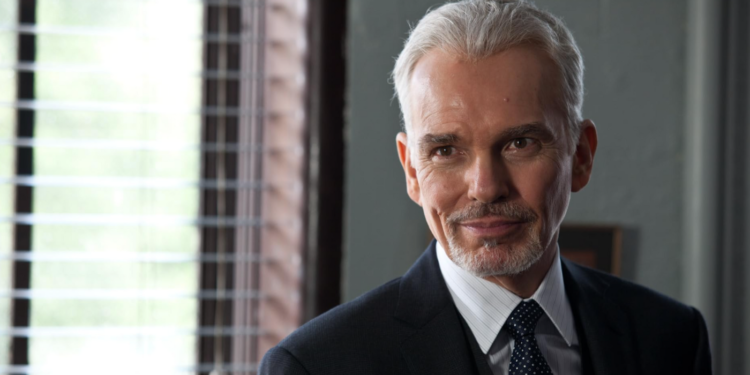 The Judge is a critically acclaimed drama that was nominated for an Oscar in 2015. The film tells the story of a successful big-city lawyer named Hank Palmer (Robert Downey Jr), who returns to his rural hometown to attend his mother's funeral. While there, he discovers that his estranged father, played by Robert Duvall, a respected judge, has been accused of murder. As Hank investigates the case, he must navigate the complex relationships with his family, including his two brothers. The film also stars Billy Bob Thornton as the tough-as-nails prosecutor, Leighton Meester.
19. School For Scoundrels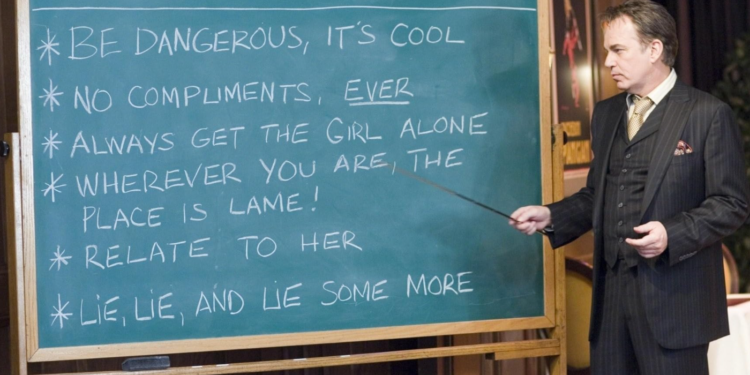 School for Scoundrels is a 2006 American comedy directed by Todd Phillips. The film stars Billy Bob Thornton as Dr. P, a legendary instructor for a class that aims to create confident and assertive men. Jon Heder plays Roger, a shy and timid meter reader who enrolls in Dr. P's class to gain the confidence he needs to win over his dream girl.
As the class progresses, Dr. P's aggressive and abusive teaching style causes chaos and conflict among the students, including Roger. However, as Roger begins to stand up for himself and assert his newfound confidence, Dr. P becomes increasingly threatened by him. The film is a humorous and satirical take on self-help classes, with Thornton delivering an entertaining performance as the over-the-top and Machiavellian Dr. P.
20. The Ice Harvest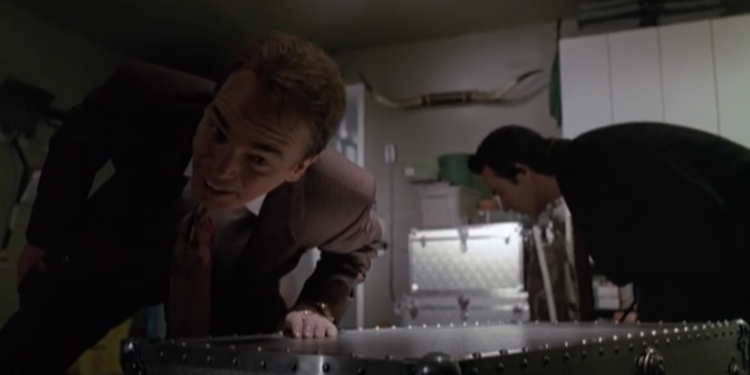 The Ice Harvest is a film that went under the radar upon its release in 2005. However, it is an underrated gem from famed comedy director, Harold Ramis. The film is a neo-noir comedy about a sleazy lawyer who plans a Christmas Eve heist with his bartender friend but runs into a series of unexpected obstacles. The movie boasts a dream cast of talented actors including Billy Bob Thornton, John Cusack, and Connie Nielsen, who deliver excellent performances. The witty script and clever direction make for an entertaining and darkly comedic ride.