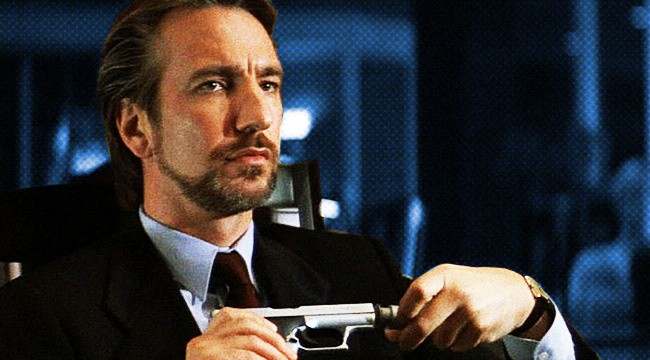 With the recent news of Disney officially canceling Die Hard 6, the adventures of Bruce Willis's John McClane appears to be over. However, the Die Hard series has been an enjoyable part of entertainment for over two decades and this article will revisit the thrilling adventures of New York City policemen John McClane and company. Let's start off the list with the best entry in the long time franchise:
1. Die Hard
Not surprisingly, the first film remains the most enjoyable of the franchise. When Die Hard first came out in 1988, this classic spawned a new wave of copycats such as Speed and Skyscraper; however, no film has been able to recapture the magic of the original film. Looking back, it's insane that Willis was the sixth actor chosen for the role (with reports that Arnold Schwarzenegger and Sylvester Stallone being two of the big actors who turned down the film) as the then-unknown had the charisma and charm to pull off John McClane.
Willis's turn as McClane also saw a swift in action films where the bulky muscle-bound actors such as Schwarzenegger and Stallone were the usual protagonist of these types of films, not the common everyday man. What makes Die Hard a great film isn't just the action, but the story and character development throughout the movie. It helps that the writers changed up the script during filming to give Willis some off days due to him filming his television series Moonlight at the time, as it gave a chance for characters such as Sgt. Al Powell (Reginald VelJohnson), Holly Gennero McClane (Bonnie Bedelia), and Argyle (De'voreaux White) to shine within the film. Alan Rickman's Hans Gruber is the perfect foil for John McClaine and their calm face-to-face within the tower is arguably one of the best dialogues in the whole film. Packed with a great mix of action, humor, and heart, Die Hard is a perfect example of what an action film should be and it'll go down as one of the greatest action movies ever made.
2. Live Free or Die Hard
Known as Die Hard 4, this was another sequel that was never planned as another Die Hard adventure. Screenwriter David Marconi had penned this as a cyber-thriller, WW3.com; however, once 9/11 happened, the script was shelved until it was dusted off and rewritten by screenwriter Mark Bomback. Yes, a lot of the elements in this sequel have been stripped of its Die Hard DNA. Die Hard 4 is the only film in the franchise with a PG-13 rating; however, it's been proven time and time again that a rating doesn't determine how great a movie is. The fourth installment is still a compelling story that isn't just about the action, as it develops their characters well and gives a strong antagonist for John McClaine to fight. Sure, the everyday aspect is gone as McClaine does some impossible action sequences; however, the mix of action, humor, and heart remain in full tact. Bruce Willis remains the awesome badass that he is but the addition of Justin Long and Mary Elizabeth Winstead rounds out a likable cast. Not surprisingly, Timothy Olyphant shines as the main villain but Maggie Q steals the show as Mai.
3. Die Hard 2
Originally adapted from Walter Wager's 1987 novel 58 minutes, the film is pretty much Die Hard, but inside of an airport. Hell, it also takes place on Christmas eve! Still, the film is a blast to watch and the special effects remain top-notch despite this movie coming out in 1990. Bruce Willis brings the same energy that made him a joy to watch in the original film as does Bonnie Bedelia and Reginald VelJohnson. Colonel William Stuart isn't as compelling of a villain as Hans Gruber, though he's still a serviceable foil for McClane and there were several solid twists within the film including Major Grant being revealed as a corrupt special forces guy. While Die Hard 2 may not be on the same level of the original, it still pushes all the right buttons to make this an entertaining film.
4. Die Hard With A Vengeance
Die Hard with a Vengeance is…fine. The villain's personal connection to John McClane is a good one as having Jeremy Irons playing the brother of Hans Gruber adds meat to a role that would've been a generic Die Hard bad guy if it wasn't; however, the writers failed to really tap into that personal issue with John McClane. Yes, everything Simon Gruber did was to mess with McClane; however, he's really no different than the madman in Die Hard 2 and 5. Perhaps if the writers didn't write out Holly McClane in the third film then Gruber could've pulled an eye for any eye move by targeting his family, namely the wife. Making the connection deeply personal could've explored John McClane's character even deeper while getting to know his family a bit more. That way, it wouldn't have felt like we were just getting to know the two kids in the sequels following Die Hard with a Vengeance. Still, there's fun to be had with this film and the dynamic between Bruce Willis and Samuel L. Jackson is enjoyable. Not a terrible movie by any means, but it doesn't come close to being as good as the first three films on the list.
5. A Good Day To Die Hard
This film was a mess and honestly, that's putting it nicely. Yuri Komarov is nothing more than a generic Russian bad guy and the writers mistake non-stop action as the way to keep the narrative compelling. What made Die Hard special is gone as McClane is no longer an everyday man caught in a horrible situation, he's basically a superhero! Granted, that element was stripped in Live Free and Die Hard as well; however, that film still packed a good story with likable characters. Speaking of which, John McClane just doesn't feel like John McClane. The script has also taken away the elements that made McClane a hero you wanted to root for in the other films and Jai Courtney's Jack doesn't fare any better. It is an extremely generic action affair that completely misses the mark of what a Die Hard film should be.Die Hard 6,