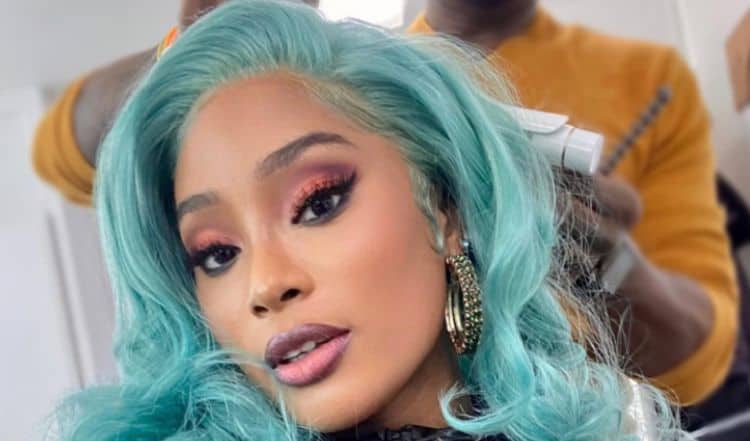 2022 has been an awesome year for Pepi Sonuga. Although she has been in the entertainment industry for more than a decade, 2022 is the year that things have really started to take off for her. She got a big opportunity when she was cast as Lauren 'Lil Muffin' Rice in the ABC series Queens in which she plays a rapper turned aspiring lawyer. On top of that, Pepi also landed a recurring role in the Hulu mini-series, Pam & Tommy. Through both of these roles, Pepi has been able to show that she is a very talented and versatile actress who has what it takes to be a star. As her career continues to grow, we can only hope that we get to see more of her on our screens. Keep reading to learn 10 things you didn't know about Pepi Sonuga.
1. She's Nigerian
Pepi has lived in the United States for most of her life, but she is originally from Nigeria which is also where both of her parents are from. However, despite the fact that her parents are Nigerian, they come from different tribes. Her mother is Igbo and her father is Yoruba. When Pepi relocated to the United States (California) with her family when she was younger, she initially had a difficult time fitting in. When talking about what it was like trying to fit into American culture, Pepi told Screen Radar, "It was hard to adjust. I didn't really know much about America, and I obviously had a very thick accent. I found it hard as far as being bullied. My accent was definitely something I tried to get rid of when I was in middle school. I just wanted to fit in. I didn't want anyone to know that I wasn't like them".
2. She Competed in Pageants
There are countless actors who discovered their love for the craft when they were still in diapers. Pepi's journey to becoming an actress is a little different, though. Her first experience with being in the spotlight came when she entered beauty pageants as a teenager. When she was 15 years old, she was crowned Miss Teen Los Angeles. However, despite her participation in the pageant, she never really thought of herself as a pageant girl. She also went on to become a model which gave her the chance to work with some very well-known brands including Skechers and Forever 21. When Pepi was 16, she decided that she wanted to get into acting. She told Hero Magazine, "…on the radio one day I heard something like, "Do you want to be on the Disney channel? Come down and be with us!" I saved up all my money, went in and got my first agent."
3. She Wanted To Pursue A Career In Music
Although Pepi didn't always know which path she was going to choose, she always knew that she wanted to be involved in the entertainment industry in some capacity. After all, the reality is that some people were simply born to be in the spotlight and it looks like Pepi Sonuga is one of them. At one point, she was even thinking about becoming a musician. However, she didn't specify what kind of music she dreamed of making. By the time she was in high school, though, she decided that music wasn't going to be her thing. Fortunately, her role in Queens gave her the opportunity to tap into her musical side, and there's a chance that she's going to get more music-related roles in the future.
4. She Loves to Travel
Being a model and an actress has afforded Pepi lots of opportunities that go beyond her career. She has gotten to travel to beautiful places all over the world including Mexico, South Africa, and Dubai. Whether she's traveling for business or pleasure, Pepe always finds a way to make the most of the experience. As her career grows, Pepi will get the chance to visit even more incredible places. No matter where she goes, though, she seems to be drawn to places that have beautiful beaches. Not only is traveling a great way for Pepi to have fun and unwind but getting to experience different cultures is truly one of the best experiences a person can have. As someone who has lived in two countries, Pepi understands the beauty of taking the time to learn about different places.
5. She Enjoys Showing Love to Those Who Came Before
Lots of younger people in the entertainment industry have been criticized for not paying homage to those who paved the way for them. That isn't something that anyone will ever be able to say about Pepi. Her Instagram profile makes it clear that she has nothing but love and respect for the talented entertainers that helped make it possible for her to get where she is today. She often posts photos of some of her favorite actors and it's clear that she admires all of the hard work they've put in over the years. Perhaps one day, there will be young actors sharing pictures of Pepi and thanking her for inspiring them.
6. She Has Helpful Advice For People Wanting To Chase Their Dreams
As someone who came to the United States from another country, Pepi knows a thing or two about trying to make it in a new place. When LRM Online asked her if she had any advice to share with other immigrants who are trying to chase their dreams, she said, "Think about it more like a marathon than a sprint. Whether you're in acting, whether you're in the industry or whether you're just trying to get a degree, trying to become a doctor or a florist, I don't know, just stick to what you're doing. No matter what anybody says, no matter if you feel out of place, just think about your home and think about all the people that you're going to help just by inspiring them. Maybe not even help directly, but just by inspiring them."
7. She Likes Her Privacy
Fame and attention are two things that tend to come with a career in the entertainment industry. Lots of people, however, prefer to do their work and have other aspects of their lives be kept out of the spotlight. It appears that Pepi is like many other entertainers in this regard. While she is thankful for all of the love and support people have shown her over the years, she also enjoys keeping her personal life to herself. So far, she hasn't revealed much information about her life outside of the entertainment industry and it will probably stay that way. While it would be nice to know more about her, it's easy to understand why she doesn't want to share. We've all seen how quickly things can go left for celebrities who provide too much insight into their lives.
8. She Has Some Experience Behind the Scenes
So far, acting has been Pepi's top priority. However, there is some information to suggest that she has an interest in being on the other side of the camera. She made her debut as a producer in 2019 with a TV series called Welcome To Daisyland which she also acted in. This is her only production credit at the moment, but it seems likely that she will take on more behind-the-scenes work in the years to come. Being able to work successfully on both sides of the camera can certainly help give her an advantage.
9. She's Almost 30
One of the things that makes the entertainment industry interesting is the fact that it's often difficult to tell how old people are. Since it's very common for adult actors to play teenage roles, it's easy to mistake them for being much younger. While there are lots of people out there who probably assumed that Pepi was in her early 20s, the reality is that she's actually closer to 30. She is 28 at the moment and will be turning 29 in September of 2022. Thanks to her very youthful appearance, however, she can easily get away with playing much younger characters for a few more years.
10. She Loved Working With Her Castmates On Queens
Getting cast in Queens was a great professional opportunity for Pepi. However, it also turned out to be a great personal experience as well. When asked what it was like filming with her very talented cast members, Pepi told LRM Online, "They're a dream. A dream come true. They feel like my sisters at this point and from the get-go, they were so inclusive of me. They are the Queens and it's easy to just kind of stay in that little pack, but they're always so adamant about including a Lil Muffin. And they're a dream. Sometimes I can't believe I'm working with these ladies. They're legends and they're really kind people." As of now, Queens hasn't been renewed for a second season, but there are lots of people who are hoping it will be. I think it's safe to say that Pepi is looking forward to the opportunity to work with her co-stars again.