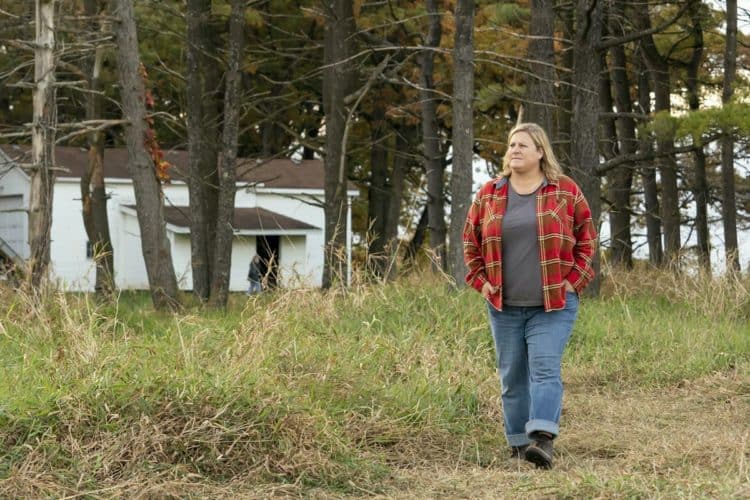 If there's one thing that most people can relate to, it's feeling like they're not where they want to be in life. Some people even spend their entire lives trying to cope with this feeling while failing to realize that it's never too late to go after your dreams. That is something that Bridget Everett will be exploring in her upcoming HBO series, Somebody Somewhere. The show is a comedy that stars Bridget as a woman named Sam who is struggling to deal with life in her small town while also grieving the loss of her sister. The show will touch on topics that lots of people can relate to, and many viewers will even find themselves feeling inspired. Keep reading to learn 10 things you didn't know about Somebody Somewhere.
1. Bridget Everett Didn't Create The Show
Since Bridget Everett is the face of Somebody Somewhere, there are some people out there who may be under the impression that she also created the show. That, however, isn't the case. The series was co-created by Hannah Bos and Paul Thureen. Unfortunately, we weren't able to find any information on how Bridget was cast for the series, but it's clear that she was the perfect person for the starring role. Since Bridget does have some experience working behind the scenes, it'll be interesting to see if she gets the opportunity to write any episodes if the show gets renewed for another season. Those who have been following her career would probably love to see her be involved in the show on both sides of the camera.
2. Bridget Everett Really Is A Singer
Music will play an important role in the series but many viewers may be surprised to know that it's not just Bridget's character that loves to sing. Bridget is actually a singer in real life and music has always had a special place in her heart. Although she has never released any original music, she did have a somewhat successful career as an opera singer. During an interview with Timeout, Bridget said, "I studied vocal performance at Arizona State, which is singing classically, whether it's art songs or arias or whatever. But I didn't do a whole lot of operas, because I couldn't get cast in anything at Arizona State. I stayed in Arizona a couple years after college—I was singing a lot of national anthems at spring training games. And then I discovered karaoke, and that's when everything changed [laughs]." While in college, she was also a member of the swim team for a year.
3. The Search For Community Is A Big Part Of The Show
On the surface, Somebody Somewhere is a show about finding the courage to live the life you want for yourself. However, it also has a lot of layers, and one of them is the importance of community. While talking to The Queer Review, Murray Hill, who plays a recurring role in the show, shared how the importance of community plays a major role in the series. Anyone who has ever felt like they were all alone can relate to the need to find like-minded people who they can connect with. Without a feeling of community, it can be easy to become isolated which can eventually lead to other issues. Unfortunately, for people who live in small towns like Sam's, finding that community can be very difficult – especially when you don't fit into what is considered the norm.
4. The Show Was Filmed In The Chicago Area
Somebody Somewhere is set in Kansas. If you look quickly, you might actually think the show really takes place in Kansas. In reality, though, the series is actually filmed in Illinois in locations near Chicago. In fact, filming for the show actually began in 2019. At the time, the working title for the series was Emporia. After being picked up by HBO in 2020, the name was changed to Somebody Somewhere, and filming continued in suburbs near Chicago. Like almost every other show, production was halted due to the COVID-19 virus. It's unclear exactly why Illinois was used for filming instead of Kansas.
5. The Show Doesn't Have Any Social Media Profiles
These days, there are lots of TV fans who love following their favorite shows on social media. Being able to do so, creates a community surrounding the show that can be fun to be involved in. Plus, following a show on social media allows you to see clips and other content that may never make it to the air. Unfortunately, however, fans of Somebody Somewhere won't be able to do this. As of now, there are no official social media profiles associated with the show. This could change if the series develops a large following and gets renewed. In the meantime, viewers can use the hashtag #SomebodySomewhere to discuss the show on social media.
6. The Show Includes The LGBTQ+ Community
The entertainment industry has a long history of lacking representation for any group that doesn't fit inside the 'norm', and the LGBTQ+ community is no exception. Even though it's true that there have been more gay characters in movies and films in recent years, many times they are one-dimensional and they play into old tropes about gay people. However, Somebody Somewhere does include gay representation and it does a great job of avoiding the usual cringey stereotypes. Jeff Hiller, one of the stars of the show, told Gay City News, "First of all, the show's creators, Hannah and Paul, took their time to make these characters three dimensional with lots of nuance. I set out to make Joel more human. Yes, he is the gay best friend when you really reduce it, but he's complicated. He has his own thoughts and dreams and he's not just there to serve Sam."
7. Episodes Will Be Just 30 Minutes
If you're a TV lover, you know there's nothing better than sitting down and getting lost in one of your favorite shows. Realistically, however, it's a little harder to get invested in each episode when they only last 30 minutes. Unfortunately, Somebody Somewhere's episodes will be just 30 minutes which is somewhat typical for comedic shows. The first season of the show will also only be seven episodes which is a little shorter than most of the shows on HBO. On the bright side, though, this means that the show will be easy to binge in just one weekend – or, one sitting for some people. While the runtime probably isn't going to change, there is a chance that future seasons of the show will have more episodes depending on how well it does.
8. The Show Won't Just Make You Laugh
Somebody Somewhere is technically a comedy, but it really is so much more than that. Viewers will probably experience a wide range of emotions while watching the series, and that was actually the point. After all, life is complicated for lots of people and sometimes laughter and sadness are more closely connected than anyone could've imagined. The series will deal with themes such as loneliness and grief. This is especially evident as viewers watch Sam try to deal with the loss of her sister. For the actors, this also gave them an opportunity to show their range as performers. For example, Bridget's background is in comedy, but she can do much more than that.
9. The Show Has Some Connections to Bridget's Real Life
Even though Bridget didn't create the show, there are still some elements of the series that she can relate to. According to an article from The New York Post, Bridget said, "Parts of it [are based on my life] [and] some of the themes, liked the dead sister and the love of singing and being from [Manhattan] Kansas. There are differences and similarities, but enough to help me stay emotionally connected as an untrained actor". What's interesting, however, is that there are a lot of people who will probably feel like the show connects to their lives in some way. That's because many of the themes are universal and that's part of what makes the show so special. Sure, everyone might not be able to relate to living in a small town or losing a sibling, but many people know what it's like to feel lost, stuck, and afraid.
10. Bridget Everett and Jeff Hiller New Each Other Before Casting
Somebody Somewhere might be Bridget and Jeff's first time working together, but they've actually known each other for quite some time. When asked how he and Bridget met, Jeff told Gay City News, "She used to run a show at Joe's Pub where she would feature several guests. And so I did that, but that was it. We didn't really hang out much." While he admits it was nice to have that familiarity with Bridget, he also made it clear that knowing her didn't make it any easier for him to get the role. He had to go through the audition process just like everyone else and he worked hard to earn the part.
Tell us what's wrong with this post? How could we improve it? :)
Let us improve this post!