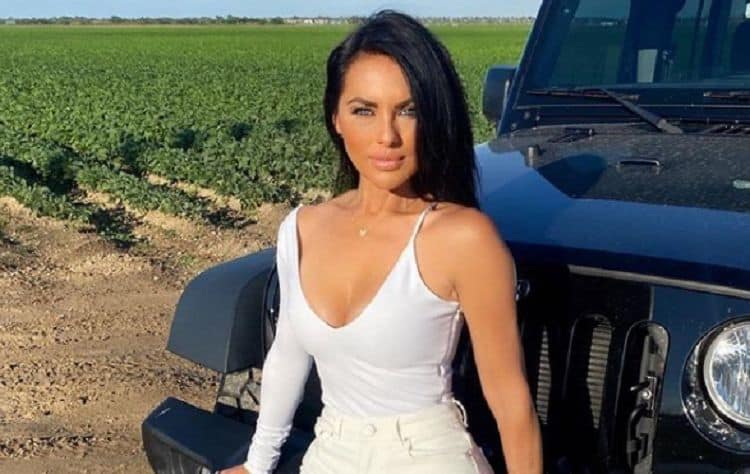 When The Oppenheim Group announced that we'd be seeing them again on Netflix for seasons four and five of their hit reality show, "Selling Sunset," we all went a little crazy. The show was a sleeper hit for Netflix. People thought it might just be another show about real estate like the million HGTV shows we all love and watch when we have a little down time, but this was nothing like that. Filled with beautiful people, even more beautiful views, and the most drama, it became a huge hit even bigger than we think Netflix imagined. Now the stars of the show are household names, and we cannot wait to see them come back for two more seasons. With the new filming going on now, we also get to meet two new agents. One of the new agents is none other than Vanessa Villela. If you think her name sounds familiar, it's because she's already famous. Here is everything you need to know about the newest member of "Selling Sunset," today.
1. She's a Television Star
Before she was a reality television star in LA, she was a television star in Mexico. She's a Mexican-American actress who has been famous for a long time, and you can even stream some of her work on Netflix – not just her upcoming role on this reality series. She is no stranger to the cameras being in her life, but she also has to learn to navigate being herself rather than a character.
2. She is Starting Over
Through a very emotional and personal journey in her own life, the actress has decided that it's time to start a new journey and a new path in her own life. She's no longer working on things that do not bring her joy and happiness. She's only working on things that do bring her happiness, and that includes selling luxury real estate and simply being herself.
3. She Was Born in Mexico
Villela is currently 43, and she was born in Mexico. However, she obtained her American citizenship back in 2017, and it was a proud moment for her. She is now a citizen of both her home country and her current country, and she would not have it any other way.
4. She Graduated College
When she was younger and just getting her start in the acting business, she made the decision to learn as much about acting as she could. So, she applied for a spot as a student at the Centro de Educacion Artistica de Televisa where she studied art and entertainment. She graduated knowing more than she ever thought she'd know, and we have no doubt she used that knowledge along the way as she became a famous actress.
5. She Believes in Manifestation
One thing that is important to this newly minted reality star is taking her time and manifesting her dreams. She is a positive thinker, a woman who knows the power of good vibrations, and she is not afraid to use those things to her advantage. She's done it, she's made it happen, and now she is appreciative of her new role.
6. She Loves Being Outdoors
Nature is a place that she feels most comfortable. She feels that connecting with nature and the outdoors is a way to bring herself to a more natural and beautiful level, and it helps her stay grounded and thankful for all that she has. It is true that spending time outdoors can make you feel so much happier, and she is a woman who practices that.
7. She is Happy By the Water
If there is one thing that we can ascertain from watching her share on social media, it is that this is a woman who is happy by the water. Give her a beach, an ocean, or a body of water, and watch her thrive. It's a good place for her to be.
8. She Stays Private
There is one thing we can say for certain about this star, and it is that she is so good about keeping her private life to herself. We don't know if she is dating anyone, if she is doing anything fun in the background, or what's up in her life. She simply doesn't share, and good for her.
9. She's Bringing Some Drama
It's been said that she and the other new agent on the show, Emma Hernan, will bring some drama this season, but we expect nothing less. These are strong women with big personalities, and we cannot wait to see how this plays out. Of course, all her new friends in the Oppenheim Group have had nothing but kind things to say about her, so this works well.
10. Fans Are Excited
Because she is already famous, she's bringing her own set of fans to the show, too. She's not going to come in without anyone knowing who she is and what she has to bring to the table, so she will have some fans already on her side no matter what. We imagine that her current fans and the ones she'll make later are about to be very excited.