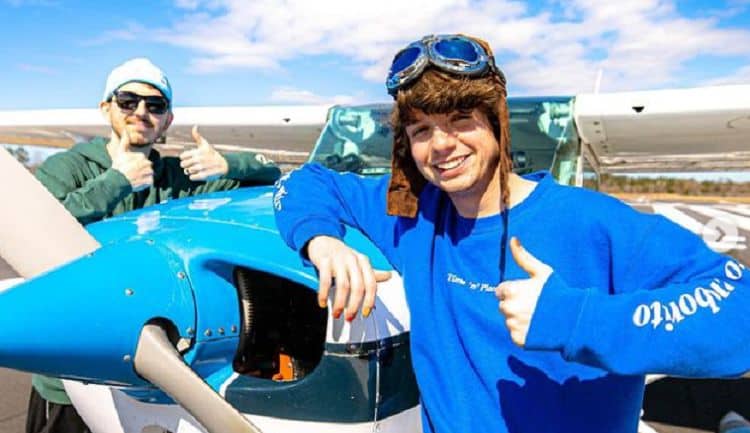 For most people, spending hours playing video games doesn't lead to anything productive. However, Karl Jacobs has managed to build an entire career out of it. The young streamer has become known all over the internet for playing the well-known video game, Minecraft. He has attracted millions of viewers and the numbers are continuing to climb. But even though he has accomplished a lot, the road hasn't always been easy. He has had to deal with his fair share of ups and downs and negative comments along the way. Despite all of that, however, Karl hasn't let anything stop him from making content. Keep reading to learn 10 things you didn't know about Karl Jacobs.
1. He Got His Start As A Camera Man
These days, most people know Karl Jacobs as a streamer, but that isn't how he got his start. When he began his journey, he was working as a cameraman for a well-known YouTuber named Mr. Beast. Occasionally, Karl could be heard in the background of the videos.
2. He Played Sports
Since Karl is a gamer, a lot of people think that the only thing he likes to do is sit in front of a screen all day. That isn't the truth, though. He is also an active person and sports have always played an important role in his life. Growing up, he played both tennis and soccer.
3. He Likes To Travel
Being a gamer has opened up a world of possibilities for Karl. He had gotten the chance to have lots of new experiences including to traveling to places across the country. As his career continues, Karl will probably get even more opportunities to travel to some cool places.
4. He Supports The LGBTQ+ Community
Karl hasn't been very open about his love life, but he has shared that he is on the asexual spectrum. He has also been open about his support of the LGBTQ+ community. In June 2021, he posted a tweet acknowledging and celebrating pride month and reminding people that it's okay for them to be themselves.
5. He's Pretty Private
There was once a time when being popular on the internet meant sharing details of your personal life with the world. However, that isn't really the case anymore. Like lots of other young influencers, Karl is very active online but he has still managed to maintain a high level of privacy. Even though some of his fans wish they knew more about him, staying low-key has probably helped Karl avoid a lot of drama.
6. He Doesn't Like Dogs
Sorry to all the dog lovers out there, but Karl definitely isn't a member of the squad. When it comes to household pets, Karl prefers cats over dogs. According to his page on Fandom, Karl has actually admitted that he is scared of dogs. We weren't able to find any additional details as to why.
7. He's Adventurous
Once again, don't let the fact that Karl is a gamer trick you into thinking that he just sits around all day. He loves getting out of the house and going on new adventures. Whether it be flying a plane or going on a hike, Karl isn't afraid to step out and try something different.
8. He's A Writer
Streaming isn't the only thing Karl has contributed to the gaming world. His LinkedIn profile shows that he is also a freelance writer who has written for publications such as Gamerbolt and GameTZ. Most of his work consists of video game reviews, but he's also done some editing.
9. He Studied Multimedia
Doing something involving content creation wasn't just a random idea for Karl. It was something he had been working towards even before he started working with Mr. Beast. Karl attended Portland Community College where he studied multimedia. Filming for Mr. Beast gave him the perfect opportunity to put his education and his skills to good use.
10. He Met Mr. Beast Through A Friend
Sometimes things in life just line up perfectly, and that's exactly what happened when Karl got the opportunity to meet and work with Mr. Beast. According to Essentially Sports, Karl said, "I knew somebody that worked with MrBeast…My friend said, "Come visit, stay at my house for a week, we'll see what happens". That was during my last quarter of college. I knew that if I go, I have to redo the whole semester. The day I got there, the manager who was supposed to get me an interview got fired". Fortunately, however, things ended up working out and Karl was brought on to film for the channel.