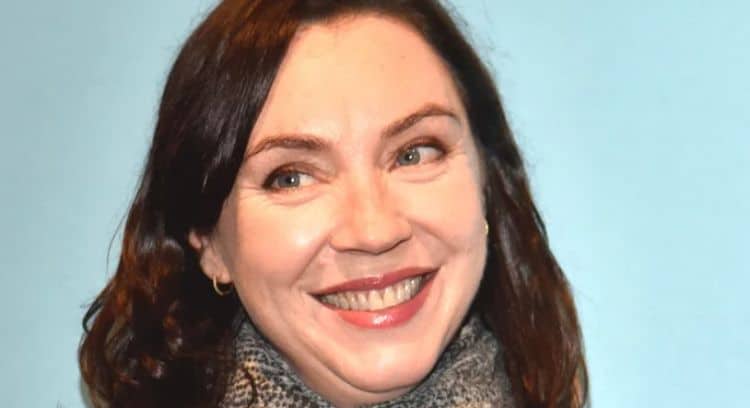 You probably don't know Stephanie Courtney by name, but if you've watched even a minimal amount of TV over the last 10 years, you've probably seen her face. Stephanie is well-known for playing Flo in a series of Progressive Insurance commercials that began in 2008. Since then, she has filmed well over 100 commercials as Flo and people have fallen in love with the character's upbeat attitude. What lots of people don't know, however, is that there's much more to Stephanie than flow. She was in the industry long before the opportunity to play Flo came along, and she'll more than likely continue to do her thing after. Keep reading to learn 10 things you didn't know about Stephanie Courtney.
1. She's A New York Native
Stephanie was born and raised in a small town in New York called Stony Point. She is the youngest of three. Although she doesn't come from a family with any connections to the entertainment industry, Stephanie's mother was a talented singer. Stephanie eventually moved to New York City to pursue her career.
2. She's Not Into Social Media
Thanks to her work with Progressive, there are probably a lot of people out there who would love to follow Stephanie on social media. Unfortunately, however, they won't be able to. From what we can tell, Stephanie doesn't have any verified social media profiles.
3. Her Sister Is Also An Actress
When the acting bug came to visit the Courtney family, Stephanie isn't the only one who couldn't resist getting involved in the arts. Stephanie's sister older sister, Jennifer, is a professional actress who has been in shows such as Curb Your Enthusiasm and Shameless. Stephanie and Jennifer have worked together on different projects over the years including writing and performing a sketch together called "Those Courtney Girls".
4. She's Married
In addition to finding something she loves to do, Stephanie has also found the person she loves. Stephanie has been happily married to Scott Kolanach since 2008. Kolanach works in theater. As far as we know, the couple doesn't have any children. They have both been very private about their personal lives.
5. She's A Formally Trained Actress
If you thought that Stephanie just randomly got a job doing commercials, you might want to think again. She was putting a lot of work into perfecting her craft as an actress long before she got the opportunity to work with progressive. After graduating from Binghamton University with a bachelor's degree in English, Stephanie went on to study acting at the Neighborhood Playhouse. Stephanie is also a stand-up comedian.
6. She's Been In TV Shows And Movies
Playing Flo is easily what Stephanie is best known for, but she has a longer list of acting credits than many people realize. She made her first TV appearance in 1998, and has made dozens of appearances since. She has been in some very popular shows including The Goldbergs and Mad Men. On top of her on-screen work, Stephanie also has theater experience.
7. She Was In A Video Game
In addition to all of the live action work Stephanie has done, she is also a great voice actress. She has had voice roles in shows such as Phineas and Ferb and The Looney Tunes Show. In 2003, she was the voice of Mischa Barton in the video game Celebrity Deathmatch.
8. She Isn't Naturally As Bubbly As Flo
Flo is known for having a very perky personality, but that isn't Stephanie's natural disposition. Stephanie has been quoted saying, "Nobody is naturally that perky! They'd strain something. I'd say at times Flo is like my mom when she's at her most chipper."
9. A Trip To Theater Inspired Her To Get Into Acting
Almost every actor can remember the very moment when they realized that they wanted to get into acting. For Stephanie, that moment came when she was a kid and her parents got her tickets to see The Pirates of Penzance on Broadway for Christmas. While watching the play, she fell in love with acting and wanted to be on stage one day.
10. She May Have Made Up To $500,000 A Year Playing Flo
Admit it, over the years you've wondered how much money Stephanie has been able to bank for playing Flo. The answer is probably more than most people would've guessed. According to several sources, she makes $1 million dollars a year for playing the character and has an estimated net worth of about $6 million. Others suggest that she makes $500,000 a year for the role. Either way, she's definitely making a decent amount of money.
Tell us what's wrong with this post? How could we improve it? :)
Let us improve this post!