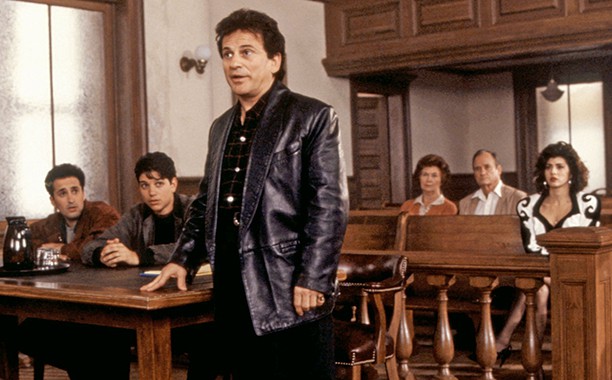 Hollywood has given us movies about everything under the sun and the moon for that matter. Some of the best movies of all time have been about Lawyers. Since the days of black and white films we've been entertained and thrilled with the brilliance of movie lawyers who go to great lengths to prove their points and win the day for their clients. The legal genre has been a popular film theme and is still pulling in viewers with each new release. We've dug through the archives to find the best and most loved films to bring you the top 20 movie lawyers of all time.
Atticus Finch
Gregory Peck plays the role of Atticus Finch, the small town lawyer for the Harper Lee novel To Kill a Mockingbird adapted for screen in 1962. Finch rose above the racism of the day to stand in defence of a black man who was falsely accused of raping a young white woman. The film became an instant classic.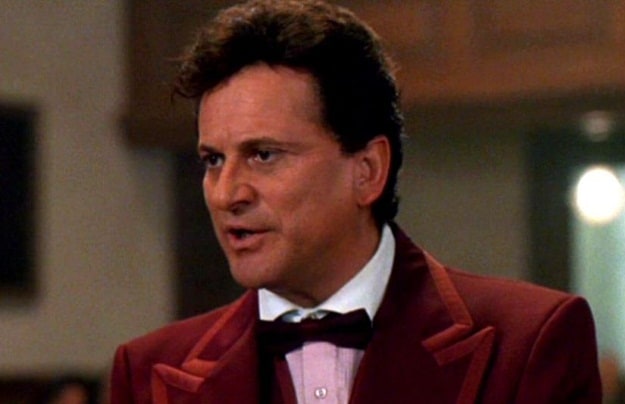 Vincent Gambini
Joe Pesci executed his role as Vincent "Vinny" Gambini, crass and brash, and a lawyer from Brooklyn who just passed the bar by the skin of his teeth on the sixth attempt. Vinny represents his cousin and friend when they are charged with capital murder.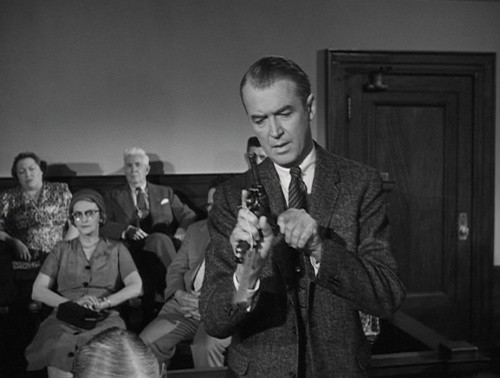 Paul Biegler
James Stewart takes on the role of Paul Biegler who defends a lieutenant in the Army accused of murder. This film is based on an actual case. The lieutenant was believed to have murdered a bartender for raping his wife. Anatomy of a Murder was released in 1959 and featured Otto Preminger as the director of this all star cast that tackled a controversial topic for its time.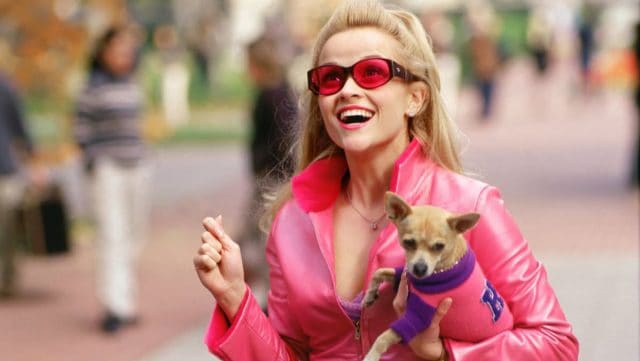 Elle Woods
This is a comedic take on the legal system. In the 2001 film "Legally Blonde," Reese Witherspoon plays the character Elle Woods who is only pursuing a law degree to get the attention of her love interest. She is joined by Luke Wilson, Matthew Davis, Slema lair, Jennifer Coolidge and Vic Garber. The film was nominated for Golden Globe's Best Motion Picture and Witherspoon received the Best Actress in Motion Picture, Musical or Comedy Golden Globe nomination. The film was such a success that a sequel soon followed.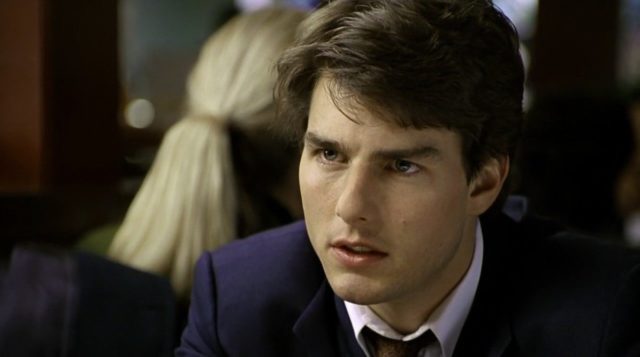 Mitch McDeere
Tom Cruise plays the part of attorney Mitch McDeere in the 1993 film "The Firm." The 1993 legal thriller co-stars Jeanne Tripplehorn, Ed Harris, Gene Hackman, Hal Holbrook,David Strathairn and Holly Hunter. It was an adaptation of the John Grisham novel "The Firm," written in 1991. Mitch is a young lawyer who grew up in poverty, but he made it to Harvard Law School and was a top ranking student in his class. He accepts a job offer from a small firm in Memphis. It was there that his mentors take him under their wing, but he doesn't realize that they are in neck deep in illegal activities. He is baited into cheating on his wife and evidence is collected that will alter be used to blackmail him. Soon, the FBI enters the scene and Mitch is caught between the two.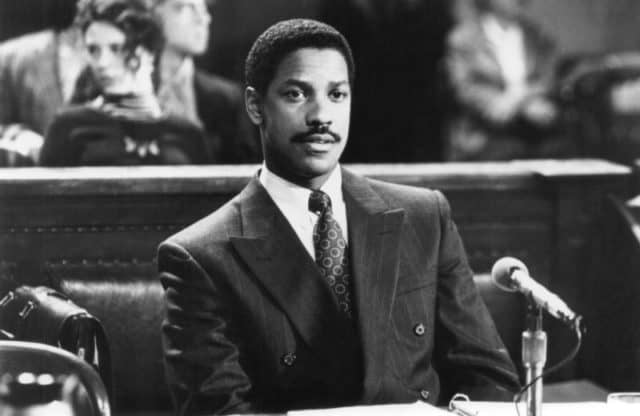 Joe Miller
Denzel Washington does a brilliant job as attorney Joe Miller in the 1993 film Philadelphia. Tom Hanks stars as Andrew Beckett, a senior partner in a prestigious law firm in Philadelphia. He tries to hide his homosexuality and diagnosis of AIDS from others in the firm. When they do find out, they fire Beckett and Miller is the attorney who represents him in his struggle to fight the unlawful dismissal based on discrimination of his sexual and health status.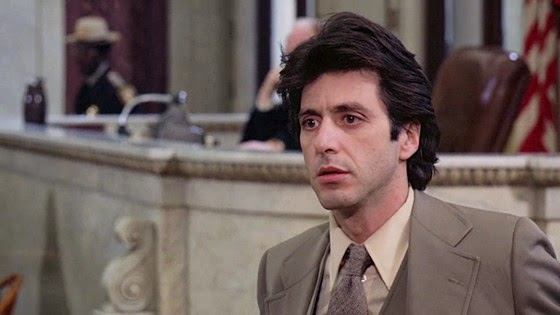 Arthur Kirkland
Al Pacino delivers an unforgettable performance as attorney Arthur Kirkland in the 1979 courtroom drama film "And Justice For All." The film includes costars Craig T. Nelson, Lee Strasberg, John Forsythe, Jack Warden, Jeffrey Tambor, Thomas Waites and Christine Lahti. The screenplay writers were Barry Levinson and Valerie Curtin. The $4 Million budget yielded a whopping $33,000,000 at the box office. Arthur Kirkland is put in jail for contempt of court for the offense of punching Judge Flemin, played by John Forsythe in an argument over the Jeff McCullaugh case played by Thomas G. Waites. Kirkland takes on a few cases in which his clients are arrested for small infractions and then become victims at the hands of an unjust legal system.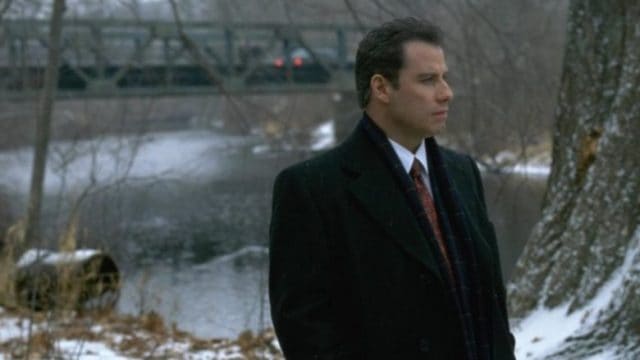 Jan Schlichtmann
"A Civil Action" is a 1998 drama based on the famous book written by Jonathan Harr. Both the film and book are inspired by the real events that happened when environmental pollution in the city of Woburn, Massachusetts contaminated a local acquifer. Cancers and leukemia begin to show up in the population as well as other health issues which were related to the contamination. The case is re-enacted in the film with John Travolta (Schlichtmann) representing Anne Anderson (Kathleen Quinlan) who is seeking legal action against those who are responsible for the issues.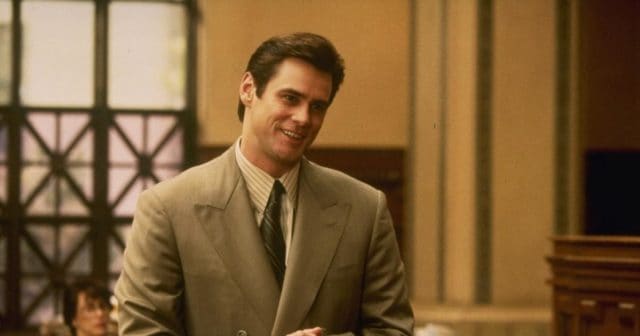 Fletcher Reede
Who could forget the zany antics of Jim Carrey as he plays the role of Fletcher Reede, attorney at law in "Liar Liar." Reede is a cocky lawyer who is fond of fibbing. He sees nothing wrong with stepping over others to get what he wants out of life. He lives for the moment and then regrets his decisions, especially when he realizes how his actions are hurting his young son. He misses the boy's birthday party (breaking yet another promise to show up) and the son wishes that hid dad would be unable to tell a lie for one day. He gets his wish and Fletcher goes through an array of comical meltdowns as he realizes that he cannot tell a lie. He appears in court and makes a jackass out of himself in this comedy film.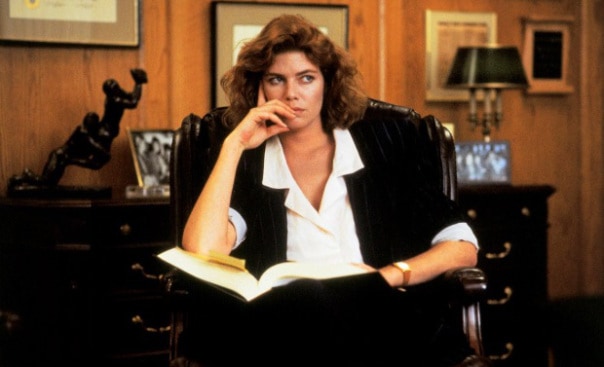 Kathryn Murphy
Kelly McGillis is Kathryn Murphy who is assigned to the rape case of Sarah Tobias played by Jodie Foster. Tobias was raped in a bar by several men while others just looked on. Murphy is the assistant DA and her superior is urging her to drop the case. She argues with him and drama ensues. The film ends with the three rapists being convicted of their crimes and sentenced.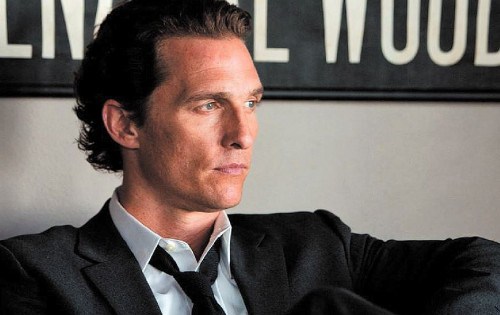 Mickey Haller
Matthew McConaughey is Mickey Haller, criminal defense attorney in Los Angeles County. He works out of the back seat of His chauffeured Lincoln Town car. Most of his clients have been low profile until the big one makes itself available. "The Lincoln Lawyer" is a 2011 film that highlights McConaughey's acting skills as he delivers the role with perfection in unraveling the mysteries and navigating the twists that he discovers as two cases he is working on are intermingled. The film also is an adaptation of "The Lincoln Lawyer," novel and stars William H. Macy, Ryan Phillippe, Marisa Tomei and Bryan Cranston.
Martin Vail
Richard Gere stars as attorney Martin Vail in the 1996 crime thriller "Primal Fear." The film is based on the novel written by William Diehl in 1993. Vail loves the limelight and achieves it by taking high profile cases and getting the clients acquitted through technicalities. He spies the news about Aaron Stampler's arrest (Edward Norton) and takes the case on a pro-bono basis for the notoriety. Stampler is accused of brutally murdering a beloved archbishop. He believes that Stampler is innocent and goes up against prosecutor Janet Venable, who is also his former lover. The sparks fly as the two battle it out both in and out of the courtroom. Complications in the case include a corrupt district attorney along with other officials who make Vail's job more difficult and dangerous.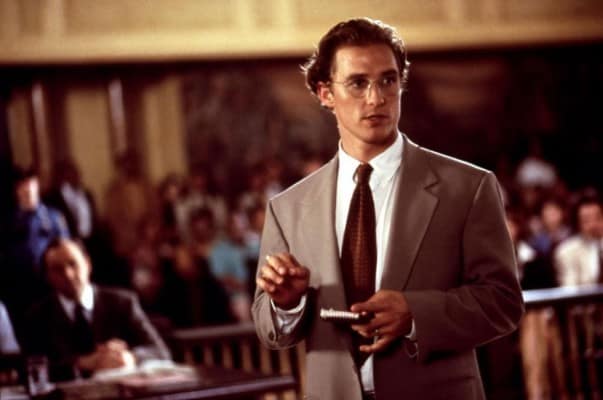 Jake Brigance
Matthew McConaughey stars in the role of attorney Jake Brigance in the 1996 film "A Time to Kill." The drama is an adaptation of the 1989 John Grisham novel directed by Joel Schumacher. Pete Willard and Billy Ray Cobb are two white supremacists who kidnap adnbrutally rape Tonya, a ten year old African-American girl. They are arrested for the rape but the girl's father kills them. He is put on trial for their murder and Bigance is the attorney who defends him. Also starring in this film are Samuel L. Jackson as Carl Lee Haley, the girl's father, Donald Sutherland, Kiefer Sutherland, Oliver Platt, Ashley Judd, Sandra Bullock, Kevin Spacey and Patrick McGoohan in supporting roles.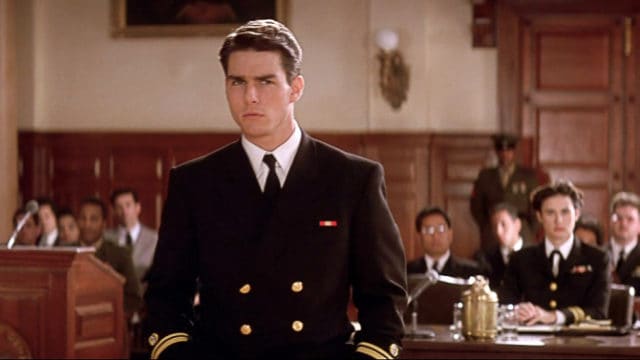 Lieutenant Daniel Caffee

The 1992 film "A Few Good Men is a legal drama that involves the court martial of and murder charges against two United States Marines. They are accused of the murder of a fellow marine. This dramatic film is filled with red tape, directives and roadblocks for the defense. Galloway (played by Demi Moore) offers to defend the marines but they decline and go with a more inexperienced young attorney in Daniel Caffee. I think we're all familiar with "I want the truth!" "You can't handle the truth!"
Bobby DeLaughter
Alec Baldwin gives an amazing performance as Bobby DeLaughter in "Ghosts of Mississippi," a biographical courtroom film released in 1996. DeLaughter, assistant district attorney, is approached by the widow of a man who was murdered in 1963. Twenty five years later, she wanted justice. The murderer is a white supremacist played by James Woods, and has managed to escape justice because jurors in both trials he was involved in returned hung juries, allowing him to go free. Political pressures and marriage strains weigh heavy on DeLaughter who decides that the murderer needs to be brought to justice for the murder of the innocent civil rights activist that he cold-heartedly killed.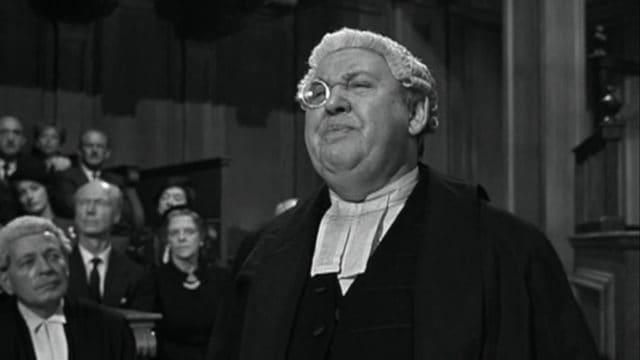 Sir Wilfrid Robarts
The 1957 American courtroom drama film "Witness for the Prosecution" is the story of Leonard Vole (Tyrone Power) who is accursed of murder. Sir Wilfrid Robarts is the counsel who agrees to represent his defense, although Robarts is in poor health. The drama ensues as Vole's wife Christine, played by Marlene Dietrich, offers an alibi but is also called to be a witness for the prosecution. She testifies against her husband even though by law she is not required to do so. Robarts believes that his client is innocent and that she is lying.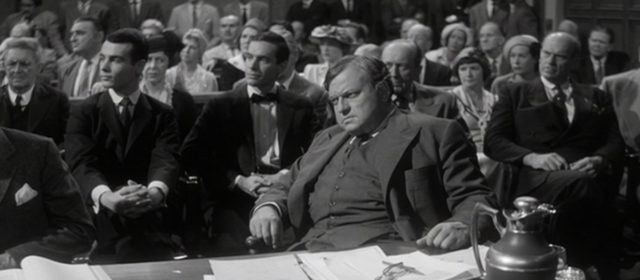 Jonathan Wilk
Film Noir buffs will remember Orson Welles in the role of Jonathan Wilk, defense attorney for the Leopold and Loeb murder trial. The 1959 fil is "Compulsion." Two friends murder a boy who is walking home from school because they want to commit the "perfect crime." They are caught by the police when a piece of the glasses of one of the villains is found at the crime scene. Wilk represents the men and wins the day, saving them from the gallows with a lengthy and passionate speech as his closing argument that casts doubt on their actual guilt.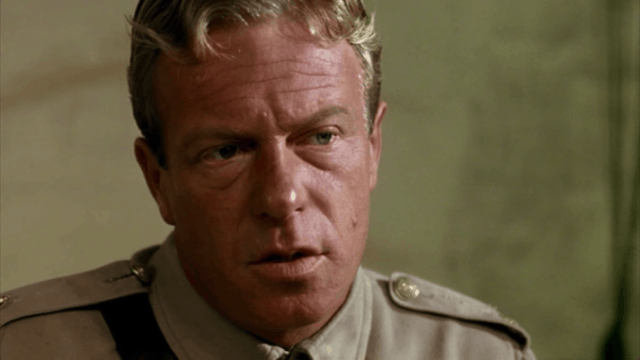 Major James Francis Thomas
The 1980 British war film "Breaker Morant" outlines the court marshal trial of Peter Handcock, George Witton and Harry Morant, all Lieutenants in the Australian Army. The men were accused of committing atrocities during their service. When his superior asked him to spearhead the prosecution of these men, Major James Francis Thomas instead, became their legal counsel and defense attorney during the proceedings which took place in Pretoria, South Africa in 1902. The film was awarded multiple Australian Film Institute Awards.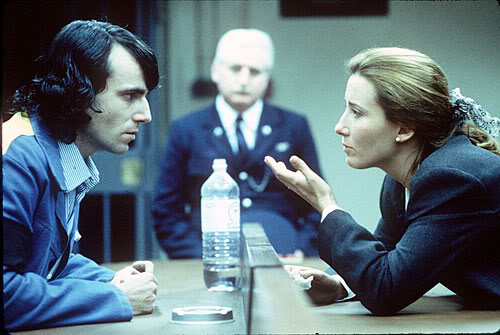 Gareth Peirce
Emma Thompson is attorney Gareth Peirce who dares to snoop through crooked police files to discover the truth that will show the evidence needed to get her clients released in "In The Name of the Father, a 1993 Irish-British-American biographical film. The story centers around the Guildford Four, Irish lads who are brought up on charges and associated with the IRA Guildford pub bombings.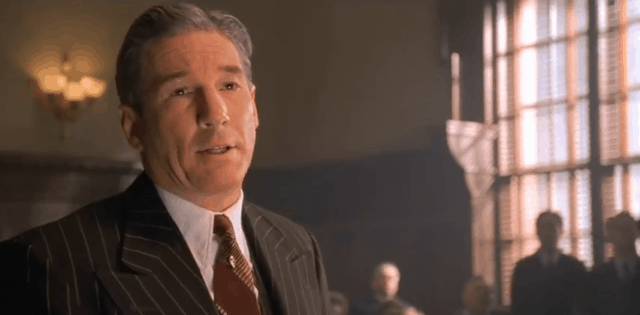 Billy Flynn
Who could forget Richard Gere's performance as the smooth talking attorney Billy Flynn in the 2002 film "Chicago." The musical is darkly comedic and revolves around the theme of the characters played by Catherine Zeta-Jones and Renee Zellweger committing murder and going to trial for it. For those of you who haven't read the novel or seen the film, it takes place in the early 1920s and is an amazing blend of vaudeville, the essence of Noir, crime, romance and court room drama.
Save
Save
Save
Save