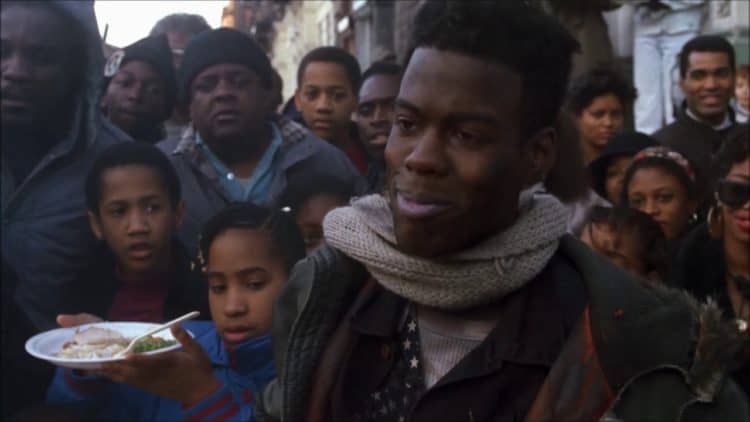 Most people are familiar with the phrase "laughter is the best medicine" and there is definitely some truth to that. No matter where you're from or what kind of life you've lived, you'll probably agree that laughing is one of your favorite things to do. Comedy allows people to connect in ways other mediums can't, and that's something all of the comedians we're about to discuss have mastered. The Black comedians on our list have become well known in and out of their communities and they've created legacies that will live on for years to come. Not only has their comedy made countless people laugh, but it's also helped people think about some very important issues. Keep reading to learn more about the 20 most successful Black comedians of all time.
1. Chris Rock
Not only is Chris Rock one of the most successful Black comedians of all time, but he might just be one of the most successful comedians of all time, period. Chris Rock has been doing his thing for well over 30 years. What started off as a stand-up comedy career, has transformed into international stardom. Chris Rock is now known as a successful movie star and producer. Chris Rock has even been on Broadway as a cast member in The Motherf****r with the Hat. Known for his no holds barred approach to making people laugh, Chris can turn just about anything into a joke. His versatility is one of the things that has allowed him to achieve such widespread popularity, and he's nowhere near finished yet.
2. Eddie Murphy
Born and raised in New York, Eddie Murphy developed an interest in comedy at a very young age after being inspired by the legendary Richard Pryor. However, Eddie would go on to develop his own style. His ability to do imitations and play multiple characters quickly helped him stand out against the rest. In the early 1980s, Eddie Broke into Hollywood with a role in the film Beverly Hills Cop. He kept the momentum going throughout the decade and in 1996 he took his career to the next level with the movie The Nutty Professor. Murphy played multiple characters in the movie and his work left lots of people in awe. Over the years, Eddie has continued to light up the big screen and even after so many years in comedy, he hasn't lost his touch.
3. Kevin Hart
When Kevin Hart started his stand-up career, things got off to a rocky start. In the early days, he was booed off stage several times and there were many people who probably never thought he would amount to anything as far as comedy was concerned. However, thanks to his hard work and perseverance, Kevin managed to prove everyone wrong. He stayed true to his craft and eventually started to build a solid fan base. Like many of the other people on this list, Kevin's success in the stand-up world eventually led to acting opportunities. Over the years, Kevin has appeared in more than a dozen movies and he's gotten to work with some of the biggest names in the entertainment industry along the way. On top of that, he has continued to have a thriving stand-up career and he consistently sells out shows all over the country.
4. Steve Harvey
Steve Harvey has done so many things over the years that there are probably some people out there who forgot that he started as a stand-up comedian. In fact, Steve Harvey was one of the cast members in the 2000 comedy film, The Original Kings of Comedy. The success of the film opened the doors for other opportunities. In 1996, Steve became the star of his own sitcom, The Steve Harvey Show. The series aired until 2002. In addition to being a comedian and actor, Steve Harvey has also become well known for his work as a TV host. He has been the host of Family Feud since 2010 and he has also hosted several other events over the years.
5. Richard Pryor
Most than half of the people on this list would probably cite Richard Pryor as one of their inspirations. The legendary comic had a very impressive career and his success helped break barriers for many of the comedians who came after him. At a time when Black people had an especially difficult time breaking into the entertainment industry, Richard Pryor managed to find his footing. Not only did Richard begin his career performing live comedy shows, but he was also a screenwriter. During the 1970s he wrote for shows like The Flip Wilson Show and Sanford and Son. Even though Pryor's comedy covered some controversial subjects, he still managed to appeal to non-Black audiences. Sadly, however, Richard's addiction and other medical issues resulted in him suffering from poor health by the time he was middle-aged. He passed away in 2005 at just 65 years old.
6. Dave Chappelle
During the early 2000s, Dave Chappelle was one of the hottest Black comedians in the business. Many believed that he was on track to becoming one of the biggest names in the entire industry. His sketch comedy show, Chappelle's Show, earned praise from viewers and acclaim from critics. His 2000 HBO comedy special, Killin' Them Softly, also got him a lot of attention. Although Chappelle loved comedy, the spotlight began to weigh on him. However, during the second season, Chappelle decided to walk away from the show. At the time, people speculated that he was on drugs. In reality, however, he just needed a break. Although Chappelle continues to be a big name in comedy, he would likely be even bigger had he not chosen to step away from the spotlight for a few years.
7. Jamie Foxx
Jamie Foxx is the true definition of a triple threat. He is a comedian, an actor, and a singer – and he does all three of those things extremely well. In the early days of Jamie's career, he was performing at local comedy clubs. Things really started to take off for him during the early 90s. In 1991, He made his TV debut as a cast member in the sketch comedy show In Living Color. In 1994, he released his debut album, Peep This. From 1996 to 2001, he also had his own self-titled sitcom. Jamie Foxx has also become a star on the big screen. In 2005, he won an Academy Award for his portrayal of Ray Charles in the biopic, Ray.
8. Martin Lawrence
To say that Martin Lawrence had the 90s on lock would probably be an understatement. His self-titled sitcom is largely considered one of the best Black sitcoms of all time. Like Eddie Murphy, Martin's ability to play multiple characters has always provided an extra layer to his comedy. In addition to his TV show, Martin has also starred in several movies including the Bad Boys trilogy.
9. The Wayans Family
Since there are several people in the Wayans family who deserve a spot on this list, we've decided to include them as a unit. Keenan Ivory, Kim, Marlon, Damon, and Shawn have all had incredibly successful careers as comedians and actors. As a collective and as individuals, the Wayans have been making people laugh for decades, and they have plenty more where that came from.
10. Bernie Mac
Bernie Mac was already in his early 30s by the time his comedy career took off, but once he started to gain momentum there was no looking back. Not only did be find success on the stand-up stage, but he also proved to be a talented actor. His sitcom, The Bernie Mac Show, helped solidify his success in the mainstream. On top of that, he also found success on the big screen. Sadly, Bernie passed away in 2008 when he was just 50 years old.
11. Chris Tucker
Best known for his role in the Rush Hour film franchise, Chris Tucker's fast-talking comedic style has appealed to millions of people all over the world. Since he is most well-known for being an actor, many people may not realize that he actually got his start as a stand-up comedian.
12. Whoopi Goldberg
Over the years, Whoopi Goldberg has shown herself to be the kind of comedian who can do anything. From stand-up performances to acting and hosting, Whoopi is the true definition of a star. That said, your age will play a big role in what you know her best for.
13. Redd Foxx
Redd Foxx is easily one of the most iconic people on this list. His comedy helped pave the way for future generations, and he eventually became a part of pop culture. Although he is widely known for his role as Fred Sanford in the popular sitcom Sanford and Son, Redd Foxx was also an amazing stand-up comedian. He was well known for never holding back and he wasn't afraid to get a little risque.
14. Cedric the Entertainer
As one of the Original Kings of Comedy, Cedric the Entertainer has definitely earned his stripes in the industry. While he hasn't earned as much mainstream success as some other Black comedians, Cedric has always been highly regarded in the Black community. Most recently, he has transitioned into the world of TV hosting as the host of The Greatest #AtHome Videos. He also hosted the Primetime Emmy Awards in 2021.
15. Kat Williams
Known for his long hair and pimp-like attire, Kat Williams rose to success during the 90s after finding success as a stand-up comedian. Although he hasn't done as much acting as lots of other comedians, he gained a lot of notoriety in the Black community as the voice of A Pimp Named Slickback in the animated series, The Boondocks.
16. Monique
Monique made her way into the spotlight during the late 90s when she was cast as Nikki Parker a role she played in both Moesha and its spin-off, The Parkers. In 2000, she also became widely known for her skills as a stand-up comedian thanks to being featured in The Original Queens of Comedy. In more recent years, Monique has taken on more dramatic acting roles and she's done a great job.
17. Paul Mooney
Early in his career, Paul Mooney made a name for himself by writing for other people. In fact, he even wrote for some of the other people on this list including Redd Foxx and Richard Pryor. Paul's innate ability to make people laugh came through in everything he did. Even though Paul Mooney was known for his comedy, he was also known for addressing serious subjects. Paul Mooney passed away in 2021.
18. Dick Gregory
The best comedians in the industry are those who aren't afraid to take risks, and that's exactly who Dick Gregory was. Through his comedy, he addressed major issues such as racism and he was never afraid to go places that other people tried to avoid. Comedy wasn't the only thing he was passionate about, though. Dick Gregory was also well known for being an activist.
19. D.L. Hughley
Most people who have followed D.L. Hughley's career over the years would agree that he hasn't gotten nearly as much attention as he deserves. He gained popularity in the late 90s thanks to hit sitcom The Hughleys. That momentum continued when he was cast as one of the Original Kings of Comedy. Over the last few years, D.L. has gotten into the hosting game.
20. Sommore
Being a woman in comedy comes with lots of challenges, and those challenges only increase for women of color. However, Sommore has never let any of that stop her from sharing her craft with the world. She has been doing comedy for nearly 30 years and she is well-known for being one of the Original Queens of Comedy.