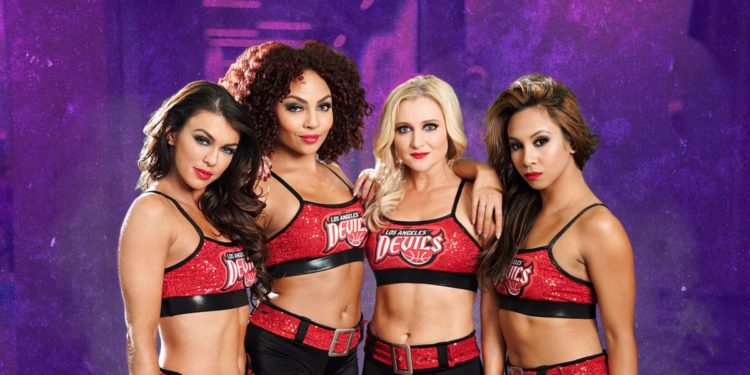 When it came to music, rhythm, moves, and abs to go on about, Hit the Floor brought it all to the table, and some more. Whether Jelena Howard was channeling her inner Miranda Priestly or being the very best at what she did, dancing, it was had to not keep up with what was going on with the cheerleaders and their basketball lovers. Hit the Floor made its debut on screen in 2013, and for three seasons, left all of us viewers yearning for more. They did give us more than we asked for but suffered the fate of doing away with a majority of the cast and the fantastic show as we knew it. Safe to say, a BET comeback did not make the fans happy. Given the cast members' sizzling hot romances on screen, here's who they were/are seeing in real life:
1. Taylour Paige (Ahsha Hayes)
Born to a former Devil Girl, Ahsha Hayes was the one girl that could give Jelena Howard ( Logan Browning) a run for her money. Off of her life as a cheerleader, she had a brewing romance with Derek ( McKinley Freeman) that eventually ended at the altar. In real life, however, Taylour Paige is in many ways crazy over former Grey's Anatomy star, Jesse Williams. The pair was featured in GQ's Modern Lovers issue, in which Paige emphasized their encounter being more spiritual than Williams would like to admit. " I couldn't make this up if I tried," Paige told the Magazine.
2. McKinley Freeman (Derek Roman)
On televisions, Roman had all the hots for Hayes, often showering her with gifts she could only dream of and eventually winning her heart. Outside the small screen, Freeman is as free as a bird. Previously, he had been dating Sarah Alice Burns, with whom he was engaged. In 2017, Burns, who's part of Beyonce's dancing crew, shared the news of their engagement, writing, " Last night he surprised me in more ways than words can explain." The dream wedding Burns had, however, did not happen, as per a February post on Instagram.
3. Logan Browning (Jelena Howard)
When we meet Jelena Howard, she was, through all the seasons, a go-getter who was so good at her job, but the worst when it came to sharing the spotlight. Perhaps it stemmed from years of witnessing her mother facing abuse, but she was extremely cold, even to her own fiancé. In a red carpet interview, Browning revealed that, when it comes to dating, she does not particularly have a type, and has dated almost every race. Her ideal man is smart, ambitious, funny, and driven. In the past, Browning has been linked to Tyga. She now chooses to stay quiet about who she is seeing, and is only focused on work. Most recently, she appeared at the premiere of the Jay-Z-produced movie, The Harder They Fall.
4. Robert Christopher Riley (Terrence Wall)
Not so many people could put up with Jelena, mainly for the fact that she was controlling and, in many ways, a narcissist. Somehow, Terrence fit the bill, and when she was done using him like she does everyone else, she kicked him to the curb. As of a 2016 interview with The Breakfast Club, Riley revealed that he was 'good' in the love department, and he had somebody, even though he wouldn't give a name. Given that he's been pretty mum about that 'department' of his life, one can only be left guessing that things are the same.
5. Kimberly Elise (Sloane Hayes)
As Sloane Hayes, Kimberly Elise was a former Devil Girl whose daughter, Ahsha shared the same passion for dancing. Romantically, she was linked to Pete Davenport. In real life, Elise is not eyeing any coach. The 54-year-old actress was formerly married to Maurice Oldham with whom she divorced in 2005. The pair was blessed with two children. Through her website, Elise gives tips on dating, especially for those looking to get into the field after divorce. In the past, she has been linked to Shemar Moore, with whom she co-starred in The Diary of a Mad Black Woman.
6. Dean Cain ( Pete Davenport)
Davenport was romantically linked to Sloane, with whom he shared a daughter who decided to be a Devil Girl. Outside the screen, Dean Cain has been linked to Brooke Shields, with whom he attended Princeton University. In the early nineties, he was in a relationship with Gabrielle Reece, and in 1997, he proposed to Mindy McCready but the engagement only lasted a short while. In 2000, Cain welcomed a son with Samantha Torres. Not much has been revealed about his love life since.
7. Adam Senn (Zero)
When we met Zero on the second season of Hit the Floor, he was brought onto the team and managed by Jude, with whom he would have a romantic relationship. Outside the show, Senn has been in a long-lasting relationship with model Adriana Cernanova. The two are often working together, and, in many pictures, don't forget to display their love on Instagram. It's not so rare an occurrence to see dreamy snaps of the couple on vacation somewhere next to an ocean or hiding in a desert, all while Cernanova showcases her prowess in Yoga. She does not forget to tag Senn while at it. What the two models have is simply picture-perfect.
8. Brent Antonello (Judy Kinkade)
As Jude Kinkade, Brent Antonello was the agent set to represent Zero. His family life wasn't so rosy, as he did not see eye-to-eye with his father, Oscar Kinkade ( Don Stark), who also happened to be the owner of the Devils. While Antonello's relationship status is currently not known, he was in the past linked to Taylor Ackerman. Ackerman would share pictures of her and Antonello on Instagram, accompanying them with cheesy captions. She was also very supportive of the actor's role on Hit the Floor. Antonello keeps a surprisingly low profile and is not letting us know who he's seeing any time soon. He's all about work and is set to make an appearance on Tyler Perry's next Netflix film, A Jazzman's Blues.