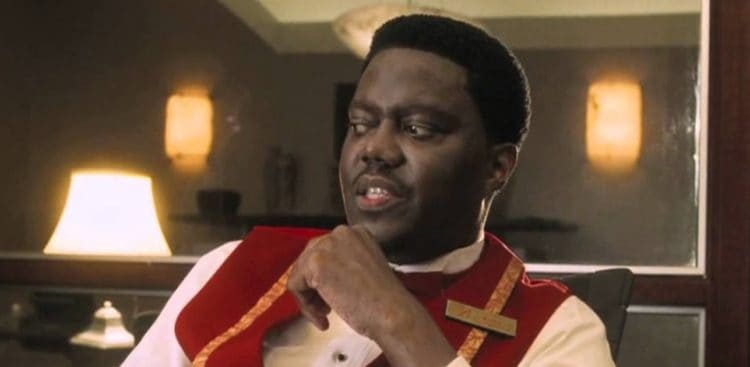 Bernie Mac's death was a big loss to Hollywood since the man was a genius when it came to his delivery and his joke and sense of humor were legendary. Out of the many movies he appeared in there were some duds here and there, but his TV show was amazing and most of the time he lit things up in a way that made it hard not to bust up laughing since he came on the scene in a rush and left the same way, leaving people smiling at the very least and laughing hysterically at his best. His movie career was pretty extensive even though there were several in which he was only afforded a quick cameo or a very limited part that allowed him to explore his acting and comedy chops at the same time but didn't make him a lead character. In truth, his best leading performance was on his show since this was where he got to shine the brightest.
Here are the five best movies from his career.
5. Transformers
Despite being in the movie for only a few minutes Bobby Bolivia was actually more memorable than a lot of the other characters in here for a couple of reasons. One is because Bernie Mac was actually more enjoyable as a character and two is that they added in a throwback to the old Bumblebee that a lot of us who were into Transformers as kids found insanely appealing since it was the type of image that we could really appreciate, even if the new Bumblebee slammed his door into the old image as though in disdain or to just get Sam's attention. Bernie definitely should have had a slightly bigger part in this movie.
4. Life
Jangalang was perhaps one of the most disturbing characters in this whole movie since he was the horndog of the bunch that was 'pitchin' woo' as the trustee would say every which way he could. It's been said by some throughout history that when a man is incarcerated for long enough his carnal needs are going to take over at some point and the biological need to be satisfied will become too great to withstand. Thankfully that's been debunked quite easily since this doesn't happen to all men and some would no doubt cringe at the thought of simply saying to heck with it and going against their normal sexual preferences.
3. Friday
Something about Bernie made it possible for him to play some of the most corrupt characters in movies and yet make them so appealing that people couldn't help but laugh. In this movie he only had a couple of appearances but they were great enough to remember since the interaction with Craig and Smokey was one of the high points of the movie, which is saying something since the original Friday was easily the funniest of the three movies that were made. This definitely gives the audience an idea that preacher's aren't exactly trustworthy, but from a satirical standpoint it works beautifully and was too funny to pass up.
2. The Player's Club
Dollar Bill is just a slimeball. He runs his club for his profit alone and the only time his dancers ever seem to make some real money is when they learn how to skimp and save as much as they can or when they go out moonlighting and don't report their earnings to him. He's horrible to the DJ, he doesn't care about his employees apart from what they can do for him, and he's the kind of guy that you can believe would be in some serious debt up to his eyebrows and beyond when it comes to owing the wrong people a great deal of money. Maybe that's why his end in this movie was so satisfying.
1. Ocean's 11
Frank is a great character in this story but he seems to pull out the race card pretty quickly whenever he's talking about…well, anything. He's a fun addition to the movie and he's definitely needed since he adds another bit of expertise and humor to the crew but there are times when you can't help but think that his mouth is his greatest asset but his worst enemy as well. That being said though he makes a great addition to the team since he knows the players and he understands what his part is going to be, and then he plays it perfectly since he's a team player first and foremost and knows how to sell an act to the extreme. All in all he's a pretty balanced character that didn't need a lot of adjustment to work in this movie.
Like I said before, Bernie's loss was a hard hit to the acting community, but being able to watch his old material is still enough to remember that he was a great comedian and actor.
Tell us what's wrong with this post? How could we improve it? :)
Let us improve this post!