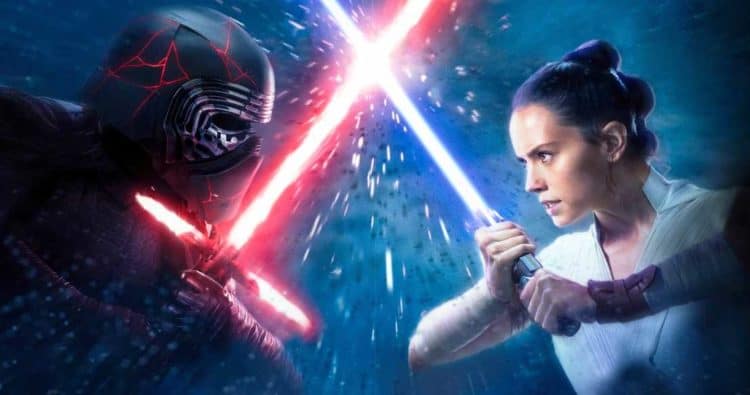 There are a couple of ways to look at this incident after a guy was punched in the face for daring to check his messages during the screening of Star Wars: The Rise of Skywalker. One is that it is pretty annoying to have a screen pop up in your field of vision, even if it's in your peripheral, especially during a movie that you've been waiting for all year and have been anticipating in a big way. The other way is for the hardcore fans to just get over themselves and focus on the screen in front of them, not the one that's being controlled by another person. As B. Alan Orange of MovieWeb states there were two people that were apparently using their phones to film the movie while watching it, but somehow they managed to get away with it before the ruckus that forced theater employees to escort the guilty party out of the theater after the lights had been turned on and the movie stopped. While the aggressive individual claimed to be a Star Wars fan he wasn't getting any support after assaulting someone, leaving it pretty obvious that people were more upset about his need to cause a scene than anyone using their phone to check on the babysitter and the kids.
The man that was assaulted, Joe Bond, was out at the movies with his wife and had been apparently checking on the babysitter to see how things were going. Now it's true that the man who assaulted Joe didn't need to take things to such a drastic measure, no matter if he was having a day or not, but let's be fair, Joe could have picked a better time to check on his kids. Any parent of young children that gets time out with their spouse or significant other knows very well that free time comes at a huge premium, and while in the movie theater it's not a great time to be looking at your phone unless it's before the movie, after, or an emergency. Joe had this to say about the encounter:
"He lost it at me. I told him to calm down and if he doesn't calm down then I was going to get somebody – and then he hit me in the face … Star Wars fans are very serious but I think this guy was on the next level."
This is more than just being a Star Wars fan unfortunately, this is being unbalanced on a level that doesn't allow for a lot of inhibitions to get in the way. Anyone that's going to deck someone in the movie theater over their phone takes their movies a little TOO seriously. Sitting in the theater watching the movie I too was perturbed by people that decided it was the right time to get up and go refresh their popcorn, or use the bathroom, or do anything that involved crossing my field of vision. But in the end it's not worth assaulting a person, and if your focus is allowed to roam anywhere but the movie then it's kind of obvious that you're not that invested. Only if a person is talking on their phone or using the lighted screen extensively does it seem time to mention that it's time to put it away, and Joe could have likely waited for a better time to check in. But he still didn't deserve to be assaulted. The people recording the movie on their iPhones though, that's another story. Gina Carbone of CinemaBlend had more to say on the matter.
There is a certain amount of decorum that is expected when sitting in the theater, and most features will actually be preceded by a larger than life sign instructing a person to please put their phones away for the duration of the movie. Do emergencies happen? Sure they do, but until they do it's usually a good idea to keep your phone in your pocket during a movie, particularly one that attracts a few nutcases that might want to fly off the hook for no particular reason that can be deduced in that moment. This is one of those moments when no one was really in the right since pulling your phone out isn't a crime, but interrupting the viewing pleasure of others around you with a bright light in dark theater is kind of rude. Still, it's not exactly an offense worthy of a beating since Star Wars fan or not, simply striking someone in the face usually isn't the answer for a lot of things no matter how badly some might wish it was. So yes, very much yes, the man that was kicked out of the theater was in the wrong all the way, but Joe, oh Joe, he might need to brush up on his movie theater etiquette a wee bit.