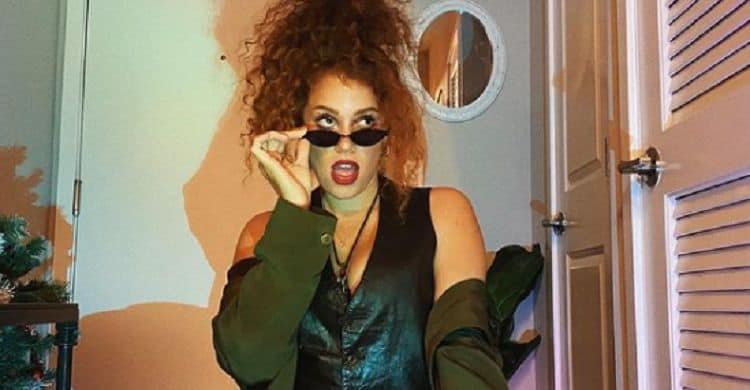 Mahogany Lox has loved music for as long as she can remember. However, her love for music goes beyond just enjoying it as a listener, she has also developed a passion for making it. Needless to say, it didn't take her long to realize that she was destined to be an entertainer, and it looks like that destiny is finally coming to fruition. Although Mahogany has been doing her thing for the last several years, things really took off for her in 2020 when her song "Take Your Man" went viral on TikTok. Since then, she has been keeping the momentum going and her growing fan base is looking forward to seeing (and hearing) what she does next. Mahogany may not be a household name just yet, but she certainly has what it takes to build a long-lasting career in the music business. Continue reading to learn 10 things you didn't know about Mahogany Lox.
1. She Is Barry Gordy's Grand Daughter
Once you learn more about Mahogany's family tree, you'll probably start to feel like she was destined to be a musician. Mahogany, whose last name is actually Gordy, is the granddaughter of music industry legend, Barry Gordy. Gordy is famous for being the founder of Motown Records the label that is responsible for launching the careers of artists such as Michael Jackson, Diana Ross, Stevie Wonder, and Marvin Gaye. Despite her connection to Gordy, it doesn't appear that Mahogany is currently signed to Motown or any other label. Mahogany is also the younger sister of SkyBlu who was one-half of the group LMFAO. From what we can tell, SkyBlu and Mahogany have a very close relationship and he has been one of her biggest inspirations. With genes like that, it's easy to see why Mahogany has always been drawn to music.
2. She Loves Fashion
At the moment, it doesn't appear that Mahogany has any connection to the fashion industry, but it's clear that fashion plays an important role in her life. As a creative person, fashion offers Mahogany another outlet to share her personality with the world. She isn't afraid to try new things when it comes to her clothing and she doesn't shy away from bright colors and bold patterns. As her career continues to grow, there's no doubt that fashion will play an important role in Mahogany's journey as an artist. Maybe one day, she'll even get the chance to do some modeling.
3. She Is A Model On Deal or No Deal
Mahogany may have a very well-connected family, but that doesn't mean that she isn't working hard to make a name for herself. She has done a great job of taking advantage of opportunities that could lead to bigger things, and one of those opportunities is being a briefcase model on Deal or No Deal. It's unclear exactly how long Mahogany has been with the show, but it's something that she has really enjoyed. Sure, the show many not directly relate to her music career, but it is helping her get exposure and connect with more people in the industry. When asked what being on the show means to her, Mahogany said, "It means a lot! It's an experience of a lifetime and totally professional. I feel this experience will absolutely help me in my career as I move forward. I'm very appreciative. Plus, I'm making some great friends in the process!"
4. She Is A YouTuber
Like most members of Gen Z, Mahogany understands the importance of building a strong presence on the internet. Not only does she have large followings on platforms like Instagram and TikTok, but Mahogany has also built a very successful YouTube channel. In addition to having 599 subscribers, Mahogany's videos have gotten more than 45 million total views. In addition to content related to her music career, Mahogany's YouTube channel also consists of vlogs and other kinds of videos. There's no doubt that her consistency on YouTube has definitely helped her establish herself. Even with all of the other things she's had going on over the last two years, she has still managed to stay consistent with her YouTube uploads.
5. She Is In A Relationship
As Mahogany's popularity continues to grow, so does the number of people who are thirsty to slide into her DMs. What all of those people should know, however, is that Mahogany isn't interested. She is in a happy relationship with a man named Carlos Esparza. It's unclear exactly how long Mahogany has been with her boyfriend, but they appear to be going strong. Carlos also works in the entertainment industry and he is an aspiring actor. To date, his biggest role was in 2015 in a TV series called World's End. He doesn't appear to have any upcoming projects in the works. Like Mahogany, he also has a big following on social media. The fact that they both work in the same industry probably means that there's a high level of understanding between them when it comes to things like working and traveling.
6. She Is A DJ
At this point in her career, most people know Mahogany for being a singer. However, that isn't the only creative talent she has to share with the world. She is also a DJ and it's something she is very passionate about. Unfortunately, we weren't able to find any information on what inspired Mahogany to get into DJing, but it likely came naturally to her once she decided that she wanted to pursue music. Even though releasing more music is at the top of her priority list, Mahogany hasn't forgotten about DJing. At some point, she would love to go on a world tour where she performs her own music as well as DJs. At the rate she's going now, this dream will probably come true sooner than she could've imagined.
7. She Loves Connecting With Her Fans
No matter how talented an entertainer is, it's impossible to have a successful career in the spotlight without a dedicated fan base. This is something that Mahogany completely understands, and doesn't take for granted. She is extremely grateful for all of the people who have supported her so far in her journey and she loves being able to engage with them as much as possible. She even came up with the cute nickname Loxsmiths for all of her dedicated fans. Whether in person or on the internet, Mahogany is definitely the kind of artist who always shows her fans love. No matter how big she gets, she doesn't ever want to lose the connection she's built with her fan base.
8. She Enjoys Empowering Others
So far, Mahogany's music has been applauded for helping people feel more confident about who they are. While this may not be what she originally intended, it's something that she is very proud of. Although it may seem like Mahogany has it all and doesn't have anything to feel insecure about, she's a human just like the rest of us. From time to time, she has also struggled with her confidence and she knows it isn't an easy thing to deal with. During an interview with Affinity Magazine, Mahogany said, "Every day, look in the mirror and give yourself a compliment. People are always their biggest critic, so if you are not feeling confident, just focus on your great qualities and always remember…. You are beautiful!!!" She went on to say, "If I can help people find their confidence and be the baddies they are, that would be amazing!"
9. Her Creative Process Is Constantly Changing
All of the creative people out there know that the process of coming up with new ideas is different for everyone. While some people like to stick to a cut-and-dry routine, others prefer to get their creative juices flowing by switching things up. Mahogany is definitely part of the latter group. While talking to Acentric Magazine, Mahogany said, "My process for working on a song changes all of the time! It all depends on if I come up with the story idea first or the song's overall vibe or hook first. These elements are very important for setting my writing direction. Every day in the studio is different and the creative process varies from song to song." The fact that Mahogany is able to easily adapt is a good sign that she will have a successful future in the music business.
10. She Enjoys Spending Time Outdoors
Now that Mahogany's career has really started to take off, her schedule is probably busier than it's ever been before. Still, however, she likes to make time to do some of the other things she enjoys. One of those things is being outside. Although Mahogany may not be the type to rough it in the woods, she does love to get out and enjoy the beauty of nature. When the weather is nice (which it often is in southern California), you can usually catch Mahogany hanging out by the water and soaking up some sun. She also enjoys doing things like going hiking and kayaking.
Tell us what's wrong with this post? How could we improve it? :)
Let us improve this post!