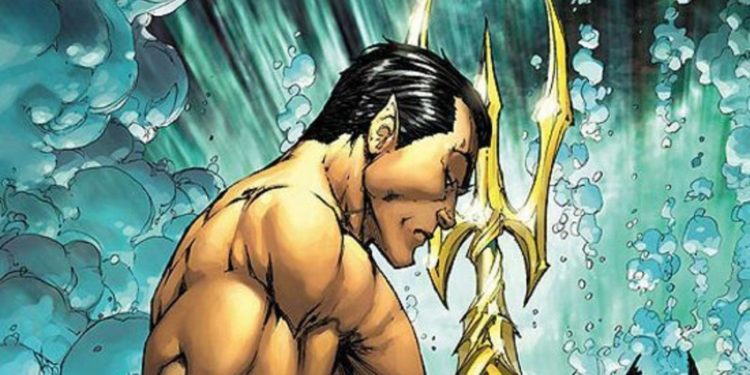 DC Comics has Aquaman, their king of the sea, and Marvel Comics has Namor the Sub-Mariner. Both are monarchs of the lost city of Atlantis, but the latter is one of America's first superheroes. In fact, he was one of Captain America's first allies during the early days of Marvel. In other words, back before he was frozen in icy water for decades. But make no mistake about it, this king of the sea is much more than just a guy who can talk to fish. That will always be a running gag for both heroes, but as comic fans, we should never forget their real history. For Aquaman, he has been a longtime member of the Justice League of America and a noble hero for both the land and of the sea. Things are a little more complicated for Namor the Sub-Mariner.
If you've been keeping up with the character's history after the 2012 Avengers vs. X-Men event, you'll get the vibe that he can probably never be redeemed. Just a little recap, Namor had his people invade Wakanda, where he took on almost every Avenger. He was eventually overpowered, but the damage he did to the country was beyond repair. Wakanda and its people were forever damaged by the attack and the intense rivalry between Namor and Black Panther had only started to brew. It should be pointed out that Namor was under the influence of the Phoenix force, but that really didn't make it better. The damage he caused was still under his command and gallons of blood was on his hands.
Everything after that was skating on very thin ice for the Sub-Mariner. He would eventually continue to serve as a member of the Illuminati, even when Black Panther became a member. But of course, Wakanda never forgets and neither does its king. Ever since the Atlantean attack on Wakanda, T'Challa was just biding his time and itching for the right moment to take his revenge on Namor. He would eventually get it after stabbing him and having Black Bolt using his voice to hurl him off a very high platform, and then subsequently abandoning him to die. Boy, talk about Wakandan justice. But hey, you can't say the guy didn't have it coming.
Oh, but don't worry, the Sub-Mariner is still alive and kicking it in the current Marvel timeline. A character like that would never stay dead too long. It's just typical comic book logic. Given that the enmity between the two monarch characters has become a popular one in the comics, it only makes sense that the Marvel Cinematic Universe integrates that in the Black Panther movies. Now of course, that won't happen the way they originally intended it, given the tragic passing of Chadwick Boseman back in 2020. However, despite Marvel's commitment to not recasting T'Challa, there is still a way they can develop the enmity between Wakanda and Atlantis.
Logically, that is the move that makes the most sense for them. If T'Challa is really out of the sequel, then Wakanda without a king could look like an easy target for hostile invaders. The undiscovered kingdom of Atlantis could pose the biggest threat for them, as they too have an advantage of being an isolated country with advanced technology. If a war between Wakanda and Atlantis breaks out in the MCU, the Wakandans won't have T'Challa to combat Namor.
But hold on, will Namor really be the villain in Black Panther: Wakanda Forever? That seems to be the popular ongoing rumor and fans have every reason to believe it. The once-heroic Sub-Mariner has become more of a somewhat reluctant villain in recent years and even before that, he was always an on-and-off foe to many Marvel heroes. If this rumor is true, then we have to wonder how Marvel intends to develop him. Well, after a leaked image of some promotional art was recently released, we may have our first look at the MCU's Sub-Mariner.
Based on the rumors we have heard, Mexican actor Tenoch Huerta will be playing the MCU's Namor. If that is true, then this is an interesting change for the character. Based on the promotional image that was leaked, it seems Marvel casted a Latino actor for a reason. For starters, this Namor doesn't seem to be wearing a very short speedo and nothing else. This new look gives a lot of Mayan vibes, which makes sense given the casting of a Latino actor. The key accessories we can see on him includes some golden jewelry and aqua blue earrings. This is a very distinctive difference between this supposed MCU Sub-Mariner and the comic version.
Now granted, DC had already beaten Marvel to the punch with debuting their king of Atlantis in their cinematic universe. The way they developed Aquaman was more accurate to the comic version of the hero, aside from obvious difference in Jason Momoa's physical appearance. However, they managed to make that work by emphasizing on his biracial ethnicity, which intertwined with Arthur Curry's halfbreed nature. But the thing is, DC didn't have to change much in the overall culture of Atlantis or Aquaman himself. It looks like that won't be the case for Marvel and their version of Namor.
It's possible that Marvel is going this route in order to further deviate from DC's Aquaman. That can work, especially since we're hearing more rumors about the MCU's Atlantis being located more in the South American area. It's an intriguing deviation from the comics, but the question still stands: Will Namor be the villain of the Black Panther sequel? That still remains to be seen. However, this leaked promotional image does seem to further hint that he will at least play a big part in it.
If Namor isn't the main antagonist of Black Panther 2, then he can still be a rival to whoever is ruling Wakanda nowadays. On top of that, it's possible someone under him can secretly instigate the war between the two nations. And would anyone from Wakanda believe that the Sub-Mariner isn't responsible? Not very likely. If Black Panther 2 could have a real villain, it could be one of Namor's chief antagonists known as Attuma. Aquaman has Orm and the Sub-Mariner has the power-hungry rebel Attuma as his most persistent enemy. If Marvel doesn't want to make Namor a full-blown villain right away, they can have Attuma be the secret antagonist of Black Panther 2. It would be a good twist and on top of that, it could expand the Atlantean lore for the MCU.
What are your thoughts, Marvel fans? Do you think the Sub-Mariner will be the main antagonist for Black Panther: Wakanda Forever?
Tell us what's wrong with this post? How could we improve it? :)
Let us improve this post!