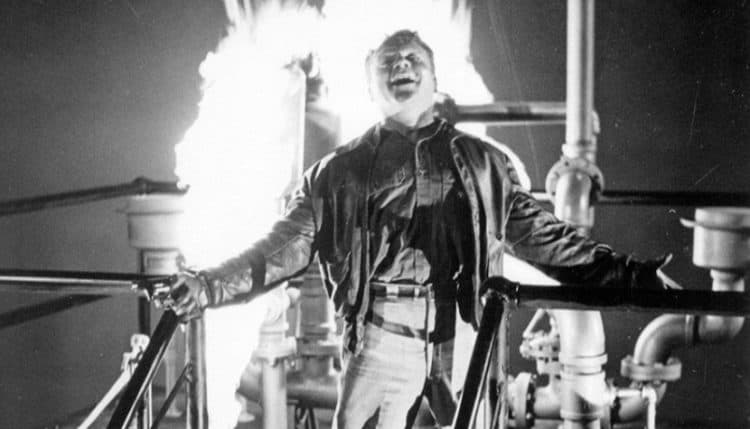 James Cagney was definitely a working man's actor as he firmly believed in hard work and didn't think being given a cushy living was much good for anyone. Cagney lived in a time when a person had to be kind of tough to really survive unless they were fortunate enough to be rich, and much of what he made when he was starting out went to his family, who he was dedicated to taking care of and protecting when he had to. His introduction to acting might not have come along if he hadn't had to fill in for someone at one time, as he was content to work behind the scenes for a while and just enjoy being able to see the action up close. Once he was on camera though it was hard to deny that it was where he was meant to be since his personality and his talents came out in a big way.
Here are the five best movies of his career.
5. Mister Roberts
Morton is by far one of the worst captains that anyone has ever served under in a war movie since he's petty beyond belief and he can't understand that he's making his men miserable. Or rather, he understands but just doesn't care since his pride and ego are more important to him than anything else. Roberts' desire to see combat results in him requesting a transfer over and over again, which might make it clear that he wants to go and isn't going to stop the requests until he gets what he wants. But of course Morton seems bound and determined to be a killjoy as it's shown throughout the movie, much to the detriment of the crew.
4. Angels with Dirty Faces
It's hard to say whether it's irritating or inspiring that a guy that managed outrun a childhood friend and partner in crime got to live the virtuous life when his buddy, Rocky, was thrown in what amounts to jail for kids, a reform school. Even when he gets out and years later he's not much different as Rocky is still the criminal type while Jerry has become a devout man that can't hang with the criminal life any longer. When Rocky ends up getting in trouble again and has a way out Jerry outs him and the chase is on shortly after that as Jerry begs his friend to take the coward's way out and beg for mercy after Rocky gets the death penalty. In the end Rocky does beg and plead for his life, but Jerry continues to live the life of a reformed individual.
3. The Public Enemy
Cagney seemed to like the roles that placed him squarely in the public eye as the bad guy and he did it well since as Tom he plays a guy that's firmly entrenched in the world of crime and is bound to do the wrong thing for the right reasons most times. He does try to take care of his family despite being at odds with his brother Mike. But as you can imagine, a life lived in violence and deceit is one that doesn't usually end with a long and healthy existence. Tom is the kind of guy that has to be beaten over the head with this lesson until it finally comes to him that crime is not the way to survive, but at the end it's too late.
2. Yankee Doodle Dandy
Cagney definitely liked to play a defiant character, that much is obvious in a lot of his roles since he didn't appear to play a lot of weak-kneed individuals that couldn't tell up from down. But this movie allowed him to take his tap dancing skills and put them in the public eye as he played the part of a cocky performer that was ousted from several projects thanks to his attitude. Once he starts gaining a little humility and can keep up his skill set he finally starts gaining a bit more respect until finally he finds success once more and starts to put it to good use as he takes his talent and creates something wonderful.
1. White Heat
Once again Cagney definitely likes the roles where he gets to rebel against authority since in this movie he coined the famous line, "Top of the world!" a line that many upon many actors have stated more than once throughout the years in one manner or another. Cody is pretty ruthless and doesn't really take prisoners, but when he's fooled by Hank for so long one has to wonder just how intelligent the crook really is since he trusted the guy pretty openly. True, Hank did save his life, but it would seem that crooks in movies these days have become a lot more paranoid and a lot less trusting.
He's still a legend in the movie industry, hands down.