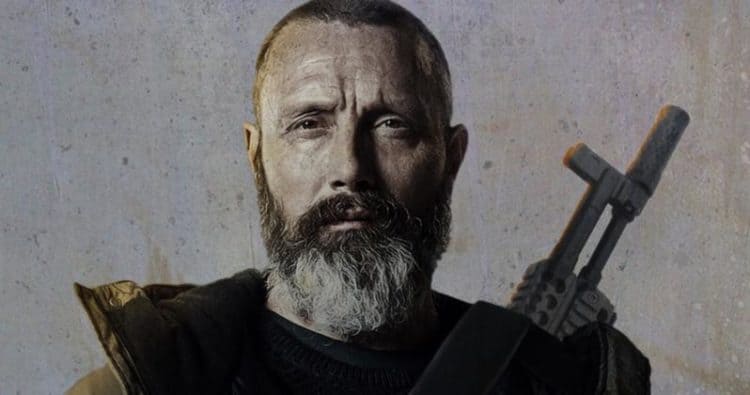 Even when acting in the same movie as Mads Mikkelsen it feels likely that some of the toughest men would have trouble keeping a straight face since this guy looks absolutely mean without having to snarl at anyone in the least. All he'd have to do is look at someone in that way that he has and after a few seconds they might actually give up and turn themselves in. But in a movie where Mads is playing a guy that came home from the service to take care of his daughter after his wife was killed in what appeared to be a freak accident, there's bound to be someone that thinks they're just as tough as he is. The problem is in the thinking since it's apparent that while Mads isn't invincible in this movie he's definitely not the guy to be messed with. When he's told that his wife's death wasn't an accident but instead was an assassination he decides to go after the Riders of Justice, the biker gang that was apparently responsible, by proxy or not, for the death of his wife and several others when a bomb was set off while his wife and daughter were on the train that was the site of the attack.
When approached by a man who was there when the attack happened and had in fact just given his seat to Mads' wife, the main character goes off on what can only be called a rush to vengeance as he doesn't waste much time in recruiting the man that contacted him and a couple of others in order to get back at the biker gang and bring them to justice or simply bring them down, as many might think of doing if their loved one had been hurt or worse by anyone else. Well, okay, some folks would turn to the cops, others to a branch of government no doubt, but there are plenty of people out there who would gladly take matters into their own hands if they could since revenge is a very personal thing and there's no doubt that some folks would have the clarity of thought to devise a plan to go after those that had wronged their family. The only downfall comes when the enemy learns who is coming after them, and it becomes especially dangerous when the enemy learns of other surviving family members that can be targeted and used as bargaining chips in this kind of twisted game.
From the trailer, this looks like a pure revenge story, which is enticing enough since these types of stories tend to get right into the action, or at least remain tense enough that one might not want to get up to do anything since even pausing the movie might not be acceptable given that they'll want to keep watching to see what comes next. Mads Mikkelsen's career has been on a rise over the years and he's been a lot of fun to watch since the actor has become one of the scariest and most intense characters on screen no matter if he's playing a good guy or a bad guy. Anyone that remembers him from the version of King Arther with Clive Owen and Stellan Skarsgard knows that he can play a very convincing and heroic figure, but those that have known him as Dr. Hannibal Lecter know that he's able to turn that around and become an absolute monster when he feels the need. Turning himself into a highly-trained military figure isn't a huge stretch since the intimidation factor that he brings to this role already looks like it's something that would force a lot of people to back up out of reflex. Mads is the type of actor that can light up a room when he smiles, but when he's giving off an angry vibe, even when he's acting, it feels as though it's best to stay away from him simply because he does get into it.
To be fair though he's fully capable of getting physical in his roles but he doesn't always, which is obvious since not every character he plays is an active combatant. But this time around he's going to get in there and get his hands dirty, and it's already looking like something that's going to come off as a satisfying action movie that will be another great addition to his career. Some might want to say that it looks like another vendetta movie that won't end well for anyone involved and that somehow the hero will get away with a bunch of scratches, bruises and scrapes, but from the trailer, it does appear that this won't be the case since it already looks like Mads' character will be pushed to the limit, and thanks to that we can't wait.