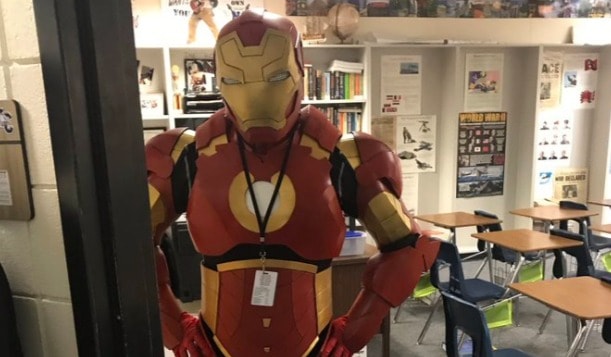 Just a reminder to all students, teachers are allowed to be fans of the movies and the MCU as well, since like it or not, some of them are still young enough to remember when Marvel was still being toyed around with as an idea on the big screen back in the 90s. But this teacher happened to have gone the extra few miles and made his own Iron Man suit in anticipation of the Avengers: Endgame movie that just recently came out. Greg Cornett, a teacher at New Caney High School in Texas, decided to surprise his students with a true fanboy moment when he made his own Iron Man costume and wore it to school one day. Even better as Doug Deloney from News West 9 has reported, he decided to tell the students that if they could get 1,000 retweets of him in his costume he would see to it that they didn't have to take finals, presumably for his class at least.
It's not really certain if he'd be allowed to do such a thing for finals but one thing is pretty clear: Greg is a very devoted fan of the MCU since that outfit is absolutely impressive and nothing short of amazing considering that some outfits come close but aren't even on the same level as this one. To be honest Iron Man is one of the hardest characters to cosplay largely because building his armor to the specifics that are close to, if not spot-on the mark when it comes to appearance is kind of difficult unless you know what you're doing and you're simply that much of a fan. Irina Curovic of CBR has listed the armored Avenger as one of the hardest Marvel heroes ever to cosplay and for good reason. The fabrication of his armor and the contours that are needed to make it work are nothing short of irritating when it comes to making each piece, since this suit can be made solid but it's going to fall apart the moment someone tries to move in it. That means that the pieces have to be made separate, made to lock into place just the way they need to be, and as a rule you do want to make sure of your own bodily dimensions to make sure that you're not trying to squeeze yourself into something made for a smaller person.
@RobertDowneyJr our teacher a fan boi😂 #AvengersEndgame we need Robert Downey Jr to retweet plzzzz #RobertDowneyJr @KHOU pic.twitter.com/O0pwoI4eZp

— Troy Grabert (@TroyGrabert) April 25, 2019
With all that being said, there are easier heroes to cosplay such as Captain America, Hawkeye, and a few others that wouldn't require such hard work and effort. But Iron Man has been a popular character since his emergence into the MCU as Andy Crump from The Week has stated largely because he's been given the most potential out of the other heroes. In the comics Iron Man has always been one of the bigger names since he's been around so long. He is one of the founding Avengers from the comics after all, along with the Hulk, Ant Man, Wasp, and Thor. Captain America showed up not too long after and made his place on the team, but in the new era it was Iron Man, Captain America, Black Widow, Hawkeye, Hulk, and Thor that rounded out the team to start with. Their first shared enemy thankfully was Loki, so that kind of went according to the comics at least, though Loki was at the time a servant of Thanos, even if he would never admit it. As the ranks of the Avengers have expanded lately though you can easily see that it might have been cool to see this teacher in a number of outfits that would have held with the movie, but at the same time Iron Man is just a classic, and there's a reason why he might be picked anyway since as most people should already know by now Robert Downey Jr. and Chris Evans, and possibly Mark Ruffalo and even Chris Hemsworth, might be saying goodbye to the MCU after this film. Chris Evans seems a sure thing, as does RDJ, and there's a good reason for the latter, but I won't bother handing out spoilers since that would be a really mean thing to do.
Apparently Mr. Cornett's students were even trying to get RDJ's attention to show them how devoted their teacher is to the movie and the MCU. Whether they succeeded or not is hard to tell but it does seem as though they were working hard on getting those retweets in order to avoid the dreaded finals that are likely coming up. It seems like someone should tell them that a teacher is usually only allowed to do this kind of thing if they have the approval of those above them that are allowed to make such decisions. But hey, it's a great motivator all the same.